Lettre: the digital renaissance of handwritten letters and stamp collecting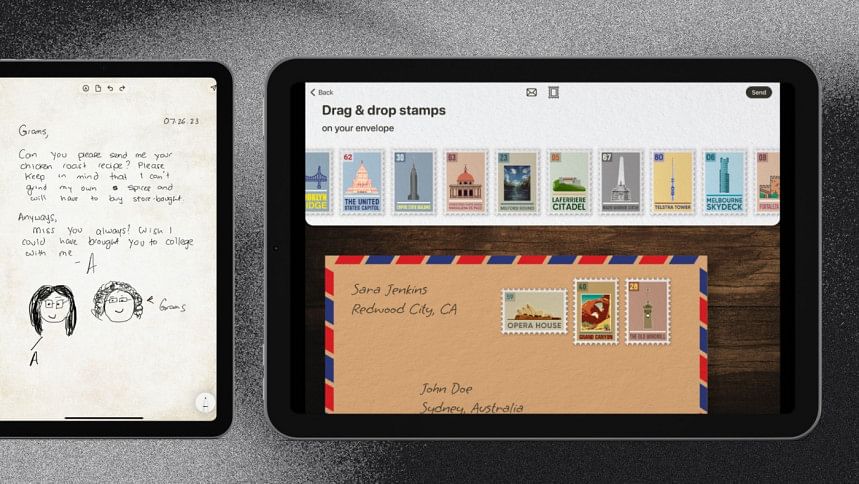 In an era where instant messaging and artificial intelligence dominate our conversations, two friends from Bangladesh are reviving the art of handwritten letters with a modern twist. Mashfique and Atik, the co-founders of CheeThee LLC, are set to launch Lettre, an iPad app that aims to reinvest in the depth of human relationships through deliberate communication.
A nod to tradition, with a digital flair
Lettre is not just another messaging app; it's a digital ecosystem that marries the nostalgia of handwritten letters with the innovation of high-performant ledger technology. Designed exclusively for the Apple iPad, the app utilises an algorithm that approximates the distance between the sender and receiver, allowing the digital letter to traverse imaginary borders and oceans.
To send a letter, users must affix digital postage using highly detailed, uniquely designed stamps. These stamps are not mere decorations; they are digital collectibles, creating an ecosystem where stamp enthusiasts can trade, gift and appraise their collections.
The genesis of Lettre
The story behind Lettre is deeply personal for its creators. Mashfique's father, afflicted with Parkinson's disease, struggled with modern communication devices but found solace in the Apple Pencil's ease of use. This revelation led to the conceptualisation of Lettre as a platform that invokes one of the first skills humans learn but often lose touch with over time—handwriting.
Grounding digital collectibles in reality
In a market saturated with the volatility of NFTs, Lettre aims to ground the concept of digital collectibles in the real-world market of stamp collecting, estimated to be worth $13 billion globally. The app plans to collaborate with artists and photographers to mint unique, limited-quantity stamps that serve as digital postage.
Looking ahead
Lettre is set to expand into a penpals model, allowing users to establish correspondence based on shared interests. A marketplace for trading, gifting or offloading entire stamp books is also in the pipeline. Future stamps will carry a digital trail, recording their journey and interactions, thereby driving their value.
A global team with local roots
The team behind Lettre is either based in Bangladesh or part of the greater Bengali diaspora, and the company is registered in the United States. Lettre is currently eyeing a public launch on the Apple Store in mid-September 2023.
In a world increasingly mediated by screens and algorithms, Lettre offers a refreshing return to the tangible and the personal, albeit in a digital format. It's a poignant reminder that even in our fast-paced, tech-driven lives, there's room for slowing down and appreciating the art of deliberate communication.
For those interested in joining the digital letter-writing renaissance, visit www.lettre.app to find out more.