Mercedes-Benz buses now available in Bangladesh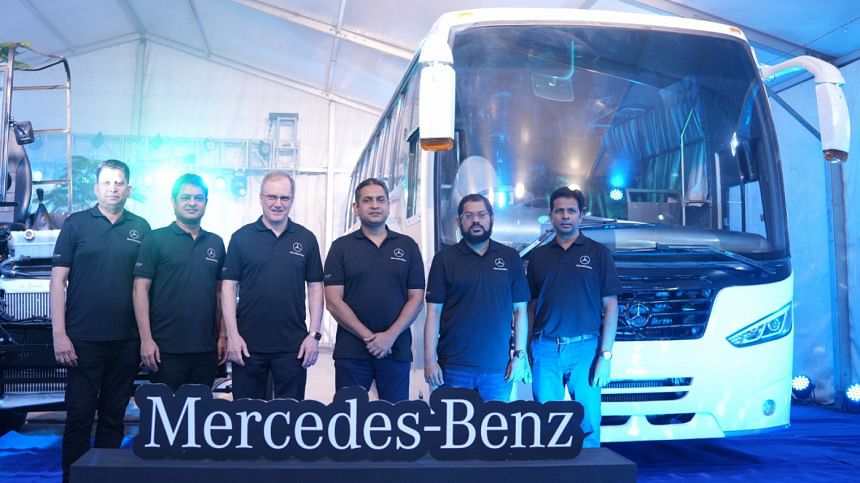 Rancon Trucks and Buses Limited has recently launched the chassis for the Mercedes-Benz OF 1623 bus in Bangladesh. The chassis comes in two variants and is powered by Mercedes-Benz's OM 906 engine, which produces 6393 cc and 810 Nm @ 1600 RPM. Additionally, the chassis boasts 230 horsepower and features parabolic and air suspension.
The launching event took place on September 16 in Tejgaon. During the event, Romo Rouf Chowdhury, Managing Director of Rancon Trucks and Buses Limited, said that this chassis will provide notable fuel efficiency. Sultanuzzaman Sazan, Executive Director of Rancon Trucks and Buses, shared that the chassis will come with a propeller shaft and retarder attached to each cylinder, which will ensure more safety and extended breakers. 
The chassis will also feature a high-pressure (1800 bar) unit pump injection system for better combustion, and engine-mounted compressors reduce noise and vibration. In addition, the chassis is equipped with modern technologies such as an interactive dashboard, which displays signals monitored by the ECU, ensuring the vehicle's safety in any situation. Furthermore, the vehicle will have a speed lock to maintain the speed limit. 
To maximise fuel efficiency, each cylinder has a separate fuel pump, ensuring the correct mixture of air and fuel. For passenger safety and smooth rides on uneven roads, air suspension will be a feature of the chassis as well.
As per an official press release, the chassis will have a long service life. With a 100,000 km warranty and a high-quality chassis frame, suspension, and brakes, it will require minimal maintenance even in challenging driving conditions. Moreover, the powder-coated chassis frame is resilient in harsh environments and remains rust-free for an extended period.
Currently, these chassis will be available in all Rancon Trucks and Buses showrooms nationwide, along with after-sales service and parts. A mobile service team is also available for unfavourable conditions.