From mild to wild: converting an Impreza into a WRX STi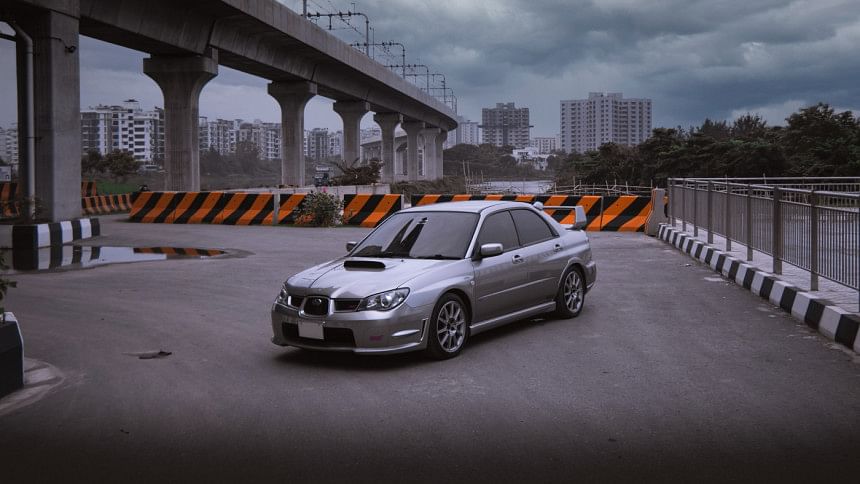 Subaru Impreza WRX STi, the superior version of the Subaru WRX and the arch-nemesis of the EVOs, is a subdivision of Subaru known as Subaru Tecnica International (STi). Established in 1988, STi handles Subaru's motorsport division. The first vehicle to bear the STi badge was the limited-edition rally car, the Subaru Legacy RS RA. In 1998, STi elevated the Subaru WRX to new heights and named it the Impreza WRX STI 22B, which is now famously known as the STi 22B. Limited to 400 units, it was exclusively available in the Japanese market. STi made a name for itself in the early 2000s with its success in the World Rally Championship (WRC), winning multiple titles with the Legacy and Impreza models.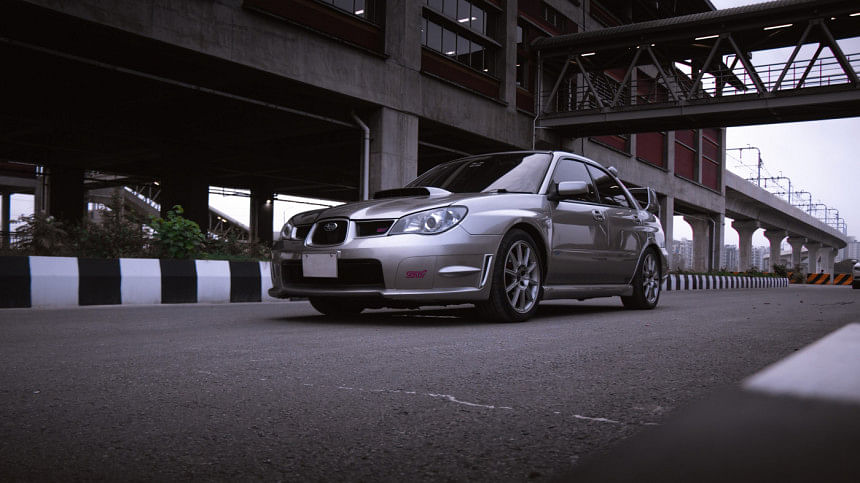 Today, we present to you the successor of the 22B, the 2006 Impreza WRX STi, also known as the Hawkeye STi. The name 'Hawkeye' derives from its distinct and hawk-like headlight and front-end design. Owned by local car enthusiast Kazi Tahzid, this STi was originally owned by one of his close friends and started as a 2007 base model Impreza. In 2020, using a CKD imported from Japan, it was converted into a 2006 Impreza WRX STi. Unlike the Evo counterparts, the conversion process is relatively straightforward, with most components being bolt-on, including body panels and shock towers, eliminating the need for cutting and welding.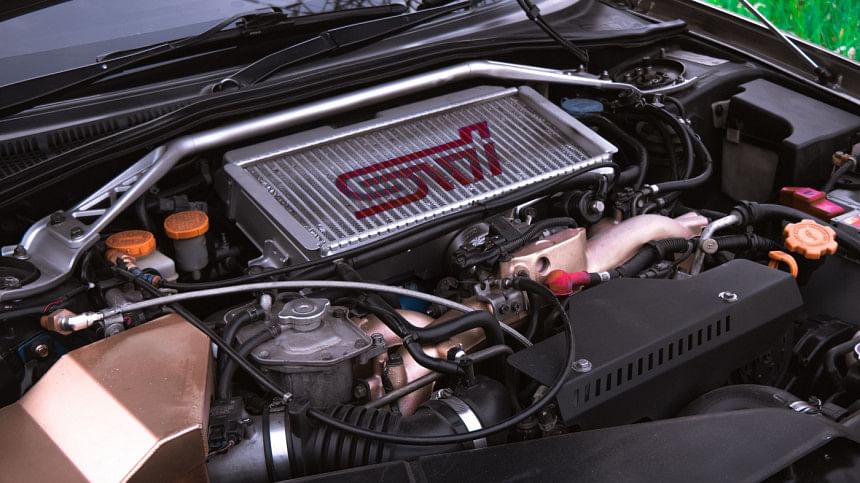 After the conversion, Tahzid's friend drove the car for about a year before deciding to sell it. Unfortunately, Tahzid missed the opportunity due to being in Malaysia to finish his degree. In 2022, his friend repurchased the car, enjoyed it for a few months, and then decided to sell it again. Knowing Tahzid's strong desire for the car, his friend informed him before selling. Without hesitation, Tahzid purchased the STi, selling his previous car, a 2012 Axio GT, just two days before Eid in July 2022. The engine, transmission, and turbo of the STi were in good condition with no crash history. However, attention was needed to the wiring, exhaust system, suspension, wheels, and cabin. Over approximately 7-8 months, Tahzid resolved all these issues and performed all the mandatory maintenance and replacement tasks required to complete after reaching the 100k km mileage.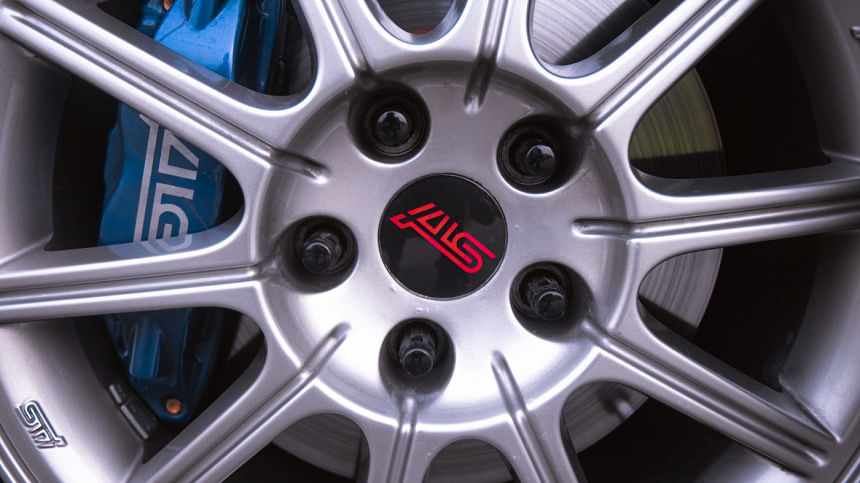 Inside the car, the dashboard follows a driver-centric layout, providing easy access to controls and vital information. The instrument cluster features sporty gauges and additional gauges such as AFR, boost pressure, and oil pressure gauges from AEM's X series. A Prosport Evo oil temperature gauge has also been added. The steering wheel, typically wrapped in leather from the factory, has been upgraded to an Alcantara-wrapped steering wheel for a more premium feel and improved grip. In addition to the steering wheel, the shift boot cover, hand brake cover, gauge pod cover, and rear shelf are also wrapped in Alcantara. The factory WRX STi bucket seats, designed for comfort and lateral support during spirited driving, remain intact.
In comparison to the number of OEM parts that Tahzid bought, the aftermarket parts are insignificant as he prefers OEM parts, which Subaru still produces. Starting with engine mounts, transmission mounts, suspension components (both front and rear), new interior panels, and numerous other items that cannot be listed in a single paragraph. 
Let's move on to the aftermarket parts installed in this car. First, the electronic boost controller is a Grimmspeed 3-port device. The Grimmspeed 3-port Electronic boost controller is essential for anyone seeking to extract more power from their WRX STi. This device allows precise control of the boost pressure produced by the turbocharger, resulting in a significant increase in power and torque output. Moving on to the engine modifications, this STi has a Turbosmart Dual Port Kompact BOV. It is currently set to be recirculated as that keeps the turbo stay spooled in between shifts. The stock BOV was replaced with the Turbosmart mainly because the OEM BOV ends up leaking boost if the car is not operating under its stock boost pressure. Since it boosts more than a regular STi, it also requires more fuel, which is why it has a Walbro 255 LPH Fuel pump. 
An Apexi Power intake with a Laile Beatrush heat shield, paired with a Kakimotor Regu 06&R exhaust, is also installed. The intake is a high-performance air intake system that supplies the engine with cool, dense air. The Laile Beatrush heat shield ensures that the intake air remains unaffected by the high engine bay temperature, leading to a more effective intake process. The exhaust is a high-performance system that not only enhances the sound of the WRX STi but also improves its power and torque output. It is designed to optimize exhaust flow, delivering a significant power gain over the stock exhaust system. 
To provide a smooth ride and isolate vibrations, aftermarket bushings are installed, including driveshaft bushings from Torque Solutions, polyurethane shifter and rear differential bushings from Kartboy. For superior handling and high-speed stability, Tein Flex Z coil overs and Continental Max Contact6 tires are added, helping the car transfer more power to the ground. To achieve better overall wheel fitment and adjustability over the suspension setup, Whiteline camber bolts are installed in the front and rear. For brakes, it has rotors from the DBA (Disk Brake Australia) Street series, new callipers from Brembo, and brake pads from the Stoptech Sport series for both the front and rear. Finally, a full underbody rubber coating is applied to prevent rust from occurring.
According to Tahzid, buying this car was a surreal experience. He was and still is a huge fan of Mitsubishi Evos, but since none were available for purchase, he decided to join Team STi and try out a new platform. To him, driving this car every day has been a pure delight. Within the first nine months of ownership, he was able to log over 10,000 kilometres. The car is quick and responsive when needed, but due to the AWD turning ratio, u-turns can be a major hassle. 
In comparison to an Evo, the seats are significantly more comfortable, the suspension is much softer, and there is no juddering when cruising in any gear under or within 2k rpm. When he drives it in the city, fuel economy is around 4 km/l, dropping to 2 km/l during spirited driving, but on highways, it offers around 10-12 km/l, which is quite decent for a gas guzzler like this one. He can travel 450 kilometres on highways and 200 kilometres with a full tank. He says that if he plans to keep the vehicle, he will go for more performance-enhancing modifications, such as changing the turbo and improving the engine's internals. 
The project car lifestyle is a unique one - you meet new people who help you with various aspects, learn new things every day, receive assistance from people worldwide through forums, and have friends bring parts from other countries, while keeping your car in good shape thanks to all the help received.