The Land Cruiser 70 returns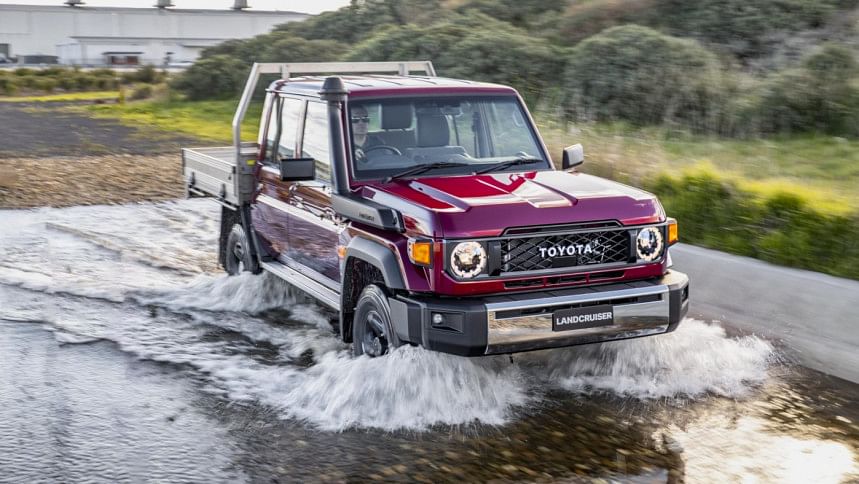 The iconic Toyota Land Cruiser 70 series, known for its rugged reliability and unyielding performance, is making a triumphant return with its first update in 15 years. While North American fans are still unable to purchase it for road use, the new 2024 model is back on sale in Japan.
The latest iteration of the Land Cruiser 70 series stays true to its heritage while incorporating modern touches, proving that what's old can indeed be new again. Up front, the vehicle sports round LED headlights and a mesh upper grille, harking back to the original front clip while harmonizing with its American counterpart. The revival of non-integrated indicator units and the center channel running down the hood further adds a nostalgic touch that resonates with the brand's dedicated fanbase.
Inside the cabin, the updates are evolutionary, respecting the Land Cruiser's legacy while introducing essential upgrades for today's drivers. A refreshed steering wheel and a 6.7-inch infotainment screen with wired Apple CarPlay and Android Auto bring modern connectivity to the forefront. However, the pièce de résistance is the new gauge cluster with squircle dials, reminiscent of the 1980s era, tastefully combined with a small 4.2-inch digital display for powertrain information.
Under the hood, Toyota equips the Land Cruiser 70 with a 2.8-liter four-cylinder turbodiesel engine paired with a six-speed automatic transmission as standard. Delivering 201 horsepower and an impressive 368 lb.-ft. of torque, this powertrain ensures competent performance for a variety of tasks. Those who prefer a manual gearbox can opt for the 4.5-liter turbodiesel V8, generating 52 fewer lb.-ft. of torque than the four-cylinder option but offering 1.341 more horsepower. Despite the V8's modest figures, the 1VD-FTV engine has earned a reputation for longevity and reliability, making it an enduring choice for enthusiasts.
With an illustrious production run nearing four decades, the Toyota Land Cruiser 70 series stands as a testament to durability and strength. This latest update maintains its raw and unrefined charm, underscoring its continued relevance in demanding environments such as mining operations and war zones. The Land Cruiser 70's capability and dependability have earned it a coveted role as a trusted vehicle for the United Nations' diverse missions.
While luxury-seeking urbanites may not find the Land Cruiser 70 series in their preferred garages, it remains a go-to vehicle for those seeking uncompromising performance in challenging terrains.