Facebook's Meta launches Twitter rival Threads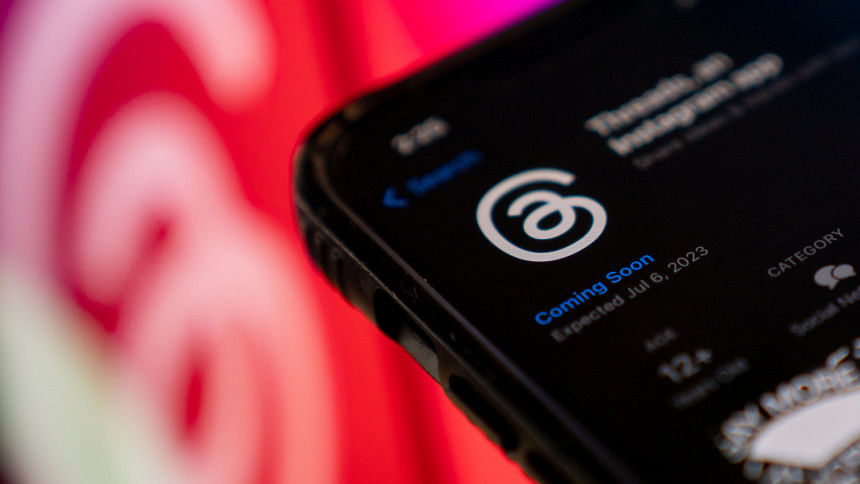 Facebook behemoth Meta officially launched Threads, its text-based rival to Twitter, on Wednesday -- but its release in Europe has been delayed over data privacy concerns.
Threads is the biggest challenger yet to Elon Musk-owned Twitter, which has seen a series of potential competitors emerge but not yet replace one of social media's most iconic companies, despite its epic struggles.
The app went live on Apple and Android app stores at 2300 GMT with accounts already active for celebrities such as Shakira and Jack Black, as well as media outlets including The Hollywood Reporter, Vice and Netflix.
"Let's do this. Welcome to Threads," wrote Meta chief executive and Facebook founder Mark Zuckerberg in his first post on the new platform, which will run with no ads for now.
The app was introduced as a clear spin-off of Instagram, offering it a built-in audience of more than two billion users and thus sparing it the challenge of starting from scratch.
Zuckerberg is widely understood to be taking advantage of Musk's chaotic ownership of Twitter to push out the new product, which the company hopes will become the go-to communication channel for celebrities, companies and politicians.
"It's as simple as that: if an Instagram user with a large number of followers such as Kardashian or a Bieber or a Messi begins posting on Threads regularly, a new platform could quickly thrive," strategic financial analyst Brian Wieser said on Substack.
Analyst Jasmine Engberg from Insider Intelligence said Threads only needs one out of four Instagram monthly users "to make it as big as Twitter".
"Twitter users are desperate for an alternative, and Musk has given Zuckerberg an opening," she added.
Musk and Zuckerberg are known to be bitter rivals -- and have even offered to meet each other in a fighting cage to wrestle it out.
This came after a Meta executive reportedly told employees that Threads would be like Twitter, but "sanely run."
Instagram chief Adam Mosseri told users that Threads was intended to build "an open and friendly platform for conversations."
"The best thing you can do if you want that too is be kind," he said.
Under Musk, Twitter has seen content moderation reduced to a minimum with glitches and rash decisions scaring away celebrities and major advertisers.
Musk hired advertising executive Linda Yaccarino to steady the ship, but she has not been spared his whimsy.
The Tesla tycoon said last week that he was limiting access to Twitter to ward off AI companies from "scraping" the site to train their technology.
Musk then angered Twitter's most devoted aficionados by declaring that access to its TweetDeck product -- which allows users to view a fast flow of tweets at once -- would be for paying customers only.
- EU 'many months' away -
Threads owner Meta has its legion of critics too, especially in Europe, and despite Instagram's massive user base, they could slow the site's development.
The company formerly known as Facebook is criticized mainly for its handling of personal data -- the essential ingredient for targeted ads that help it rake in billions of dollars in profits every quarter.
Mosseri said he regretted that the EU launch was delayed, but if Meta had waited for regulatory clarity from Brussels, Threads would remain "many,many, many, months away."
"I was worried that our window would close, because timing is important," he added to Platformer, a tech news site.
According to a source close to the matter, Meta was wary of a new law called the Digital Markets Act (DMA), which sets strict rules for the world's "gatekeeper" internet companies.
One rule restricts platforms from transferring personal data between products, as would potentially be the case between Threads and Instagram.
Meta was caught out for doing just that after it bought the messaging app WhatsApp, and European regulators will be on high alert to ensure that the company doesn't do so illegally with Threads.
Another original idea for Threads, making it interoperable with other Twitter rivals such as Mastodon, is also on hold for now, but not abandoned.
"Soon, you'll be able to follow and interact with people on other fediverse platforms," the app told users.
The so-called fediverse would see different platforms of all kinds and sizes enabled to communicate with one another.