Kushti's legacy untarnished despite its downfall in Dhaka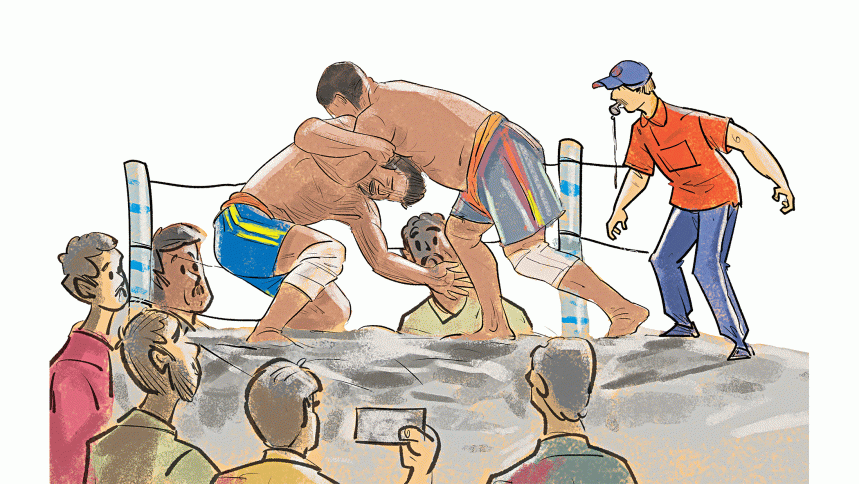 While Dhaka's traditional kushti is dying down, the scenario in other parts of the country is not bleak by any means. Many kushti events still take place outside the capital.
The most famous one is the Jabbarer Bali Khela (Jabbar's Wrestling Competition) in the Chattogram region. The tradition of community-based wrestling is also alive in the eastern part of the country. The wrestling practice in the north-eastern region is spread across five upazilas of Sunamganj district in Haor area. There, a unique culture of wrestling exists between two villages called Baiyafi Kusti Kheir.
In the middle eastern region, kushti is prevalent across the flood plains of both banks of the Meghna in Nabinagar and Banchamarpur of Brahmanbaria district, Muradnagar, Homna, Meghna, Titas and Daudkandi of Comilla district, Matlab of Chandpur district, Araihajar and Sonargaon of Narayanganj district, and Ghazaria of Munshiganj district, etc.
In the western part of the country, including Narail, Rangpur, Rajshahi, Chapainawabganj, Dinajpur, and several districts of the south and north-western part, city-based wrestling has recently emerged. Until the 1990's, traditional wrestling was mainly practiced in villages and primarily played by the children of peasant families.