Xi, Modi agree to reduce border tensions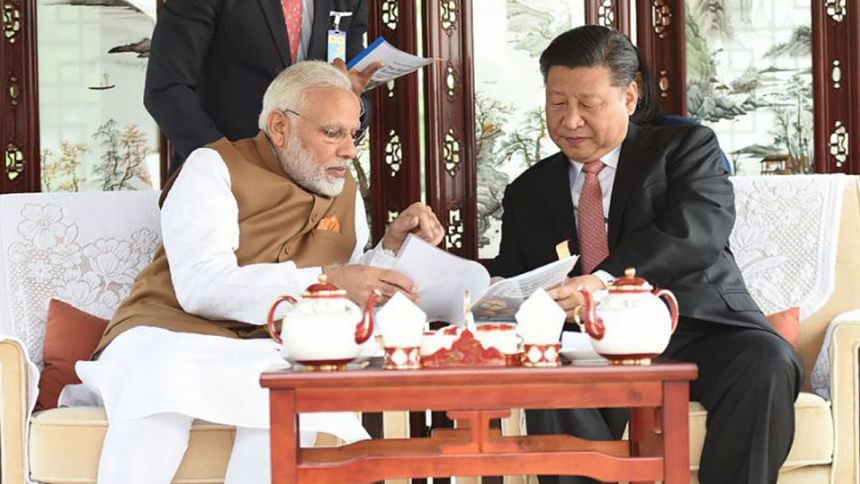 Chinese President Xi Jinping and Indian Prime Minister Narendra Modi ended informal meetings Saturday with a promise to reduce border tensions after a high-altitude standoff in the Himalayas last year.
The leaders have spent two days in the central Chinese city of Wuhan for discussions on how to mend ties strained when troops from both sides came eyeball-to-eyeball in the disputed Doklam area.
The leaders "underscored the importance of maintaining peace and tranquility in all areas of the India-China border region", Indian's foreign ministry said in a statement following the meeting.
"They issued strategic guidance to their respective militaries to strengthen communication in order to build trust and mutual understanding and enhance predictability and effectiveness in the management of border affairs," it said, adding the two sides will "earnestly implement various confidence building measures".
In a statement on its website, China's foreign ministry said that Xi had told Modi that "a friendly Sino-Indian relationship is a significant, positive factor in safeguarding world stability," adding that "China and India should be good neighbours and good friends".
It did not, however, mention the border dispute.
Instead, Xi emphasised the countries had both traditionally had "an independent foreign policy", an oblique reference to India's discussion with the US, Australia and Japan about balancing against China's growing assertiveness in what the Trump administration has begun to refer to as the "Indo-Pacific" region.
The four countries have been in discussions over trade and security.
"In dealing with great power relations, China persists in strategic autonomy," the foreign ministry quoted Xi as saying.
Beijing "persists in promoting the construction of a new type of international relations based on mutual respect, fairness and justice, and win-win cooperation".
"Friendly atmosphere"
New Delhi has also raised concerns about Beijing's Belt and Road initiative, a global trade infrastructure programme that includes a major project through Pakistan-administered Kashmir, disputed territory that New Delhi claims is illegally occupied.
The issue was not, however, mentioned in either the Indian or Chinese statements.
Instead, the Indian side emphasised that the two leaders had agreed to cooperate on a wide range of issues from economic development to counter-terrorism.
The leaders "exchanged views on bilateral relations, and international and regional issues of common concern Saturday morning in a relaxed, friendly atmosphere", China's state news agency Xinhua said.
Both nations have previously said they are committed to solving long-standing border disagreements through dialogue, but progress has been glacial.
India and China went to war in 1962 over Arunachal Pradesh, with Chinese troops temporarily capturing part of the Himalayan territory.
The dispute remains unresolved: India considers Arunachal Pradesh one of its northeastern states, while China stakes claim to about 90,000 square kilometres (35,000 square miles) of the area.
In February, Beijing lodged an angry protest with New Delhi over a trip by Modi to the state.
Last year, Indian and Chinese troops faced off on the Doklam plateau, an area high in the Himalayas claimed both by China and by India's ally Bhutan.
The dispute began in June when Chinese troops started building a road on the plateau and India deployed troops to stop the project.
A crisis was averted in August when the two nuclear-armed nations pulled back.