CU fine arts' students asked to leave campus citing 'renovation work'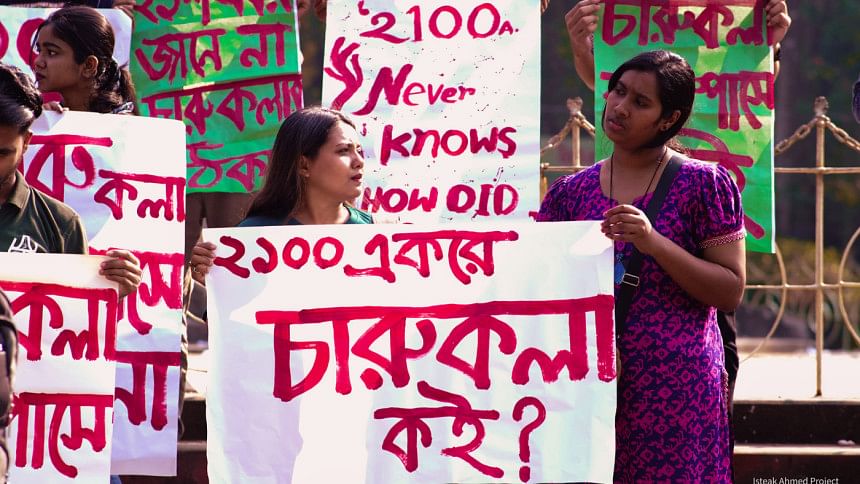 Students of Chittagong University's Institute of Fine Arts were asked to vacate their hall and the campus by 10:00pm tonight due to what the authority claimed was "renovation work" on the campus.
The decision was taken following an emergency 542nd syndicate meeting this evening, reports our Chattogram staff correspondent quoting CU Proctor Dr Rabiul Hasan Bhuiyan.
Proctor Dr Rabiul Hasan Bhuiyan told The Daily Star, "After an emergency meeting, the students were ordered to leave the campus by 10pm. All physical classes and examinations will be closed in the fine arts institute for the next one month to carry out some renovation work."
However, the proctor said that teachers have been asked to take online classes.
Earlier last night, the proctorial body and police conducted a two-hour raid on the campus. They searched every room of the institution's Shilpi Rashid Chowdhury dormitory and the teachers' club.
When asked about the hurried decision amid the ongoing student demonstration, the proctor said, "Only the members of the syndicate can explain it."
The students started a sit-in program on November 2 last year to press home their 22-point demands, including shifting the campus to Hathazari main campus.
Locking the main gate of the institute on November 16, the students staged a demonstration boycotting classes and exams as the administration did not comply with the demand.
From that day, the academic activities of the institute were suspended.
After this, the university administration could not reach any solution even after a series of meetings.
Education Minister Dipu Moni sat in a meeting with the protesting students but it ended without any progress.
The students returned to classes on January 23 on some condition that the authorities were given a seven-day deadline during the meeting.
However, the students started the demonstration again on Tuesday.