To TSC in search of tea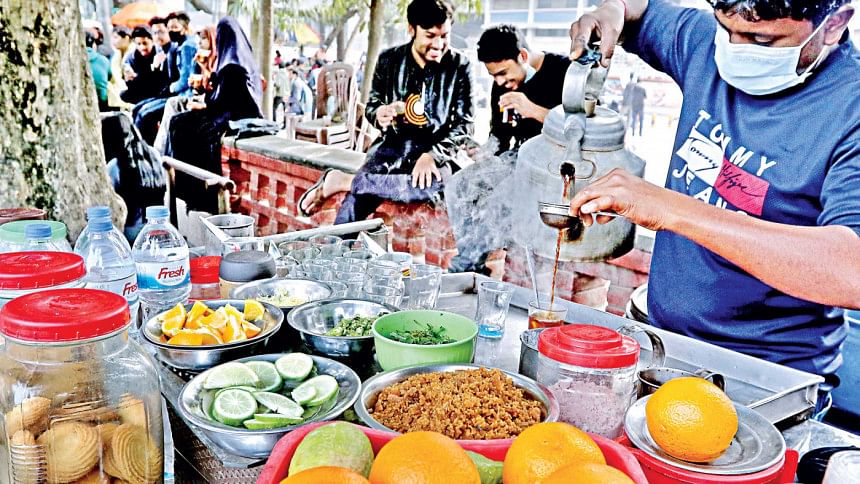 Those who are regular listeners of contemporary Bangla music are familiar with a song that talks about roaming around the streets of the city in search of a cup of tea that comes in cheap.
This song, Arnob's 'Rastay', is in many ways the quintessential representation of Dhaka, and applies quite literally to the outer boundaries of Teachers and Students Centre (TSC) at Dhaka University, where cheap tea comes in different colours and flavours from a dozen tea stalls. The stalls don't discriminate, students and people from all walks of life come here to chat and sip on their tea, from morning till midnight.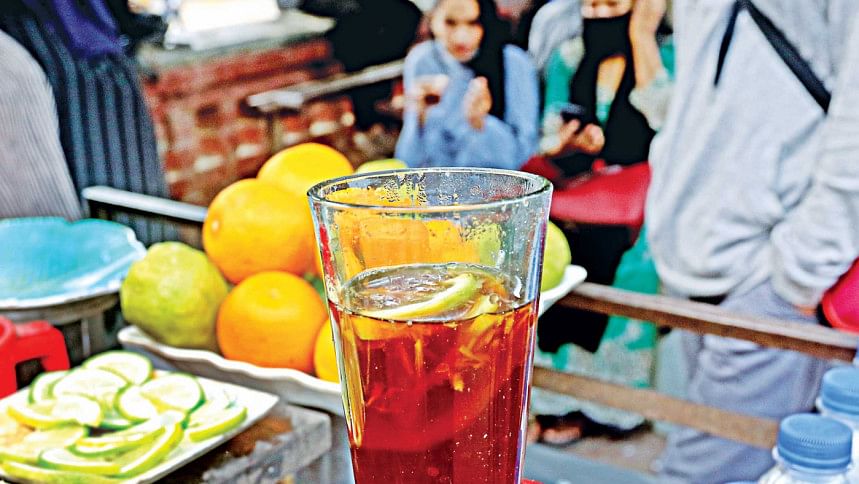 While walking from Shahbagh to TSC on Wednesday evening, this correspondent overheard a phone conversation by another pedestrian.
"Come to TSC. We will have a cup of tea and then go home," he was heard saying, echoing the same intention as countless others in the vicinity.
This correspondent found people of different ages during the last visit. "It's not a bad pastime to have a cup of Malta tea or milk tea while chatting with friends, that's why I always come here," said Samin, a DU student.
Rishad, another DU student, echoed the same sentiments. "We are the current students here, but those who have left the campus still come here to have some tea."
The sheer number of the type of tea available in the area is enough to blow one's mind away. There is liquor tea, milk tea, malta tea, orange tea, olive tea, Bournvita tea, malai Tea, chilli tea, apple tea and molasses tea. In the last couple of years, aparajita tea has also gained some popularity.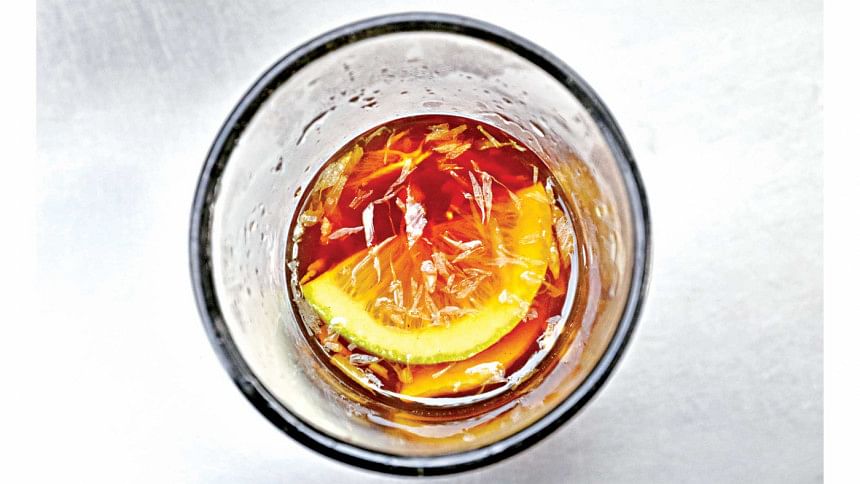 This correspondent found Md Jisan, one of the many tea makers in the area, busy at work. He has been running a tea business here for the past ten years. He said all types of tea sell well. However, chilli tea has become more popular recently.
According to him, chilli tea is made with green pepper, tamarind juice, black salt, sugar and tea liqour. A cup of this tea will come at ten bucks.
TSC takes on a new dimension on holidays -- especially on Fridays -- with many people coming with friends and family. Those are the days when the business flourishes.
A crowd of shoppers was found in the area on Friday morning when this correspondent made another visit to the area. Mahmudul Hasan, along with his wife and kids, came from Basabo.
"My wife was a student here. We used to come here before for tea before we got married. Even after eight years of marriage, we come to TSC regularly, and reminisce the memories," he said.
Swapan Mama, who has been selling tea in the area since 1984, is the oldest and most beloved tea seller at TSC. TSC's regular crowd have been worried about his absence in the area. However, later it was known that Swapan Mama's stall was closed as he has been in Brahmanbaria to visit his family.
Contacted, Swapan mama informed that his full name is Md Abdul Jalil Mia.
"It's been so long being called Swapan Mama by so many people that I almost forgot this name! Swapan Mama is what my name is now," he said.
"Our financial condition was the worst during the first phase of Corona. But now the business is going well, with people coming in regularly," said Swapan Mama on a positive note.