A celebration of the melody man
His mother sold all her jewelry to buy him the equipment in a music studio.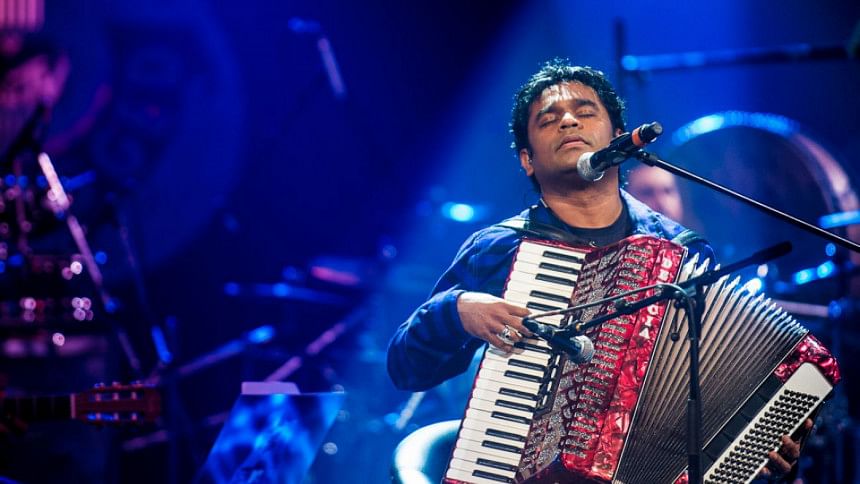 His mother sold all her jewelry to buy him the equipment in a music studio. He made British composer Andrew Lloyd Webber take off his shoes while recording of Bollywood musical "Bollywood Dreams" in a studio in London. 
These, and many other vignettes of double Oscar-winning composer AR Rahman's personal life came out in public domain when director Umesh Aggarwal's documentary "Jai Ho" based on the career of the 'Mozart of Madras' had its India premiere on Tuesday night, in front of a packed audience of music lovers from not only the national capital, but all of the country.
The film celebrates Rahman's achievements through his two-decade career, the evolution of his style of music, and what it meant to Indian film industry. 
It is interwoven with Rahman's personal life story — the struggle after his father's death, the day his mother sold all her jewelry to buy him studio equipment, ideas of spirituality and how Rahman creates music.
The film features British director Danny Boyle, director of multiple Oscar-winning film "Slumdog Millionaire", his compatriot-composer Andrew Lloyd Webber, directors Shekhar Kapoor, Mani Ratnam (whose film "Roja" ushered Rahman into film music 23 years ago), Subhash Ghai, lyricist Gulzar and singer Alaka Yagnik, among others, talking about Rahman.      
Considered one of the world's most influential people by Time magazine, the music maestro's work includes over 120 film scores worldwide.
In an interesting piece of information, Ghai says Rahman is so "eccentric" at times, "he will go the bathroom and disappear for two hours."
Most importantly, the documentary gets Rahman himself to talk, for which director Aggarwal says he had to wait for six months. 
A standing ovation by the audience marked the end of the 60-minute documentary, which was followed by a question-answer session featuring Rahman and the film's director with the audience.
Rahman was also requested by the audience to sing a song but time constraints did not permit it.