From Riyadh with tales of heartbreak
Saudi authorities deport 86 Bangladeshi workers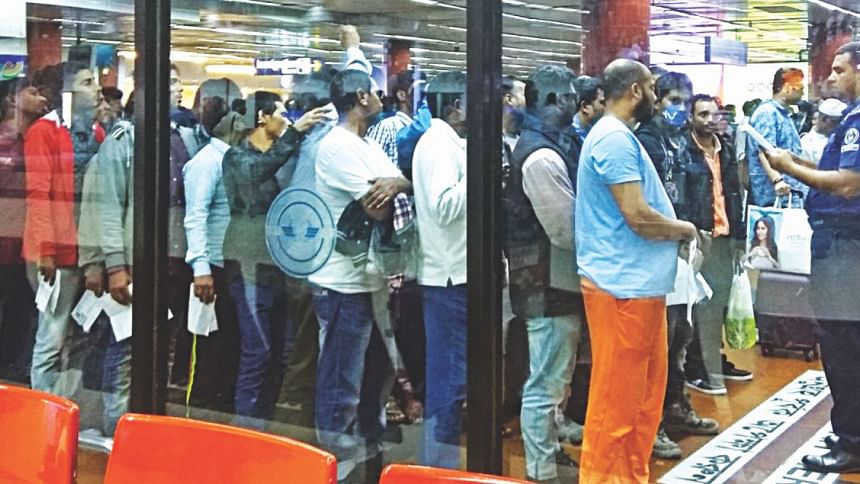 Nasiruddin went to the Kingdom of Saudi Arabia with a dream to change the fate of his family by working hard and earning a good wage in the oil-rich country. His dream, however, turned into a nightmare within a matter of weeks as he had to face detention and was eventually deported to his home country.
"I spent 15 days in jail. I worked only for two and a half days and earned nothing," said the 25-year-old man, who landed in Hazrat Shahjalal International Airport yesterday afternoon, totally penniless and suffering from fever and cold.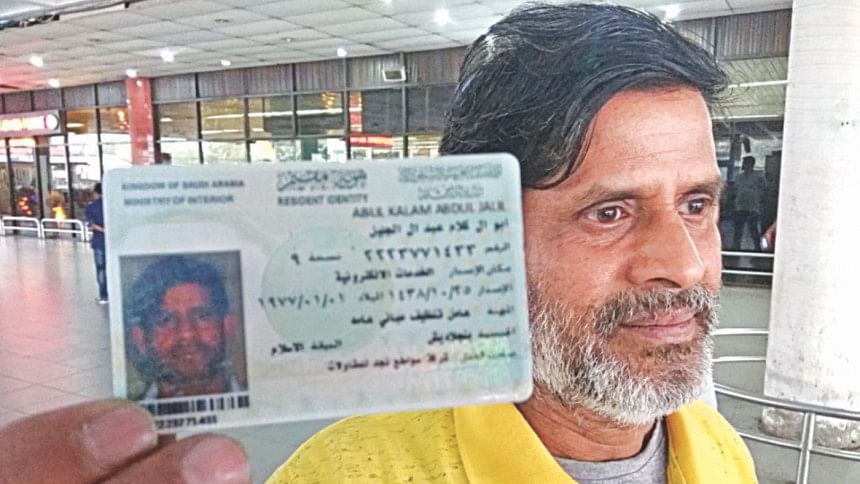 Nasiruddin, a resident of Tangail's Ghatail upazila, told The Daily Star that he went to the KSA on February 14 this year. He spent a total of Tk 3 lakh to secure the job of a cleaner for "Sanam International", a Riyadh-based company.
However, as there was no job in Riyadh, his broker sent him to Dammam, the capital of the country's Eastern Province, to work for another company "Techno Group" two weeks later.
However, just after working for two and a half days, Saudi police detained him.
"I was detained not because I did not have the work permit, but because I was a supplied worker," said Nasiruddin, who was detained for 15 days.
Nasiruddin is one of the 86 Bangladeshi migrants who were deported for various reasons, including for working in a company other than the one that he was contracted for. According to airport oficials, around 300 to 400 Bangladeshi migrants are being deported every week from Saudi Arabia.
The trend of deportation from the KSA, home to around two million Bangladeshi workers, has been on the rise since November last year, said airport officials.
Nazrul Islam, deputy chief of Bangladesh embassy in Riyadh, however, said the Saudi authorities conduct raids against undocumented migrants throughout the year. If someone, who has work permit but works for a company that he was not contracted for, is also considered as illegal, he said.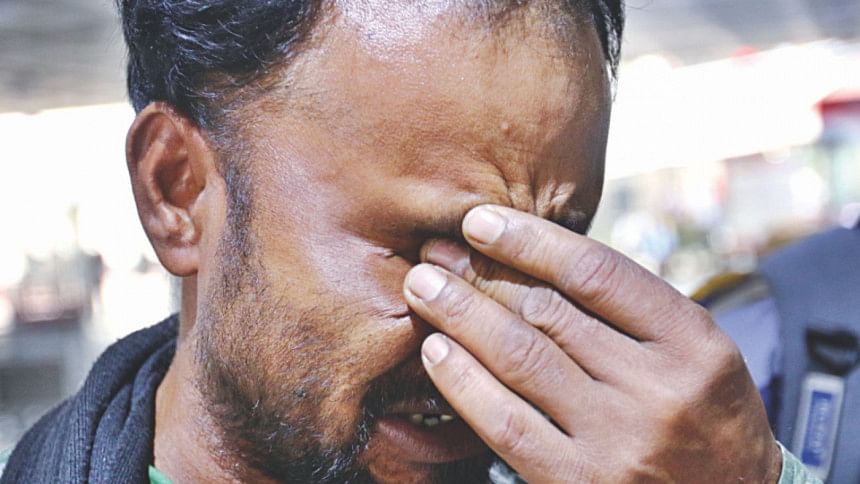 There was no list of how many Bangladeshis have been detained and deported to Bangladesh, he added.
"Brokers are involved in various forms of illegal activities, and the workers fall victims to it," Nazrul Islam told The Daily Star yesterday.
Dulal Hossain, another migrant worker who fell prey to the traps of brokers in the KSA.
He spent a total of Tk 3.5 lakh for a visa to work in the kingdom and went there on September 21, 2017.
He borrowed the amount from his relatives and several micro credit organisations.
He was promised the job of a driver, but employed as a carpenter. It was a "free visa", he said.
"After landing in Saudi Arabia, I was imposed an additional burden of 28,000 Saudi riyal [worth around Tk 6.27 lakh]. The broker told me that he had paid the amount that was needed for my work permit and would deduct an installment of that amount from my weekly wage," he said at the Dhaka airport yesterday.
Dulal said, Saudi police detained him, along with few others, last week and put them in the deportation centre in Dammam and deported him to Bangladesh on Saturday.
"I could not send any money home in the past 17 months and I have a debt of Tk 6 lakh. How am I going to repay this amount?" Dulal said, heaving a sigh of frustration.
"Bangladeshis have no respect in Saudi Arabia. No one should go there," said Dulal.
Late last year, Bangladesh ambassador in the Kingdom, Golam Moshi, had said Saudi Arabia, which was currently undergoing a financial stress, was implementing its policy of employing local people.
Therefore, certain laws regarding the migrants that were not enforced earlier are now being followed strictly, he said.
"None should come to Saudi Arabia with so-called free visas," Moshi had said.