Govt okays 90,000-tonne fertiliser purchase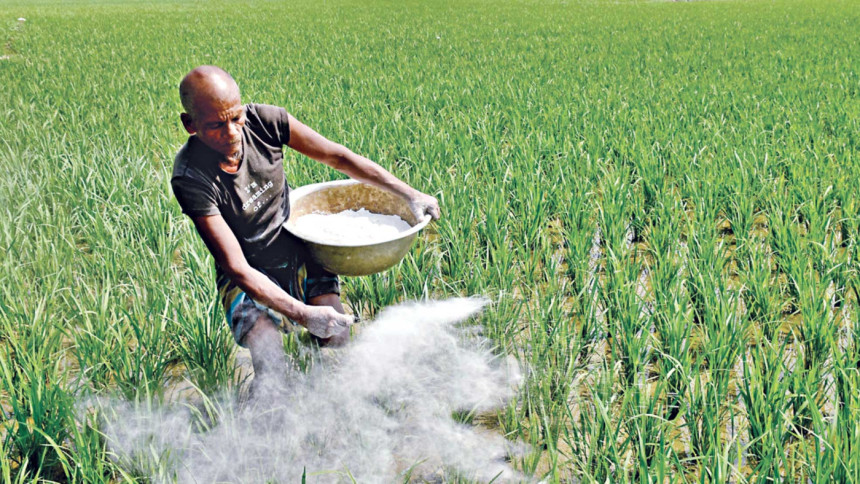 The government purchase committee yesterday gave the nod to two public agencies to buy a total of 90,000 tonnes of fertiliser from Qatar and Morocco under a state-to-state contract to augment the country's fertiliser stock for growing food in coming seasons.
Of the amount, the Bangladesh Agriculture Development Corporation (BADC) will buy 30,000 tonnes of triple super phosphate from Morocco at $687.25 per tonne, which is lower than the previous price of $914 per tonne.
The remaining 60,000 tonnes will be urea fertiliser to be bought by the Bangladesh Chemical Industries Corporation (BCIC) from Qatar, according to the decision of the Cabinet Committee on Government Purchase.
The BCIC, under the industries ministry, will buy 30,000 tonnes of bagged prilled urea at $724.5 per tonne. The latest price was higher than the urea the government bought at $563.33 per tonne earlier.
The agency, which produces nearly 10 lakh tonnes of urea in local mills, will also buy 30,000 tonnes of bulk granular urea from Qatar at $733.33 per tonne while the previous price was $ 630.83 per tonne.
The purchases continued as the government is building stock to supply the vital agricultural input to farmers at subsidised rates amid the ongoing economic uncertainty stemming from the Russia-Ukraine war.
The agriculture ministry projects a requirement for 55.5 lakh tonnes of chemical fertiliser for fiscal 2022-23 and most of it would be met through imports because of inadequate domestic production.
State factories produce 10 lakh tonnes of urea and insignificant quantities of triple super phosphate and diammonium phosphate.
Farmers used over 55 lakh tonnes of fertiliser in fiscal 2021-22 and most of the demand was met through imports.
Apart from approving the fertiliser purchase, the cabinet committee approved the state-run Trading Corporation of Bangladesh (TCB) to buy a total of 1.65 crore litres of soybean oil from three local companies to carry out its distribution of certain essentials among one crore family card holders at subsidised rates.
Local commodity giant TK Group, City Group and Meghna Group of Industries will supply the edible oil to the state corporation.
The TCB last week got approval from the cabinet committee to buy 15,000 tonnes of lentils and 60 lakh litres of soybean oil for the same purpose.