Khulna BSCIC in dire straits
Poor infrastructure, lack of utilities plague industries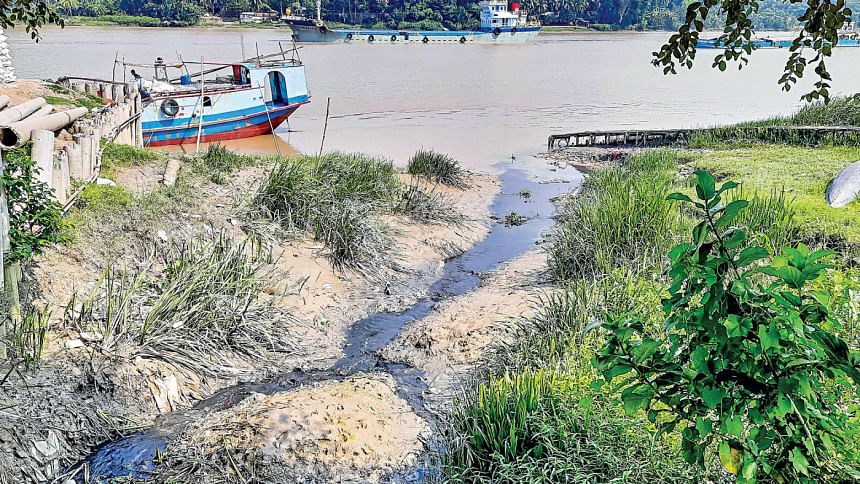 An industrial estate of the Bangladesh Small and Cottage Industries Corporation (BSCIC) in Khulna is yet to be fully developed even though more than half a century has passed since its establishment.
The estate is plagued by poor infrastructure, namely dilapidated roads and an inadequate drainage system, while it also lacks sufficient water, gas and power supply, according to local businesspeople.
Besides, the number of sick industries in the area is growing day by day as many entrepreneurs are struggling to pay back loans in face of repeated losses.
As a result, 20 industries at the estate are in dire condition but the BSCIC is unable to take measures for reviving these units due to legal complications, including disputes over land allocations.
Built on 44.10 acres of land in Khulna city's Shiromani area along the Dhaka-Khulna highway, the industrial area was inaugurated on March 8, 1965, with 240 plots available.
The plots were then allocated to 88 entrepreneurs to set up various factories, including food processing, chemical, jute, printing and packaging units.
However, just 59 of these industries are currently operational while 8 are under construction, 1 is awaiting production and the rest are on the verge of permanent closure.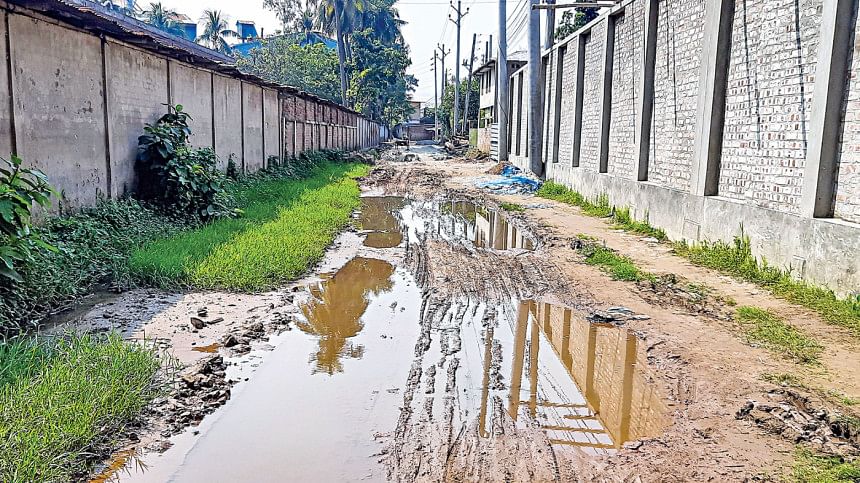 Of the active industries, 15 are food processing units, 22 are chemical units, 11 are light engineering units, 4 are woodworking units and 4 are printing and packaging units while 1 unit produces jute goods.
During a recent visit to the BSCIC area, this correspondent found that at least 15 factories were without any workers and 10 only had gatemen sitting in front.
Also, the estate's entryway is too narrow for big trucks to cross while some of the inner roads have been dilapidated for years.
In addition, there is no central effluent treatment plant or dumping yard in the area.
Hannan Sheikh, an employee of Jute Spinners Ltd, said they have been suffering from a water crisis ever since the main supply line was destroyed, compelling entrepreneurs like him to set up their own pumps.
"There is a natural waterbody in the estate, but its water has become polluted with industrial waste," he added.
On condition of anonymity, the owner of a unit in the industrial area said BSCIC officials are mainly responsible for the current condition as they do not conduct proper monitor.
He then said some entrepreneurs bought their plots by taking large loans but are failing to pay them back as their businesses incur loss.
"The poor roads and drainage system are mainly hindering development of the estate," said Kabir Ahmed, general secretary of the BSCIC Industries Owners Association in Khulna.
"The old electricity supply line also causes problems while we ourselves are now trying to fulfil the water demand for our factories," he added.
According to BSCIC sources, an initiative has been taken to develop 300 acres of land inside the estate only for leather industries.
Sheikh Riazul Islam, estate officer of the BSCIC area in Khulna, said work on upgrading the roads, drainage system, water pumps, and electricity supply line has already started.
Islam went on to say that 15 units were closed down as they repeatedly incurred losses and failed to repay their bank loans.
"But the authorities are barred from taking necessary steps to revive the closed units as they are tangled up in cases filed by the banks," he added.
Senior officials of BSCIC say that about Tk 1.06 crore has already been spent for constructing roads and drains between 2016 and 2021. Meanwhile, another Tk 44 lakh was spent for providing water pumps.
Islam went on to say that 12 of the shuttered factories collectively owe the BSCIC about Tk 3 crore as service charge.
Tahera Nasreen, regional director of the BSCIC in Khulna, said eight new industrials units are being built while six of the 15 cases against as many companies has already been settled.
"We are trying to speed up the development of Khulna BSCIC by consulting all industrial entrepreneurs who are here. Along with this, we have taken the initiative to revive all the old and closed industries," she added.
Nasreen then informed that the Planning Commission identified the lack of a proper gas supply as another major reason for the estates inability to operate fully.