Mobile subscribers grow in April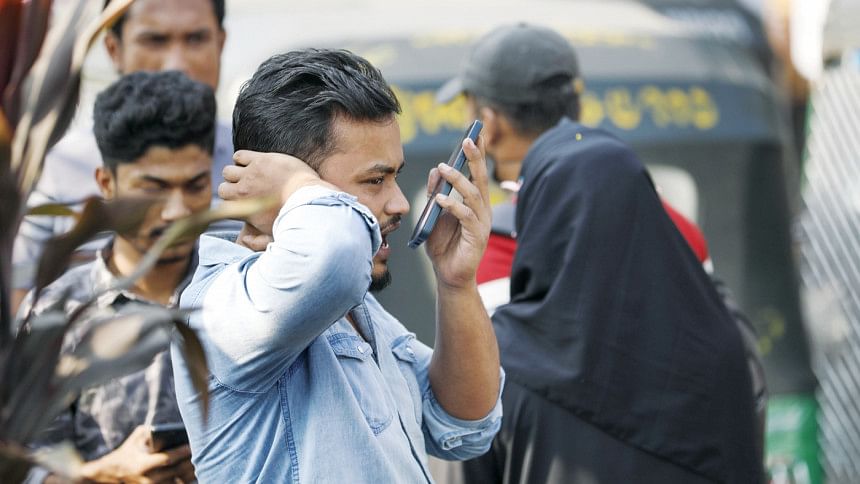 Mobile subscriber numbers witnessed a slight growth in April, as two of the top operators made gains while the other two lost customers. 
The number of subscribers was up by about 3.5 lakh in April from that a month earlier, taking the total to 18.42 crore.
The top two private mobile network operators -- Grameenphone and Robi -- collectively added about 4.5 lakh new customers while third-placed Banglalink and state-owned Teletalk lost about 1.30 lakh customers jointly.
This is the fourth consecutive month mobile subscriber numbers in Bangladesh have grown.
From July to December last year, the customer's base had declined by over 35 lakh.
Subscriber here means a biometric verified subscriber or subscription which was active (voice, data, SMS etc) at least once in the preceding 90 days.
Of the over 18 crore SIMs now in circulation, 12 crore are of unique users, Telecom Minister Mustafa Jabbar told The Daily Star recently. A person can use as many as 15 SIMs.
With 3.90 lakh new customers in April, top operator Grameenphone took its total number of customers to almost 8.05 crore.
"After the SIMs sales ban was withdrawn, we have been witnessing an incremental growth in our customer numbers," said Hossain Sadat, senior director for corporate affairs at Grameenphone Ltd.
This was the fourth consecutive month of growth witnessed by Grameenphone after months of downturn since July last year due to a ban on its SIM sales.
On June 29 last year, the telecom regulator banned Grameenphone's SIM sales until it "improves its quality of service, including bringing down the call drop rate". The ban was eventually lifted on January 2 this year.
During the six-month ban period, it lost almost 50 lakh customers, taking a toll on the country's total mobile subscriber base.
In the last four months till April, Grameenphone added about 13 lakh customers.
With the new 1.5 lakh customers, second largest operator Robi's subscriber numbers stood at 5.57 lakh in April.
"The market has now turned into a highly competitive one as everyone is vying for acquiring customers," said Shahed Alam, chief corporate and regulatory officer at Robi Axiata Ltd.
"Recently we have invested in network expansion and have helped the customers to join our network for enhanced quality of services, " he added.
Third-placed Banglalink lost 70,000 customers in April from that in March, a decline in customers witnessed after 20 consecutive months. Now it has 4.13 lakh customers.
The last time it lost customers was in August 2021.
State-owned Teletalk lost about 70,000 customers in March, taking its total to 65.7 lakh.
The operator has been losing customers every month since September last year despite deploying 4G network through government-funded projects.