Potatoes, eggs, onions still not being sold at govt-fixed prices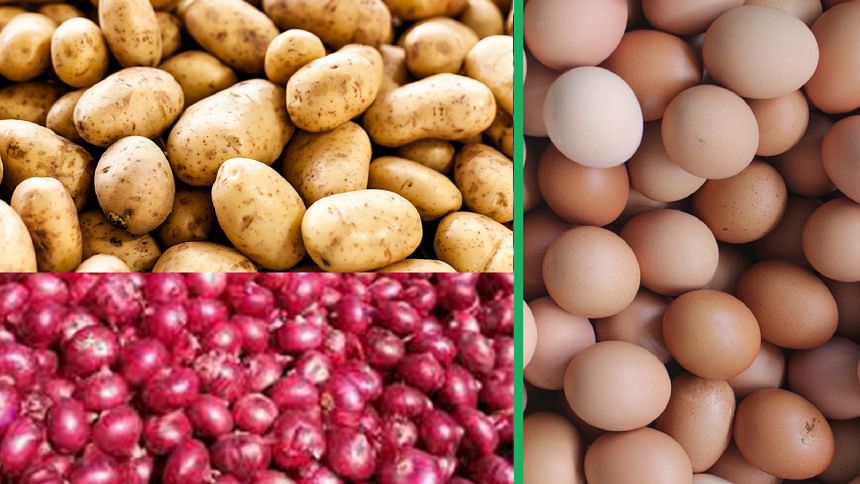 Potatoes, eggs and onions are not being sold at the price fixed by the government at the retail level despite government agencies conducting raids.
Traders and economists say the prices of potatoes and onions are not falling due to a non-reduction in prices in the wholesale market and because supply has not increased.
In addition, it was not possible to control the market only by conducting raids. Those who are in the value chain should be held accountable, the economists said.
Although the price of eggs has decreased at the wholesale level, its impact has not been felt at the retail level so far.
In a first, the government on September 14 fixed the prices of eggs, onions and potatoes in a bid to contain runaway food inflation, which hit a 12-year high last month. Since the announcement, government agencies have been conducting raids.
The retail price of an egg, which shot up to Tk 15 a piece last month, has been fixed at Tk 12. Onions, the price of which spiralled following India's announcement last month to impose a 40 percent export duty on the vegetable, was fixed at Tk 64-65 per kilogramme. The price of potatoes, a staple, has been fixed at Tk 35-36 per kg.
Nurul Alam Shikder, a retailer in the Pallabi area of Mirpur in the capital, said that he was selling eggs at Tk 150 per dozen, potatoes at Tk 50 per kg and local onions at Tk 85 per kg.
The businessman said he bought potatoes for Tk 43 per kg, onions for Tk 72 per kg and a dozen eggs for Tk 144.
It cannot be sold at the price fixed by the government because it was purchased at a higher price, he added.
Abdur Rahman, a wholesale trader in Karwan Bazar, one of the biggest kitchen markets in Dhaka, said conducting raids and fixing prices without increasing supply would not lead to a fall in prices at the retail level.
Mohammad Mostakim, a wholesaler of eggs in the capital's Tejgaon area, said the price of eggs in the market has started to fall since the government announced it would import eggs from India.
He said he sold 100 eggs for Tk 1,160 yesterday. A week ago, the price of the same number of eggs was Tk 1,180-1,200.
He added that the current measures by the government may bring prices under control in the short-term, but that it was unviable as a long-term solution.
"I cannot say how much will be accomplished by fixing the price of perishable goods like onions," said Abdul Majed, general secretary of Shyambazar Onion Traders Association.
What is the ‍scenario outside Dhaka?
It was found upon visiting the Chattogram wholesale and retail markets that potatoes were being sold at Tk 45-50 per kg in the retail market. Local onions were being sold at Tk 88-90 per kg and an egg was being sold at Tk 13-14.
"We bought each kg of potato at Tk 42 and another Tk 2-3 is added for transportation cost and wasted on it. Similarly, we buy eggs at Tk 11 per piece and sell them at Tk 12-13," Anwar Hossain, the owner of Halim Traders in the port city's Kazir Dewri area, told The Daily Star.
Abdur Razzak, a retailer in Bogura's Rajabazar, said potatoes could not be bought at the price set by the government. Therefore, it could not be sold at the price set by the government.
"No potatoes were sold from our cold storage in the last two days," said Dulal Babu, manager of Kadam Rasul cold storage in Munshiganj.
What DNCRP officials say
Mohammad Faizullah, director of the Chittagong office of the Directorate of National Consumers Right Protection (DNCRP), said that raids were being conducted across various markets every day to protect the rights of consumers.
"But prices could still not be brought under control," he said.
It is difficult to determine who is actually charging higher prices since there are no receipts for transactions between wholesalers and retailers. However, some prices have decreased in the past few days due to regular operations, he added.
Abdul Jabbar Mondol, assistant director of the DNCRP's Dhaka district office, said an effect would be seen after a few days.
Selim Raihan, a professor of economics at the University of Dhaka, said there was no guarantee that the price would come down just because the price had been fixed. Besides, market supply should be increased while holding those in the value chain accountable.
He said those who manipulate the market must make credible threats.