Govt move to check prices falls flat
City markets react stubbornly, a day after govt fixed prices of eggs, onions, potatoes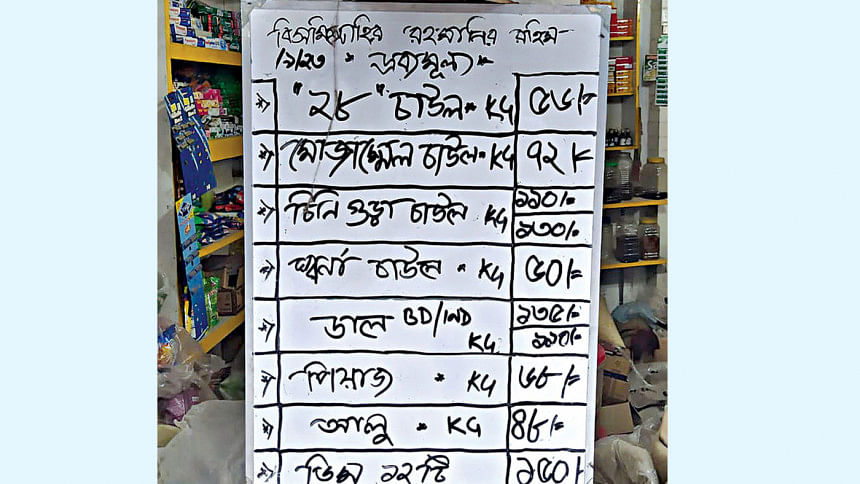 The commerce ministry's price cap on onions, potatoes, and eggs barely made an impact on the runaway prices as shopkeepers in the capital have not complied with the order.
Grocery store owners in different kitchen markets said they were aware of the government order, but they would have to count losses if they lowered the prices right away.
They added that they bought the goods from the suppliers at prices higher than the cap set by the government.
Shopkeepers at kitchen markets in Kawran Bazar, Shewrapara, Kazipara, Mohammadpur, Sukrabad and Rajabazar said similar things yesterday.
The government on Thursday set the price of onions at Tk 64 to Tk 65 a kg. But the price of the spice ranged from Tk 70-Tk 95 a kg in the markets.
People had to pay Tk 45-Tk 50 for a kg of potatoes while the cap was set at Tk 35-Tk 36.
Only a few shops were selling an egg for Tk 12 in compliance with the order while most were demanding Tk 13.50.
Delwar Hossain, a shopkeeper in the Purba Rajabazar area, said, "Our suppliers had not lowered the prices. We cannot sell onions at Tk 65 after procuring them for Tk 80."
At a kitchen market in Sukrabad, a middle-aged shopper named Azizul Islam was seen arguing with a shopkeeper over the prices of potatoes.
"Why are you asking for Tk 50 a kg when the government fixed it at Tk 36?" Azizul asked.
The shopkeeper replied that he procured potatoes for Tk 42 a kg, and selling them for less was not an option for him. 
Shahidul Haque, a grocery store owner in Kazipara, said, "If I am forced to comply with the order, I will have to quit this business."
Faisal Hossain, manager of the Shewrapara outlet of supermarket chain Swapno, said his company was selling eggs at the government-set price, and the prices of onions and potatoes may be lowered in the future.
Many have said they knew that the price cap would not make life any easier for those struggling to make ends meet.
Abid Reza, a shopper in Mohammadpur, said, "Setting the prices and not monitoring the kitchen market is farcical."
However, Commerce Minister Tipu Munshi told reporters at an event in Rangpur yesterday that officials were actively monitoring the markets.
"We are collectively striving to regulate the market. There may be some challenges in achieving the objectives set by the commerce ministry. Efforts are on to address these issues," he said.
He then blamed "unethical traders" for the rising prices.
The government last month set the retail price of 12kg LPG gas at Tk 1,140. Earlier in July, the government fixed the price of edible oil at Tk 179 a litre, and in May, the price of packaged sugar was fixed at Tk 125.
According to media reports, consumers can rarely manage to purchase these essentials at government-set prices.