Private economic zones gasping for gas
They lament utility service providers' bureaucratic delays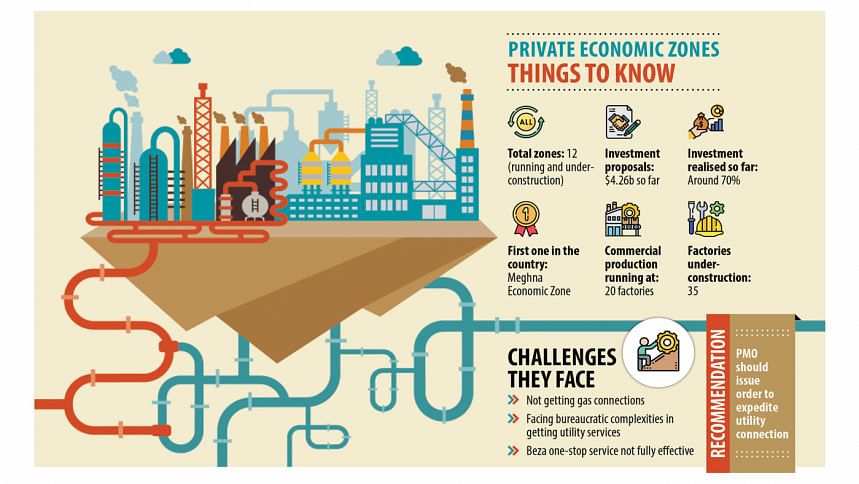 Developers of a number of private economic zones are finding it hard to implement plans for a lack of gas connections.
They apprehend that the entrepreneurs they are drawing in to invest in setting up factories inside the zones would incur losses if they cannot start operations at the earliest.
Even the Bangladesh Economic Zones Authority (Beza) has expressed frustration at the shortcomings.
Up until now, 12 private economic zones have got the final approval to start running operations.
Over the past six years, their developers have been able to draw investment proposals amounting to $4.27 billion from local and foreign entrepreneurs.
The proposals involve sectors such as automobile, chemical, pharmaceuticals, light engineering, hospital, plastic, edible oil and food.
More than 20 factories are already into commercial production and exporting products from Meghna, City, Abdul Monem, Bay and other economic zones, according to the Beza.
Another 35 are under construction and are expected to go into commercial production within one and a half years.
Sirajganj Economic Zone, situated around 155 kilometres northwest of Dhaka, sought gas connections from Pashchimanchal Gas Company two years ago.
The utility service provider is yet to take any initiative, the zone's director, Sheikh Monowar Hossain, told The Daily Star recently.
"We have allocated land to 18 factories but they cannot start running for the absence of gas connections," he said.
Hossain said he faced bureaucratic delays when working with other government service providers.
Investors do not want to waste time but the reality is different in Bangladesh. Starting a business is a severe hassle here due to bureaucratic delays, said Hossain.
"We have taken a licence from the Beza to create employment in the northern area of Bangladesh through industrialisation but our efforts are yet to become a success."
However, Hossain, also the chairman of Sirajganj Trade International, lauded the Beza for being proactive in promoting investment in the zone.
Another industrial area that is yet to get gas connections from state-run Titas Gas Transmission & Distribution Company is Abdul Monem Economic Zone, situated around 49 kilometres southeast of Dhaka.
Already two investors have established factories here, said the zone's managing director, ASM Mainuddin Monem.
One of them is Bangladesh Honda Private Limited, a joint venture of Honda Motor Company Limited, Japan and state-run Bangladesh Steel and Engineering Corporation. The factory is manufacturing and assembling motorcycles for the local market.
The zone aims to be home to environment-friendly factories dealing with high-value garments, textile and apparel, electronics, ICT, food processing, plastic, furniture, pharmaceuticals, and light engineering.
An official of the Meghna Group of Industries, which has three private economic zones, said they had submitted applications and paid necessary government fees over the last couple of years.
"But Titas is yet to provide gas connections for a number of factories. We are in uncertainty over when the gas connections would be provided," he said, adding that the factories were left inoperative for this.
This is quite contrary to the government's vision for industrialisation and a bottleneck in the ease of doing business.
Investment proposals from home and abroad involving $1,598.51 million have already come for the three -- Meghna Economic Zone, Meghna Industrial Economic Zone and Cumilla Economic Zone.
Situated around 32 kilometres northeast of Dhaka, A K Khan Economic Zone, a concern of AK Khan & Company, is also awaiting gas connections from Titas.
Abul Kasem Khan, a director of the company and a former president of the Dhaka Chamber of Commerce and Industry, hopes that the connections would be provided by the time they complete developing the zone.
City Group, which has three economic zones, has been apparently ahead of the curve, spending money out of its own pockets to establish gas connections for City Economic Zone, which is situated around 32 kilometres southeast of Dhaka.
An official of the group said they did not wait for the government as it could have delayed their plans for rapid industrialisation.
Kishoreganj Economic Zone, a concern of Nitol Niloy Group and situated around 106 kilometres north of Dhaka, also stands out as it has already secured gas connections.
Abdul Matlub Ahmad, chairman of the group, said they took preparations in advance so that the zone could run smoothly.
According to him, investors will not set up facilities if an economic zone lacks utility services.
Though utility service providers are not under the Beza's jurisdiction, it is mandatory for them to support investors based on the Beza's recommendations as per rules, said Sheikh Yusuf Harun, executive chairman of the Beza.
"We are helping investors wherever they need it to make economic zones lucrative. But we cannot compel the service providers to act."
He suggested investors submit their complaints at the Prime Minister's Office. "No entity can ignore orders of the Prime Minister's Office."
The authority of Sirajganj Economic Zone is yet to respond to some queries of the utility service provider's board which is a prerequisite for the connection to get approval, said Md Shahenur Alam, company secretary of the Pashchimanchal Gas Company.
"This is the reason there has been a delay in establishing the industrial connection."
There is a huge demand for gas from the industrial sector, particularly private economic zones, said Md Lutful Hyder Masum, general manager and company secretary of Titas Gas.
"Gas is not sufficiently available, so connections can't be established immediately. Besides, these industrial connections involve constant supplies of large volumes. As a result, Titas has adopted a go-slow policy, meeting demand based on priority."
For instance, Masum noted, the Meghna Group of Industries recently received two connections against 11 sought.
"If we could provide gas connections to all, Titas would be able to make a profit and help the industrial sector."
"We have forwarded all applications for connections to the Titas board. We will provide gas to all the industries in phases based on priority."
However, applications will not be approved if companies have unpaid dues against the gas connections availed earlier, the company secretary added.