COMMERCIAL OP-ED
Breaking new grounds: the inspirational stories of Zaved Akhtar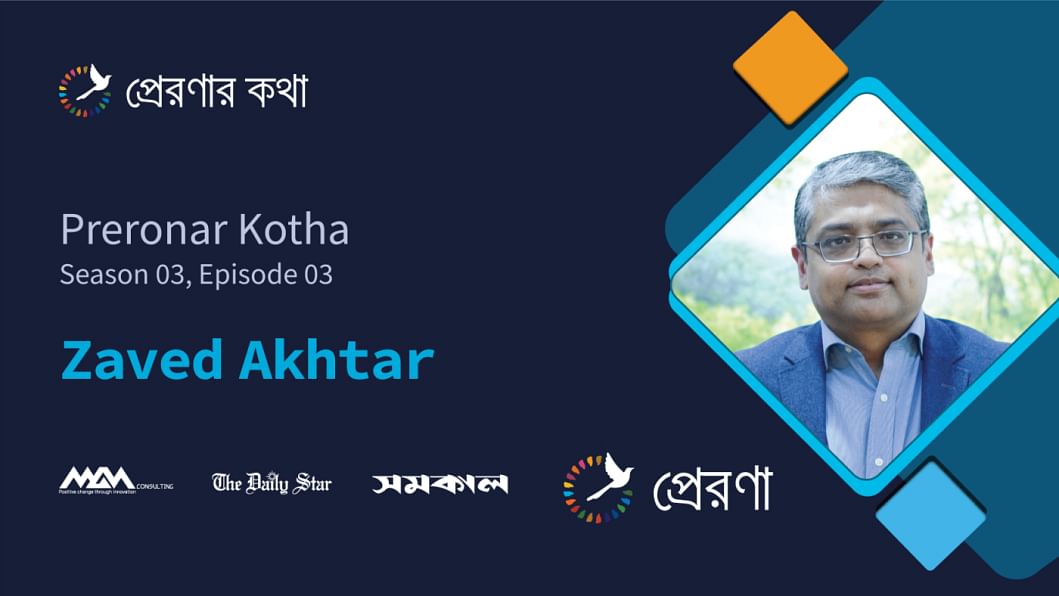 Bangladesh has emerged as one of the most attractive investment destinations with increasing growth, rapid industrialisation, and a shift in the demographic pattern.
Readymade garments, telecommunications sector, the retail industry, including the fast-moving consumer goods (FMCG) sector, have been significant contributors to this astounding story of growth.
As with any other countries, the FMCG sector in Bangladesh has played a key role in upgrading consumer lifestyle and behavioural change while nurturing a stable, high-growth industry.
The industry is spearheaded by a number of well-established multinational companies (MNCs) and large local corporates present in the country for decades.
The third episode of Preronar Kotha Season 03 featured the interview of a distinguished business leader who has spent more than 20 years of his career in the FMCG sector, contributing to its development in the country, while setting a remarkable example for the younger generation through his dedication, hard work and talent -- Zaved Akhtar, managing director and CEO of Unilever Bangladesh Limited.
During the interview, Zaved Akhtar shared the stories of his successes, his inspirations and what drives him in his aspiration to break new grounds.
Zaved Akhtar started his career in sales and marketing at a reputed multinational company in Bangladesh after graduating from Institute of Business Administration, University of Dhaka.
Later in 2000, he took the role of senior brand manager at one of the largest multinational FMCG companies in the country, Lever Brothers Bangladesh Limited, now known as Unilever Bangladesh Limited.
In the 22 years since, Zaved Akhtar's association with Unilever has been a sensational journey -- one that has seen him take various important roles across South Asia, Southeast Asia, and Australasia.
His work across the different Unilever markets and the diverse scope of responsibilities have gained him a multifaceted experience which later paved his way to become the CEO of Unilever Bangladesh Limited.
In Zaved Akhtar's words, "In the two decades I have been in Unilever, I had been really fortunate because I got opportunities at many international assignments. My first assignment in international market was in 2004. I was the first Bangladeshi taking over this role in marketing, a regional role that involved innovation."
He spoke at length about the evolution of the FMCG market in Bangladesh, how this industry has shaped consumer lifestyle, its contribution to the country's economic growth, and its foreseeable potential.
"The best part about the FMCG market is that it always keeps on evolving . . . 20 years back, we predominantly used to sell laundry soap bars. From there we gradually moved to detergent powder."
"There used to be a time, our consumers used ash powder for washing dishes. From there our consumers adopted the Vim dishwashing bar, and now the same group is using Vim dishwashing liquid."
"Back in 2000 when I was the brand manager of oral care category . . . the prevailing statistics was that one out of every five Bangladeshis would use toothpaste . . . But, from there, the transformation happened so, that the use of toothpaste is now almost universal," said Zaved Akhtar.
"This transformation happens when there is an increase in the disposable income. And with that, the level of education and standards of lifestyle improves too . . . Our consumers level up from basic products to more evolved product lines. In the next phase, they seek for the premium product line," he added.
Commenting on whether market saturation could ever be an issue for FMCG businesses in the country, Zaved Akhtar said, "My take on the word 'saturation' is that, it is a great way to explain inefficient marketing. Because it means we are not being able to unlock a segment and I am not a believer of that. The average per capita consumption in Bangladesh is roughly $20-$23. In India, the number is around $40 and in Philippines it stands at $100. If you take the population of Philippines, there are 110 million people, while Bangladesh's total population stands at 170 million. So, why will our per capita consumption be any less? It is a huge opportunity."
During his interview, Zaved Akhtar also discussed the role of large organisations like Unilever in creating talents and future leadership.
He emphasised on upskilling the younger generations with new skills, to adapt to the transformation in the business environment, "A key component in dealing with talent development in today's world is data analytics. With the volume of data that we have to work with now, it is important that we create the skills in handling of this data."
Zaved Akhtar is appreciative of how local talents are taking their chances in assignments abroad, working in multicultural environment and leaving a mark of success.
He said, "If I compare with the time when I started my career, the number of talents going abroad is a lot higher now. The important thing to consider is that standards are set very differently in international markets."
"It is crucial how one elevates themselves to the standard and set their own bar. This means, an academic learning within a fixed framework would not be sufficient. We need to strive to acquire extra knowledge, in order to perform better . . . I always say next-generation marketeers should be anthropologists . . . focus more on understanding psychology, rather than just consumer behaviour, because consumer behaviour has a limited scope. We need to think beyond that in how we can make a bigger impact, how our work is affecting our environmental footprint."
Zaved Akhtar graduated from business school with a degree in marketing and has since spent the majority of his remarkable career working as a marketing professional.
When asked how important it is for a CEO or a leader to have a background in marketing, Zaved Akhtar said, "I do not personally feel that the background has to be marketing. A CEO needs to have a bigger appreciation of the whole value chain, from end to end."
"In my career, though I spent mostly in marketing, I had also worked in different roles and functions where I actually got this end-to-end exposure. My last role was in digital transformation. In that role I had to work on the whole end-to-end value chain."
In the Preronar Kotha interview, Zaved Akhtar shared his thoughts on the future of Bangladesh. "One crucial thing for Bangladesh in the next 50 years would be the environmental crisis. It depends on how we manage it and I think we can play a vital role in this matter."
"From my own standpoint, I am trying to reduce plastic consumption because it is a big challenge . . . it is our personal responsibility to look for a sustainable solution. Water would be another important issue for our country. For us, the challenges are in either groundwater or irrigation."
"So water harvesting is a big challenge. As a CEO, it is my personal passion to work on these two issues, because if I can leave a mark by doing something for the country, it will have to be in the areas of sustainable circular economy on plastic, and water management," said Zaved Akhtar.
The interview was conducted by Dr Melita Mehjabeen. The interviewer is a professor of the Institute of Business Administration under the University of Dhaka as part of "Preronar Kotha", a thought leadership broadcast by Prerona Foundation.