What to expect as a first-year student of Law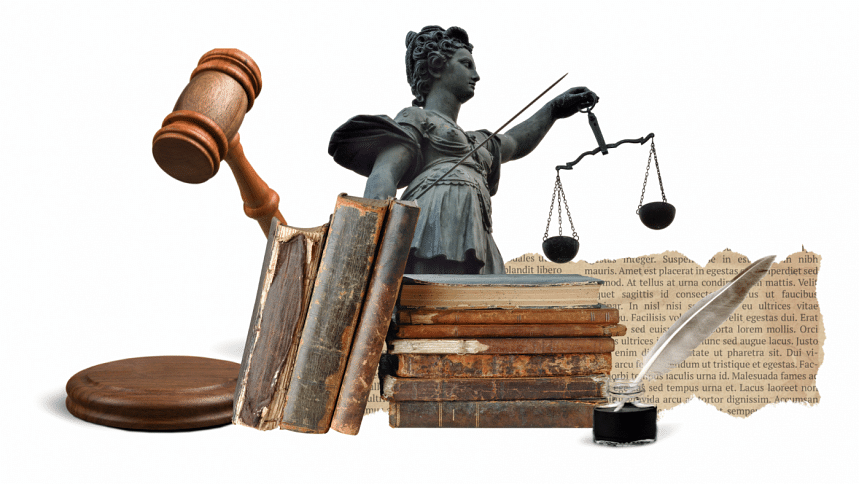 Law is an intriguing subject, albeit not an easy one. Successfully completing a Bachelor of Laws program – also known as LLB – requires a lot of perseverance and hard-work. It presents excitement, an omnipresent hint of danger, and, of course, a dosage of healthy confusion.
At the cusp of turning over a new chapter of our lives at university, many of us wonder with excitement and apprehension what campus life will be like. LLB students studying Bangladeshi law at public universities like the Dhaka University (DU), or private universities, such as North South University (NSU) or BRAC University, will find their life at campus to be not too different from their peers at the same institution majoring in a different discipline. However, the university experience for students of British law might be a bit different as even the most prominent institutions, such as LCLS (South), Bhuiyan Academy, and Newcastle Law Academy, have premises that are much smaller in size.
Nashrah Gazi, who completed the first two years of her LLB at Bhuiyan Academy before transferring credits to UWE Bristol in the United Kingdom, says, "We didn't have a campus, to be frank. That made things so monotonous for me, especially because there weren't several athletic activities for us to take part in."
The main advantage of these smaller universities is the amount of attention and care they offer to individual students. With the institutions dedicated almost entirely to law and their faculties comprising of practising barristers, advocates, and respected academics, students will have a greater opportunity to get their doubts and queries sorted out. However, public universities such as DU may be better for those who prefer highly competitive environments.
When asked about the struggles of first year law students in public universities, Professor Dr Md. Selim Toha, Professor of Law and Ex-Treasurer at the Islamic University (IU), Kushtia, shares, "Up until college, students study in environments they are comfortable in, alongside people they are habituated with. But life at university uproots them from that zone of comfort. They need to interact with and befriend people who hail from different regions, have differing mindsets, values, and lifestyles. At the same time, they need to deal with the complexities of law, a subject that, to them, is as unfamiliar as it is vast. It is the tricky storm that every LLB student learns to weather in his or her first year." 
However, for Tahsin Hasan Ameer, a student at BRAC University, his unfamiliarity with Law was the primary reason behind its allure. "Studying rules that are omnipresent in society, yet I knew so little about, and then applying that knowledge to real-life scenarios – all of that was an extremely enjoyable experience for me," he recalls fondly. 
While learning legal principles and their applications can be fascinating for many, a sizeable proportion will find it frustrating simply because of the language requirements. In places like NSU, BRAC, and British law institutions, English is the primary language of instruction. This means that students lacking proficiency in the language always face an uphill battle, both in reading the textbook and in taking notes. 
Both LCLS (South) and Bhuiyan Academy offer special English courses to students who may need it, and while these are extremely helpful in bridging the gap, it is of pivotal importance to be patient with oneself.
Law can be an intimidating subject. From its student, it demands both a sharp memory and an even sharper set of critical thinking skills. From its teachers, it requires absolute clarity of explanation and unending patience. Ayesha Fariha, a Barrister-at-Law of Lincoln's Inn and an academic guidance tutor and lecturer at LCLS (South) says, "There is no hard and fast rule for doing well, just as there are no short-cuts. One may improvise with their studying hours depending on their situation, but there is no alternative to attending classes regularly. The student's understanding must be clear, and they must be able to demonstrate that through both analysis and argument."
According to Professor Dr Md. Selim Toha, however, the burden on the law student far exceeds the weight of just academics. "Today's law student may well be tomorrow's lawyer, and what is a lawyer if not an actor on the stage that is the courtroom? When he represents his client before the judge, he must be able to embody the emotions of the defendant, showcase his side of the story, and put together a solid, viable defence. He must be well-spoken and exude an aura of confidence. Presentation is key in this profession and the training for that begins as you walk through the gates of your university for the very first time."
Nayeem is a first-year LLB student at London College of Legal Studies (South).