Nov export earnings see 13.73pc growth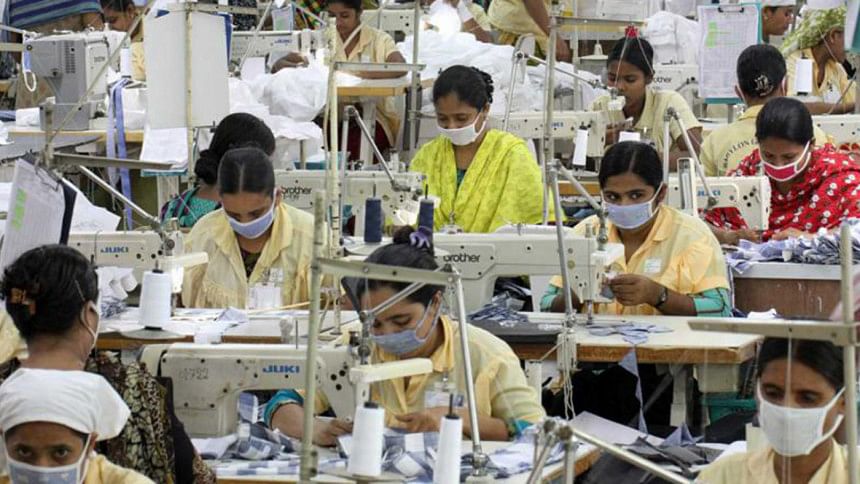 Country's export earnings in this November registered a healthy growth of 13.73 percent totaling $2,749.34 million against $2,417.43 million fetched during the corresponding period last year.
The remarkable growth is attributed to moderate performance of knitwear, woven garment, jute and jute-made goods, agricultural and leather products.
The single-month export performance was also 16.70 percent higher than the strategic target of $2,356 million.
According to data released by the Export Promotion Bureau (EPB) on Sunday, export earnings in the first five months (July-Nov) showed a moderate growth of 6.71 percent totaling $12,879.83 million, which was a mere 0.01 percent higher than the strategic target of $12,879 million.
Export earnings during the July-November period of the last fiscal year totalled $12,070.08 million, according to EPB statistics.
The total export earnings during the last fiscal (FY15) stood at $31,208.94 million.
According to the EPB figures for July-November period of the current fiscal, knitwear export maintained its positive trend fetching $5,236.73 million, which showed 4.78 percent growth over the same period of the last fiscal while woven garment accounted for $5,226.03 million having a growth of 11.35 percent.
During the five-month period, export of home textiles totaled $276.73 million with a fall of 7.33 percent; leather footwear exports fetched $202.07 million, primary commodities $445.22 million; frozen foods, including frozen fish, shrimps and others $229.45 million; and agricultural products $215.77 million.
The export of engineering equipment registered a whopping 441.58 percent growth during the period fetching $120.61 million, followed by export of petroleum byproducts with 414.23 percent growth ($125.73 million).
Of the other major performing commodities, fruit exports totaled $15.48 million with a negative 41.58 growth of percent; cement, salt and stone $0.93 million; while tea export accounted for $0.80 million with a negative growth of 46.67 percent.
The export trend for leather products except leather and plastic products maintained their upward trend during the July-November period of the current fiscal.
Leather exports totaled $109.85 million, while leather products $145.71 million with an eye-catching growth of 65.92 percent; cotton and cotton products together earned $40.58 million; plastic products   $37.15 million; and rubber $8.99 million.
The export of jute and jute goods maintained their positive trend during the July-November period of the current fiscal fetching $358.60 million, registering 2.86 percent growth. Raw jute exports fetched $73.61 million with 70.35 percent rise; while jute yarn and twine accounted for $206.18 million and other items some $28.49 million.
Jute sacks and bags showed a fall of 26.48 percent during the period as exports totalled $50.32 million.
Export of engineering products, including iron and steel, bicycle and electronic products earned almost $234.34 million.
The export of manmade filaments and staple fibres totaled $43.48 million while the export of ships, boats and floating structures fetched $0.85 million with a whopping fall of 75.15 percent.
The export of handicrafts totaled $3.62 million; paper and paper products $16.94 million; furniture $12.18 million; chemical products $49.40 million, including pharmaceuticals $34.53 million, while ores, slag and ash brought $2.94 million.
Specialised textiles, including terry towel, showed a positive growth of 12.88 percent, earning $43.29 million during the July-November period of the current fiscal while export of computer services totalled $49.48 million.