'Mujib' graphic novels: 'Drawing a young Mujib and ensuring its acceptability was my biggest challenge'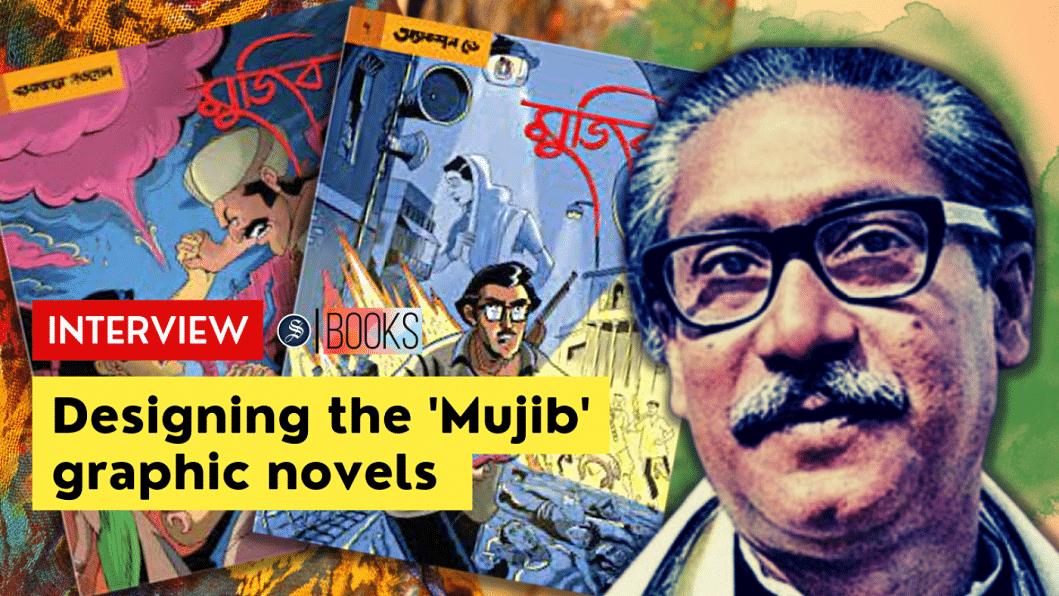 Based on The Unfinished Memoirs, written by Bangabandhu Sheikh Mujibur Rahman while serving as a political prisoner in Dhaka Central Jail, Mujib (2022) narrates Bangabandhu's journey from "childhood to political awakening". An initiative by Centre for Research and Information (CRI), the graphic novel series is a visual treat for readers. 
Daily Star Books spoke with prominent cartoonist Syed Rashad Imam Tanmoy about his vision and methodology for the books. 
What inspired you to design a graphic novel on the life of Bangabandhu Sheikh Mujibur Rahman?
When CRI first approached me with this idea, I was very overwhelmed. Growing up reading comics based on the life of icons like Mahatma Gandhi and Martin Luther King, I always had the urge to craft something that would pledge the legacy of a local hero to the commoners, especially children. Through Mujib, I was able to give a tribute to our national hero Bangabandhu Sheikh Mujibur Rahman, a name that echoed louder than grenades and rifles. 
How did you select the stories for each of the books?
I was asked to base my visual stories on The Unfinished Memoirs and I preferred it too. With an array of stories to choose from, the novel's scriptwriter Siddique Ahmed and I had to scan through the book thoroughly before we picked up incidents we wanted to include in our book. 
While we had the choice to pick up political incidents and historic events from his life, we both thought that starting with his young years would give more to the young readers to relate to. We focused on historic milestones, and we also wanted to reflect upon his human side. Presenting it all in an exciting way was of prime importance to us. 
How did you translate such complex political/historical incidents into a book for young readers?
When we stepped into this initiative, we had hoped for your readers to be adolescents aged somewhere around 12 and above. While younger or older readers are welcome to explore Mujib, our target audience was always been the teens of this nation. 
We like to treat children as naive. However, their maturity and knowledge at such tender ages never ceases to amaze me. 
There was no scope for us to alter the history of this country and its founding father. However, we tried to offer a milder portrayal of the bloodshed and other such unpleasant incidents as much as possible.  
What aspect of Bangabandhu's personality did you want to reflect through this series? 
While reading about Bangabandhu Sheikh Mujibur Rahman, I started admiring many of his unexplored qualities that were evident from his words and verses. His love and vision for this country is always primary. However, the way he stayed away from any sort of negativity and presented even the saddest of his experiences with subtlety are what I most like about him.  
How did you plan the style, colour palette, and general tone of the visuals? 
Coming up with the face of young Bangabandhu and ensuring its acceptability was my biggest challenge. Despite the PM herself approving of the visuals, anxiety never left my side for a single moment. 
I recall one incident from our first book launching event. After we unveiled the book, a woman walked up to me and asked, "Where is Bangabandhu's mole on his cheek?"
I realised that this journey won't be easy. I got a lot of feedback from readers, especially young ones, through my social media and also through personal encounters that aided my projection of the characters and their attires in the book. With time, we mended our mistakes and these books started to gain ground among readers of all ages. 
I always aim to be as accurate as possible, but drawing a direct portrait would distort the beauty of Bangabandhu's portrayal in comics. Accuracy was primary, but presenting him in a manner that the children would enjoy was something I had to constantly bear in mind. 
Tell us something about the research you had to do for this book. 
Starting from the setting to the background, I had to go through any and every film I could find that was set around the 1950s and after to understand how the society was during that time, what the people dressed like, and how were their personalities. 
Bangabandhu Memorial Museum helped us a lot in our research and The Unfinished Memoirs had already vouched for the authenticity of the incidents. However, getting the tone, social setting, and political background correct and depicting it to the readers took a lot of studying and research. 
What are your future plans with this graphic novel series?
This project was conceptualised by Radwan Mujib Siddiq, the trustee of CRI. So far our journey has been commendable. We have an amazing work structure where Siddique Ahmed first marks the stories he thinks would fit best for young readers and then we work together to develop a script. We try to design it in a way we feel best and pass it on to our editor, Shibu Kumer Shill who makes amendments where he finds it necessary. We then forward it to Prime Minister Sheikh Hasina—our final proofreader for this book. 
So far, we have released 10 editions of this graphic novel series and we are very happy with the response we have got from our readers. We are in talks about designing a compilation of all the released episodes from this series. Let's hope we manage to keep up with our vision.