The complete works of Mahmudul Haque: The chorus of a unique sun
Primarily a novelist and storyteller, Haque made his mark by penning new creations in a symphony of stories and incomparable prose. His works have become special through the magnificence of his stories, the novelty of his literary style, the intricate craft of language, and an unconventional approach to writing dialogue.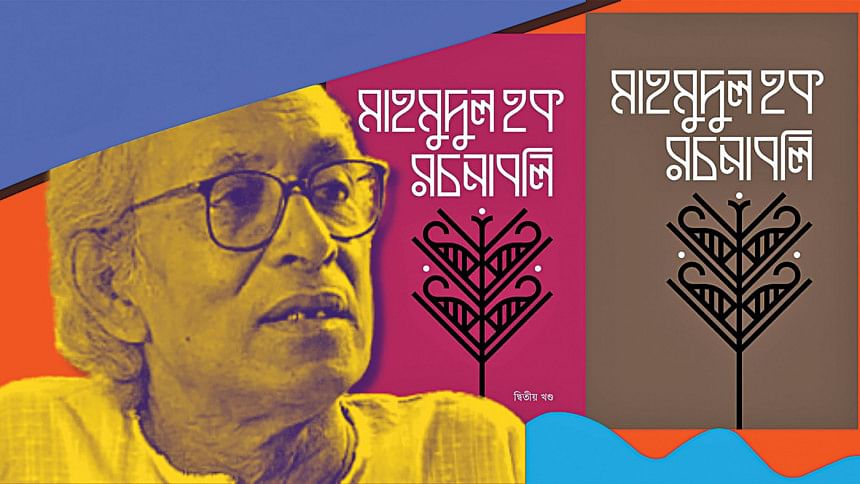 1
Mahmudul Haque was a writer who championed the modern and independent stream of Bangla literature. Recently, Bangla Academy published the complete works of Mahmudul Haque in four volumes. This important publication was edited by writer and Mahmudul Haque researcher, Abu Hena Mostafa Enam. Enam has also written the complete biography of Mahmudul Haque, Kothashilpi Mahmudul Haque and the book of essays, Mahmudul Haque: Srishti o Shilpo. In the past, he has edited Ogronthito Golpo: Mahmudul Haque, and Alochhayar Jugolbondi, Mahmudul Haque Soron-e.
It can be said without a shred of doubt that Mahmudul Haque is a unique writer in the pantheon of Bangla literature. Unfortunately, he wrote only for a decade. Nevertheless, Haque was engaged in literature for much longer. Primarily a novelist and storyteller, Haque made his mark by penning new creations in a symphony of stories and incomparable prose. His works have become special through the magnificence of his stories, the novelty of his literary style, the intricate craft of language, and an unconventional approach to writing dialogue. From the society surrounding him and the times that he experienced, he was able to unearth human hopelessness, personal existential crises, and  the mysterious feeling of love for life.
His characters are brought to life through humane values. They are from the lower and upper middle class of society, they are jobholders, they are unemployed. His characters include prostitutes and their pimps, the people living on the margins in slums, even teachers living on a bare minimum wage, rural doctors, bohemians, and people of random occupations. His works encompass the sad reality of city life, the cruelty, the trudge, the mismatch, selfishness, and self-centredness as well. People from Old Dhaka have appeared in his stories, as have characters from Bikrampur. The natural beauty, geographical features, regional dialects, and the psychology of the rural underclass of Bikrampur have been reflected in his writing. In an interview, Mahmudul Haque said that the villages of Bikrampur are incomparable, especially during monsoon. He loved Bikrampur. His favourite places were Bhagyakul, Bajrajogini, Louhajang, Tarpasha, Ichapura, and Modinimandal.
The characters in his novels and stories are excited, beloved, failed, penniless, and without promise, all at the same time.
2
Mahmudul Haque was born in a place called Barasat in 24 Parganas district of West Bengal on November 16, 1941. His father is Sirajul Haque, his mother is Mahmuda Begum. Mahmudul Haque got married on April 2, 1967 to Hosne Ara Begum. She was called Kajol by her loved ones. She died on December 9, 2007.
In 1947, his father came to this country alone with the anguish of Partition heavy in his heart. His wife and children followed him to Dhaka in January of 1951.
Mahmudul Haque was never quite interested in institutional education. In his childhood, he went to a handful of schools in Barasat. He completed his matriculation from West End High School in Dhaka, and admitted himself to Jagannath College for his intermediate studies. On July 21 of 2008, the writer breathed his last.
His favourite books were the Ramayana and the Mahabharat. His reading list consisted of Satinath Bhaduri, Kamal Kumar Majumdar, Amiya Bhushan Majumdar, Manik Bandopadhyay, Michael Madhusudan Dutt, Rabindranath Tagore, Jibanananda Das, Buddhadeva Bose, Sudhindranath Dutta, Samar Sen, etc. He would also read Tolstoy, Dostoyevsky, Gogol, Gorky, Allan Poe, Joyce, and Thomas Mann.
His first work was a story called "Durghotona". His first novel was Byadho o Nildupur, but he never completed it. His second novel was Droupodir Akashe Pakhi. The latter was never published. His first published novel was Onur Pathshala, published in 1973 under the name Jekhane Khonjona Pakhi, in accordance with the publisher's wishes.
His other novels include: Nirapod Tondra (1974), Jeebon Amar Bon (1976), Chikkor Kabuk (1979), Kalo Borof (1992), Matri Jahaj (1996), Khelaghor (1988), Oshoriri (2004), and Patalpuri (1981).
His anthologies are Protidin Ekti Rumal (1994), Mahmudul Haque er Nirbachito Golpo (1999), and Ogronthito Golpo (2010).
His writing has repeatedly featured the Liberation War, especially in Jeebon Amar Bon, Khelaghor, Oshoriri, and Patalpuri.
The way Partition had struck people at the heart of their spirits and thrown them into an endless chasm was sincerely captured in Kalo Borof. It also portrayed the horrific pictures of communalism.
When speaking about Mahmudul Haque, famous writer Sunil Gangopadhyay wrote, "He has the ability to establish lordship over Bangla prose." According to writer Shawkat Ali, Haque explored newer and newer horizons without abandoning tradition. Prominent litterateur Hasan Azizul Huq said that he is a big writer within all of Bangla literature.
His novel, Kalo Borof, was translated to English by Mahmud Rahman, and published with the title Black Ice by New Delhi publishers, Harper Perennial.
Mahmud Rahman also translated to English the stories "Chheratar" and "Protidin Ekti Rumal". His novel, Khelaghor has been adapted to film. In 1977, he received the Bangla Academy Award. An incredibly friendly person with a penchant for telling stories, Mahmudul Haque was a gold trader by profession. He had a skill in identifying rare gems. He used to run the family owned gold business, Tasmen Jewellers. 
He had lived an aristocratic, tasteful, and colourful life. At the young age of 44, he left writing to go on a self prescribed exile. He was silent for years on why he picked this life of solitude. Later, he said in an interview that writing had become monotonous for him, and everything started to feel meaningless. What he's doing, why he's doing it, and what all of it leads to, whether or not any of this means anything, these are the things he wondered. In a different interview, he said humans are incapable of original thought after the age of 40. After 40, a person turns into someone different.
3
The first of the four volumes of the complete works of Mahmudul Haque includes six of his novels: Onur Pathshala, Nirapod Tondra, Jeebon Amar Bon, Chikkor Kabuk, Khelaghor, and Kalo Borof. It also includes relevant information about Mahmudul Haque, his books, his works, his life, and the study of his work. These are also included in the other volumes.
The second volume includes the novels Matir Jahaj, Oshoriri, and Patalpur, the anthologies Protidin Ekti Rumal, and Ogronthito Golpo. The third volume is made up of short stories and fairy tales, poetry and rhymes, various prose geometry, conversations, diary entries, and scribbles.
The fourth volume comprises various prose geometry, his incomplete stories, and translated stories and novels. Mahmudul Haque translated Paul Horgan's selected stories, stories by Juan Rulfo, a novel by Walter van Tilburg Clark titled Shwapod, and a novel by Stephen Baker with the title Juddho Jokhon Shesh Holo. These were included in the fourth volume. He has also translated stories by Soviet writer Ilya Ehrenburg, but those could not be included as they were unlocatable.
To arrange the works of Mahmudul Haque, chronological order was maintained. Every volume has its own introduction. The covers were illustrated by Sabyasachi Hazra.
The publication of the complete works of Mahmudul Haque by Bangla Academy is undoubtedly a matter of joy for literature enthusiasts, readers, critics, and researchers. If one sets their eyes on these four volumes, they can easily ascertain that it was edited with diligence, hard work, and a lot of heart. I would like to express my unfettered gratitude to the editor and Bangla Academy.
This article was originally written in Bangla and has been translated by Azmin Azran.
Dilwar Hasan is a writer, translator, and journalist. He was a sub editor and staff reporter at Sangbad till 1987. Among his short story collections are Adam Ebong Eve-er Galpa (2010), and Janakirno Gulistane Jadubastobater Mahola (2019). He has translated the works of Alberto Moravia, Umberto Eco, Harukii Murakami, and Issac Singer. Some of his stories have been anthologised in Nirbachito Premer Golpo and Nirbachita Muktijuddher Golpo.