Dhaka Art Summit: Day 1 Recap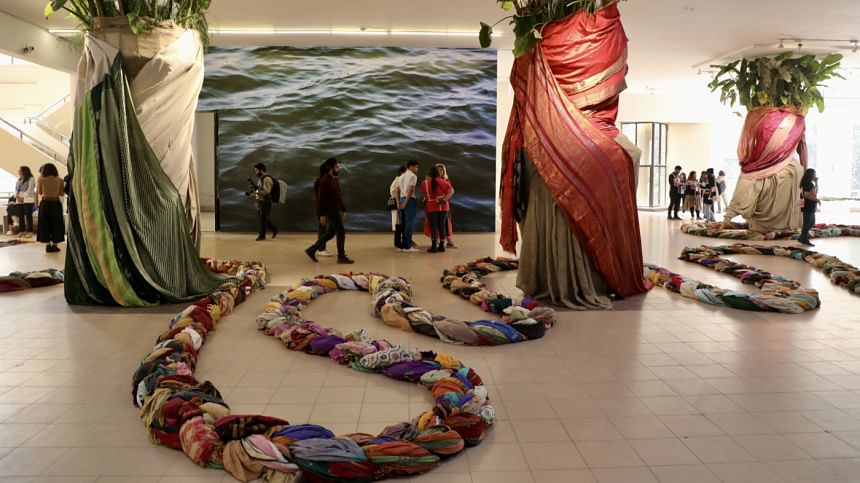 Day one of Dhaka Art Summit (DAS) 2023 kicked-off at the National Art Gallery of Bangladesh Shilpakala Academy on February 3, 2023. 
This will be the 6th iteration of the programme, which serves as the largest art and architecture platform in Bangladesh. DAS 2023 featured a total of 160 artists from all over the world. The theme for this year's event was Bonna (flood).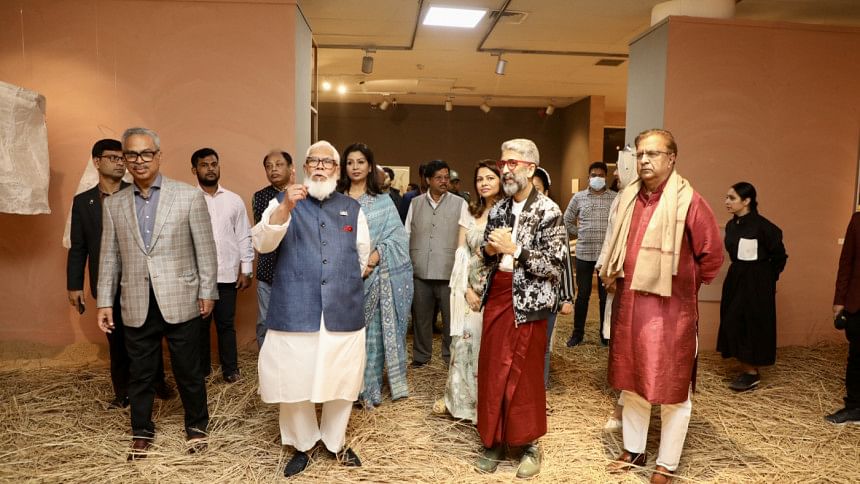 The inauguration ceremony for DAS 2023 was graced by the presence of Salman Fazlur Rahman, MP, Private Industry and Investment Advisor to the Honourable Prime Minister as the Chief Guest. In attendance as the Special Guest was K M Khalid MP, State Ministry of Cultural Affairs. Also present at the ceremony were Liaquat Ali Lucky, Director General of Bangladesh Shilpakala Academy; Nadia Samdani MBE, Director of Dhaka Art Summit and President of Samdani Art Foundation; Rajeeb Samdani, Trustee of Dhaka Art Summit and Samdani Art Foundation; Mohammad Shaker Shamim, Managing Director and CEO of Golden Harvest Agro Industries Limited, and Farooq Sobhan, Chairman of the Organising Committee, Dhaka Art Summit. 
Nadia Samdani, Farooq Sobhan, and Liaquat Ali Lucky welcomed everyone to DAS 2023 with their speeches. K M Khalid, MP thanked the Samdani Art Foundation for giving people the opportunity to not only see artworks from our homeland, but also ones from abroad as well. Following suite, Salman F Rahman congratulated the entire team of DAS and reminisced his journey as a patron of art and artists. He also praised Bangladesh for leading the way in women empowerment, which he remarked was related to the theme of Bonna. 
The floors of the National Art Gallery were adorned with diverse paintings, photography, illustrations, videography, installations, architectural drawings and models, fabric and crochet work, leather work, laser works, sculptures, carvings, projections, poetry, performances, and crafts. Right after the inaugural ceremony ended, Miet Warlop's beautiful performance, 'Chant for Hope' took place on the entrance of the National Art Gallery.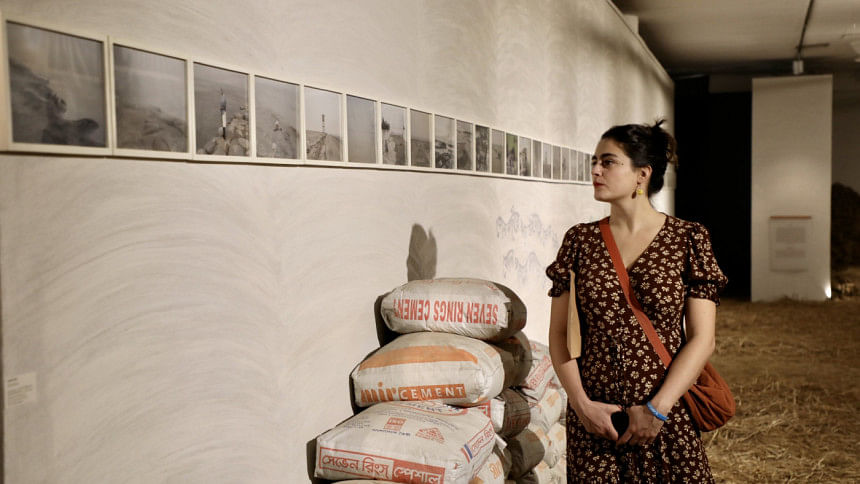 Rajeeb Samdani, co-founder and Trustee of Samdani Art Foundation, spoke about how people eagerly wait to witness the intriguing performances by local and foreign artists. He added that DAS always brings something with deep impact and this year is no different. Speaking about the theme, Rajeeb said, "the word 'Bonna' is a commonly used name for girls but we never glorify other natural disasters like this as flood is a double-edged sword, causing harm to lives and belongings, and yet making our land fertile. Moreover, the entire exhibition is based on the idea of viewing our motherland through the eyes of a young girl called 'Bonna' shedding light on climate change, infrastructural revolution, urbanization, women empowerment, economic growth and their effects."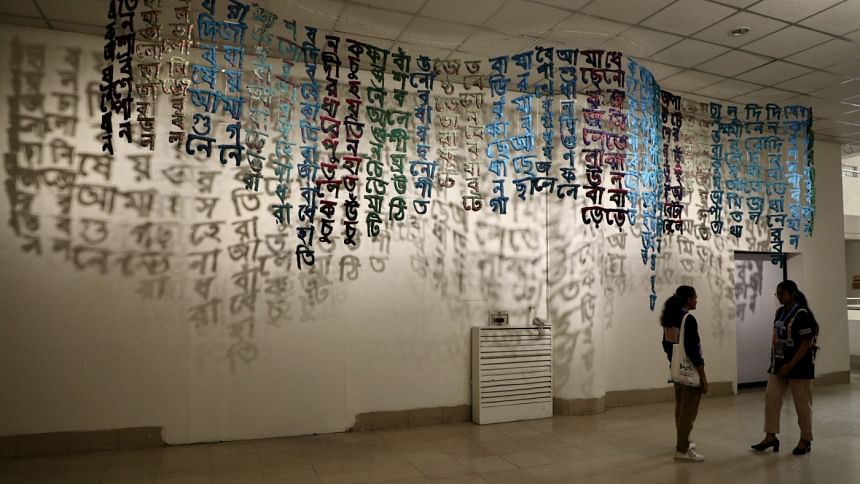 The ground floor lobby holds a huge installation of soldiers forming circles. As we go up, the open-to-sky space displays two large installations –Sumayya Vally, an African Ritual for rain that is a performance, and a composition if cubes depicting of environmental change through an ant colony. 'Dwaidho' takes up an entire gallery accommodating works from veteran artists like Hashem Khan, Rafiqun Nabi, Farida Zaman, Kanak Chanpa Chakma, Nazlee Laila Mansur, and many more. One gallery is simply reserved for the selected participants for Samdani Art Award, cureted by Anne Barlow, Director of Tate St. Ives. One of these belongs to Mojahid Musa who conjured a series of fantasy creatures reflecting his upbringing, imagination, and opinions on different issues. These sculptures are made from scrap materials. Bhasha Chakraborty's ginormous installation with fabrics and banana leaves wrapping the vertical structural elements that portrays women's strength as leaders, bread-winners, mothers, and all the roles they play to maintain the structural balance of this world.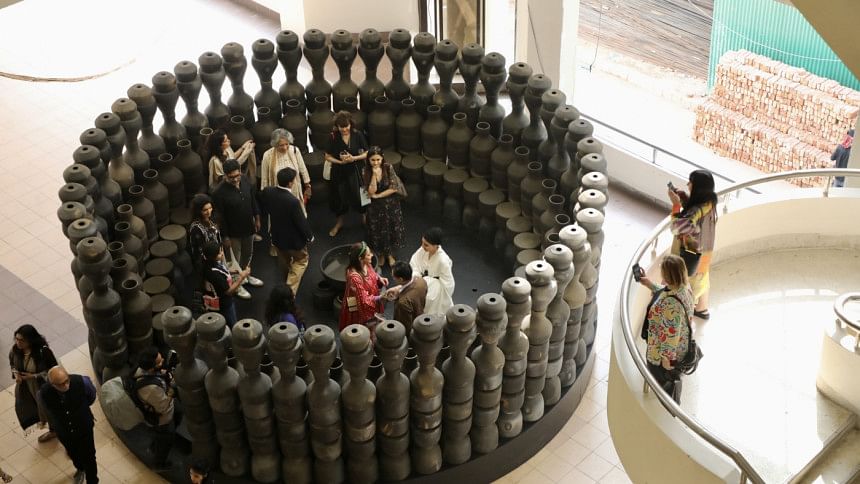 To sum up, Dhaka Art Summit is held in its usual glory, where anyone can take a huge gulp of knowledge in art, culture, and creativity. DAS 2023 is open for all and will run at Shilpakala till February 11, 2023.