Five-day exhibition of archeological artifacts begins at Bagerhat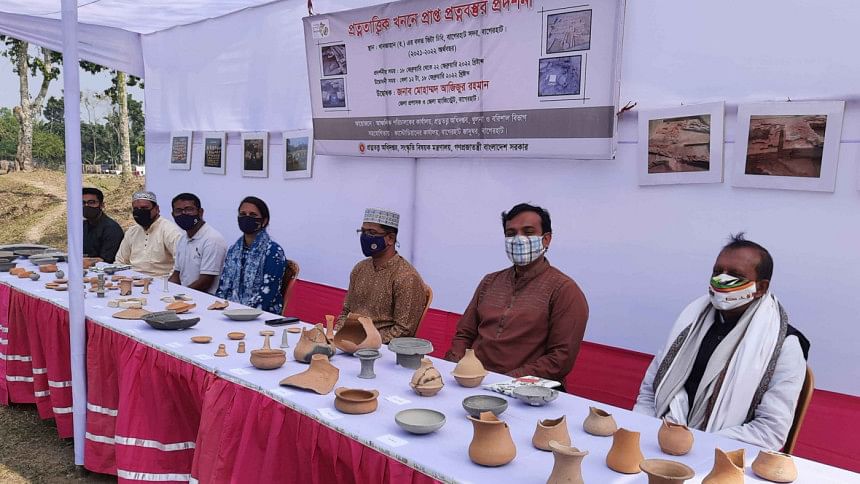 An exhibition of archeological finds from the excavation of the residence of the famous Muslim ruler Ulugh Khanjahan began in Sundarghona area of Bagerhat Sadar Upazila on Friday. Deputy Commissioner Mohammad Azizur Rahman inaugurated the five-day exhibition at residence area of Khanjahan.
Locals including Afroza Khan Mita, Regional Director, Department of Archeology, Khulna, Mohammad Moshabberul Islam, Bagerhat Sadar Upazila Nirbahi Officer, Md.Zayed, Custodian, Department of Archeology, Bagerhat, Akhtaruzzaman Bachchu, Chairman, Satgumbuj Union Parishad were present.
After the inauguration, Deputy Commissioner of Bagerhat Mohammad Azizur Rahman said that a town called Khalifatabad was established about 600 years ago. Many famous structures of Bagerhat including the Satgumbuj mosque were made by his hands. His residence is unknown to many.
The exhibition has been organised to give people a chance to see the artifacts found as a result of the excavations.
Afroza Khan Mita, Regional Director, Department of Archeology, Khulna, said that excavation work has been going on since December 31, 2021 at the residence of Khanjahan in Bagerhat, the town of Historic Mosque.
So far, brick walls of different periods, limestone floor, drainage ditches, pathways, terracotta utensils, pots, dishes, bowls, saucers, pen fragments, oil lamps, ornate bricks, terracotta balls, tiles, lampposts, pipes, stairways, footpaths, red, black and gray pottery have been found. They will finish the excavation soon.
He added that the exhibition will be open to the public every day till February 22 from 9 am to 4 pm. The artifacts on display will be documented afterwards.