Kazi Rakib's 'Fragile Moments' underway at Galleri Kaya
Showcasing despair, the blossoming of nature, and the struggle of being locked down inside your own house, New York-based Bangladeshi artist Kazi Rakib's solo exhibition "Fragile Moments", organised by Galleri Kaya, was inaugurated in the capital yesterday.
Eminent writer and Associate Editor of The Daily Prothom Alo, Anisul Hoque, was present at the inaugural ceremony as the chief guest and Sean J Mclntosh, Public Affairs Counselor, Embassy of the United States of America, attended the event as the special guest. Many other journalists, art students, and noted cultural personalities were also in attendance.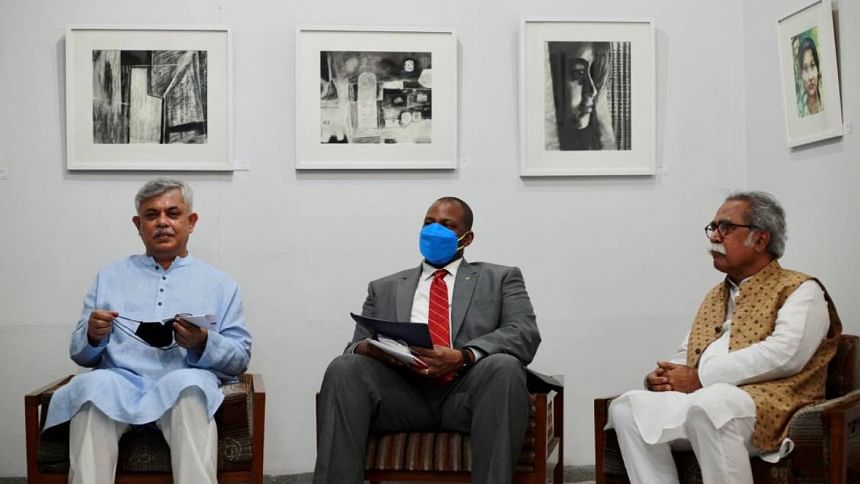 The programme was hosted by acclaimed artist and the director of Galleri Kaya, Goutam Chakroborty. "Kazi Rakib has always worked hard as he believes even his biggest efforts all short when it comes to perfecting his craft," he said. "The artworks that are on display today are done over the last 2 years when the whole world was suffering due to the pandemic."
He called upon the artist to share his thoughts. "The pandemic had brought a cloud of depression on my mind and I felt art was the only way for me to escape the melancholy," shared Kazi Rakib who could not carry the larger artworks back to his homeground. "I rejoice being close to my roots but also look to treasure the essence of my experiences from foreign grounds. I hope you enjoy the harmony."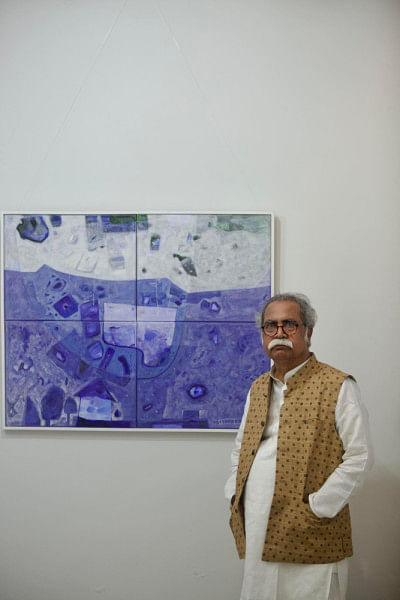 "Kazi Rakib lives in my hometown just about 15 minutes away from my house. I am glad that he brings back his extraordinary work back to his land for his people," mentioned Sean J Mclntosh, who took over the podium after the artiste. "The U S government recognises the power of art and culture that builds bridges between people around the world and, being the only embassy that works to preserve Bangladesh's cultural heritage, I look forward to this beautiful exhibition today as it pledges or the same purpose."
Yesterday also marked the birthday of the legendary writer Anisul Haque. As all his peers wished him with flowers and a gift, he was then asked to say a few words about the essence of being an artiste.
"Dilemma, despair and disappointment – these are the key elements that completes an artist, and I have seen Kazi Rakib transitioning through all these emotions in his journey," he shared. "I wish him the very best and hope he keeps disappointing himself so that he delivers more masterpieces for us to enjoy."
Following the speeches, Goutam Chakroborty requested Anisul Haque and Sean J McIntosh to symbolically ring a bell to mark the inauguration and invite everyone to tour the gallery.  
This exhibition showcases 62 artworks on acrylic, pen and ink, and charcoal on paper and canvas. It is open every day from 11: 00 am to 7:30 pm till March 15.