Rainbow Paints announces winners of 'Rong a Tomar Bijoy'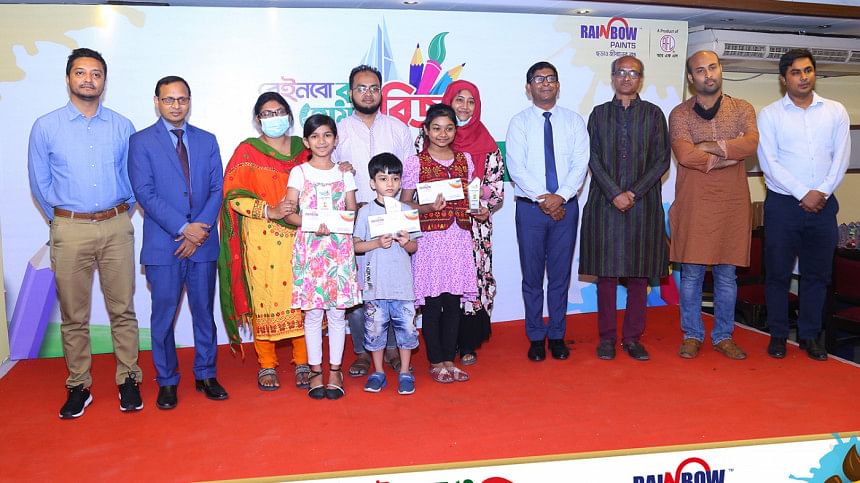 Rainbow Paints, a popular paint brand of RFL Group, honoured the winners of the art competition, "Rainbow Rong a Tomar Bijoy". R N Paul, Managing Director of RFL Group, handed over the prizes to the nine winners at a restaurant in the capital's Badda area on Saturday.
In the competition, 920 paintings were submitted in Groups A, B, and C.  45 artists were selected for the final round. Group A contestants were under 10 years of age, group B was for participants between 11 and 20 years of age, and Group C was for participants between 21 and 35 years of age.
In category A, Shuaib Wasit secured the first position, Norah Muhsanat got the second prize, while Joyeeta Bonik achieved the third prize. In category B, Prabal Dey secured the first position, Md. Shahadat Hossain got the second prize, and Nabanita Haldar won the third prize. In category C, Mithun Kundu got the first prize. Md Abdul Malik Nobel and Shamim Ahmed secured the second and third positions respectively.
Each of the winners received BDT 50,000, 30,000 and 20,000 respectively. In addition, a monument will be painted under the supervision of Rainbow Paints in the respective educational institutions or in their respective areas of the winners.
Kamrul Hasan, Executive Director at Rainbow Paints, said "We got a good response in this drawing competition. From now on, we want to organise this event every year."
Professor Dr Malay Bala and Assistant Professor Amit Nandi of Department of Oriental Art of Dhaka University were present as judges in the final round of the competition.