Hoichoi announces season 6, hit projects to get sequels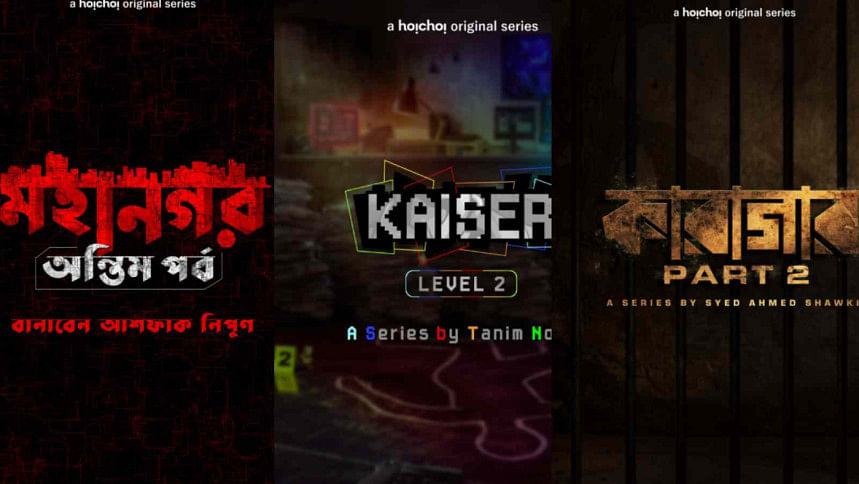 Prominent OTT platform Hoichoi has announced its 6th season, with new seasons of the previous hits, along with some new original content.
The OTT platform has been producing top-notch Bengali web content since its launch in 2017.
Mohanagar- The final installment of "Mohanagar" will bring back the mischievous OC Harun, played by Mosharraf Karim. People can't wait to see how Ashfaque Nipun will stir the audiences with his massive twists and turns in the series.
Karagar 2- Shawki Syed's much-anticipated series "Karagar 2", starring Chanchal Chowdhury, Intekhab Dinar, Afzal Hossain, and Tasnia Farin will be released in December. The OTT page didn't reveal the release date, but fans are eagerly waiting to know the real identity of 'prisoner number 145'.
Kaiser 2- Created by Tanim Noor, "Kaiser" season 2 is all set to unveil new sets of problems, murder mysteries, and more. Afran Nisho, our favourite gamer, will be solving gruesome murders while creating more troubles in his personal and professional space.
Bodh- Amitabh Reza Chowdhury's "Bodh" will finally release this year. The series revolves around a judge and the awakening of his conscience, after his retirement. Its stars Afzal Hossain, Khairul Basar, Sporshia and Runa Khan, among others.
The platform will also feature sequels of popular Indian series including "Sampurna", "Srikanto", "Montu Pilot 3", and "Indu 2", among others.