At least 36 dead in Brazil cyclone, many still stranded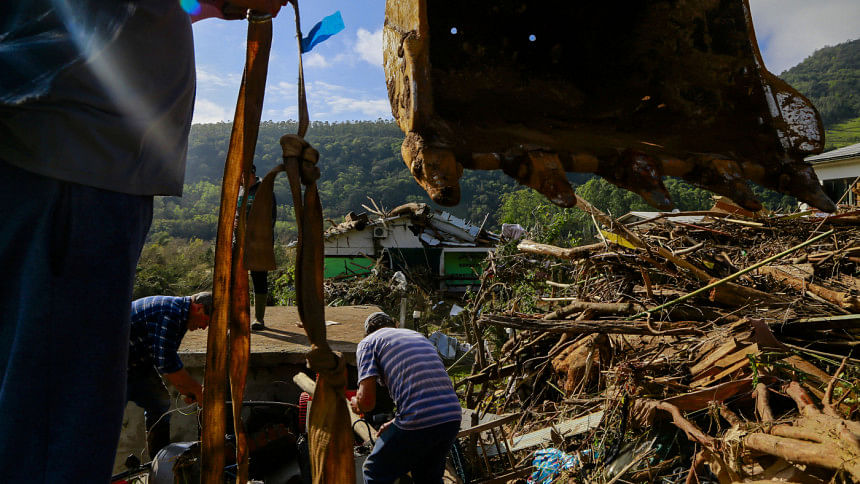 The death toll from a cyclone that unleashed torrential rain and flooding on southern Brazil rose to at least 36 Wednesday, authorities said, as the region braced for more violent weather.
With the flood waters forcing some residents to climb onto their roofs, a major emergency operation was underway, with one official saying more than 1,000 people were awaiting rescue.
The storms, which started Monday, left whole neighborhoods submerged in the southern state of Rio Grande do Sul.
"The water rose so fast, I didn't even have time to take anything with me. I lost everything," said Paulo Roberto Neto Vargas, 39, a resident of the hard-hit town of Roca Sales, where emergency workers recovered six bodies.
"There were so many people screaming, calling for help. We're only alive thanks to God," he told AFP.
Flash floods and landslides obliterated huge swathes of the affected communities, leaving trails of wrecked houses and muddy brown water.
It is the latest in a series of deadly weather disasters to hit Brazil, which experts say are likely being made worse by climate change.
Governor Eduardo Leite, who went on a flyover of flood-hit areas, said thousands of people were waiting to be rescued.
"There are still a lot of families stranded on the roofs of their houses," he said.
The governor, who declared a state of emergency, called it the deadliest weather disaster ever to hit Rio Grande do Sul, as hundreds of rescue workers, police and volunteers continued efforts to reach areas cut off by flooding.
More than 5,300 people have been forced from their homes, with at least 52,000 residents and 70 towns affected in all, authorities said.
Leite warned the situation could worsen, with more rain forecast for late Wednesday and into Thursday, Brazil's independence day.
President Luiz Inacio Lula da Silva said he had spoken with the governor and promised his administration's support.
"I reiterated that the federal government is at the disposal of the people of Rio Grande do Sul to face this crisis," Lula wrote on X, formerly Twitter.
- 'Nothing left' -
Communications Minister Paulo Pimenta, who joined the governor on his flyover of the disaster zone, said the federal government would request more aircraft to help in the rescue effort, in addition to four helicopters it sent Tuesday.
"It's a devastating scene," he wrote on X after touring the area.
The floodwaters submerged most of the town of Mucum, population 5,000, where 14 bodies were found, a revision of an earlier toll of 15.
Local media said authorities there and in neighboring Roca Sales had to resort to using a commercial refrigerator truck to transport victims' bodies.
"It's frightening," Roca Sales Mayor Amilton Fontana told news site A Hora.
"The storm destroyed everything. There's nothing left in Roca Sales today."
The dead included a 50-year-old woman in the town of Lajeado who was being lifted to safety by rescue workers when the cable holding her broke, plunging her into a flood-swollen river.
A couple in the town of Ibiraiaras died when their car was swept away by the current as they tried to cross a bridge.
Brazil is not used to cyclones, but it is becoming "more and more frequent" for them to make landfall in the country, said Francis Lacerda, a researcher at the Pernambuco State Agronomy Institute's Climate Change Laboratory.
"These are extreme events, because the amount of energy released is exacerbated by global warming," she told AFP.
Unchecked urbanization and irregular housing built on hillsides are also making weather disasters deadlier in Brazil, experts say.
In June, another cyclone left 13 dead in Rio Grande do Sul and forced thousands of people from their homes.
And in February, 65 people died in landslides caused by record flooding in the southeastern resort town of Sao Sebastiao, on the coast of Sao Paulo state.
An estimated 9.5 million of Brazil's 203 million people live in areas at high risk of flooding or landslides.