Rescues underway in flood-hit Greek towns as toll rises to 11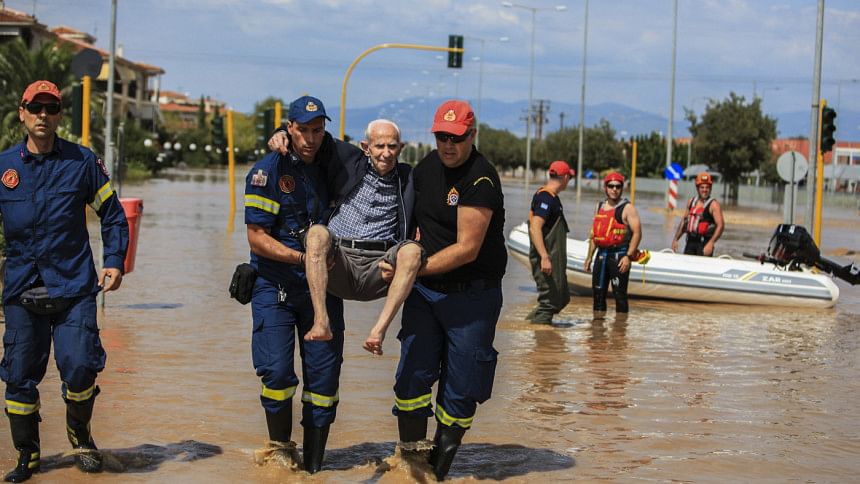 Firefighters backed by the army were rescuing hundreds of people Saturday in villages in central Greece blocked off by floods, as the toll rose to 11 dead.
"More than 2,850 people have been rescued since the beginning of the bad weather," fire department spokesman Yannis Artopios told broadcaster Mega on Saturday.
"There are still many people in the villages around Karditsa, Palamas and toward Trikala. They are not missing, they are trapped," he said.
The body of a 77-year-old man, found on a beach in Pelion, in the centre of the country, brings the death toll from the flooding to 11, the fire service announced.
Greek civil protection authorities said Saturday evening that another seven people were officially listed as missing, including an Austrian couple visiting the area around the picturesque peak of Pelion in the Thessaly region of northeastern Greece.
Several houses remain under water in the village of Palamas and rescue workers were trying to reach marooned people, an AFP journalist said.
"It was truly hellish," said 54-year-old Palamas resident Eleni Patouli.
"We were stuck without help or information for hours. The (emergency services) 112 message to evacuate arrived just as we were facing up to the flooding and we had no means of escape," she told AFP.
The situation also remains worrying near the city of Larissa, a few kilometres to the east.
"We are having great difficulties with the Pinios river, next to the city of Larissa, which has overflowed and reached a height of 2.5 metres (eight feet) on the outskirts of Larissa," Artopios said.
- 'Extreme' weather event -
The flooding has laid waste to thousands of hectares of rich agricultural land and farmers have also lost substantial livestock numbers.
"We are devastated. More than 1,500 pigs have drowned -- 70 percent of our farm suffered damage," said 58-year-old Thomas Kasos.
In the port city of Volos, the water supply has become a problem, since pumping stations and a large part of the supply network were damaged. The health ministry has warned that the water is not suitable for drinking.
"Gastroenteritis cases have appeared and there is a risk of that increasing if people don't have enough water," Elena Riza, a professor of epidemiology at the University of Athens School of Medicine, told public broadcaster ERT.
"Authorities need to distribute at least two litres of drinking water to everyone."
Traffic also remained challenging Saturday with the highway connecting Thessaloniki, the country's second largest city, and the capital Athens cut off in several places.
The storm, named "Daniel", struck the central coastal region of Magnesia on Monday and Tuesday before hitting other towns such as Karditsa and Trikala further inland on Wednesday.
- Flooding follows wildfires -
Experts have described the event as "extreme in terms of the amount of water falling in a space of 24 hours".
The heavy rains and flooding follow devastating fires in Greece this summer that killed at least 26 people.
As the world warms, the atmosphere contains more water vapour which increases the risk of heavy precipitation in some parts of the world, notably in Asia, Western Europe and Latin America.
Combined with other factors such as urbanisation and land-use planning, these more intense rainfall events contribute to flooding.
Severe flooding in neighbouring Turkey and Bulgaria this week left 12 people dead.