Water level decreasing in Jamuna, but sufferings continue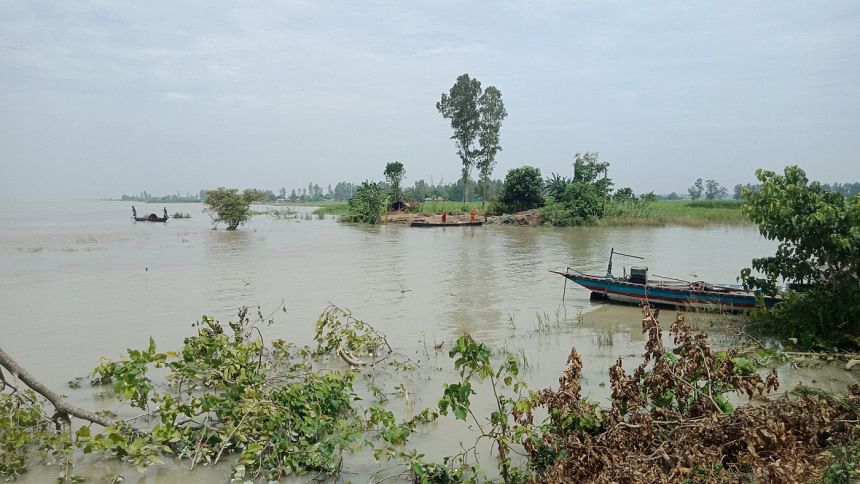 Flood situation has been improving in Sirajganj as the water level has started decreasing in Jamuna but the river is still flowing above the danger level, leaving many still waterlogged.
According to Sirajganj Water Development Board (WDB), water of Jamuna at Hard Point was flowing 11cm above the danger level at 6:00am today.
The water level has decreased 11cm in the last 24 hours, reports our Pabna correspondent.
Meanwhile, the water level in Kazipur point has decreased by 13cm and is now flowing at the danger mark.
"Onrush of water from upstream has decreased so the water level has started decreasing," Ranajit Kumar, sub-divisional engineer of Sirajganj WDB said.
When this correspondent visited different flood-hit areas, he found people were still suffering as the floodwater had not receded fully.
Azizul Haque, resident of Bamongram in Shahzadpur upazila, said recent floods have inundated river bank establishments and roads.
"I have shifted my shop from the river bank," Azizul said.
Sharif Hossain, resident of Boro Koyra village in Sirajganj Sadar upazila, said floodwater is still present in his house.
"We are living in an inundated house for the last five days. Water is receding, but very slowly, so we are not freed from the sufferings of flood," Sharif added.
According to Sirajganj relief and rehabilitation office, around hundred villages of 22 unions in five upazilas submerged in flood water in the last five days.