Chattogram city lost 120 hills in 4 decades, activists claim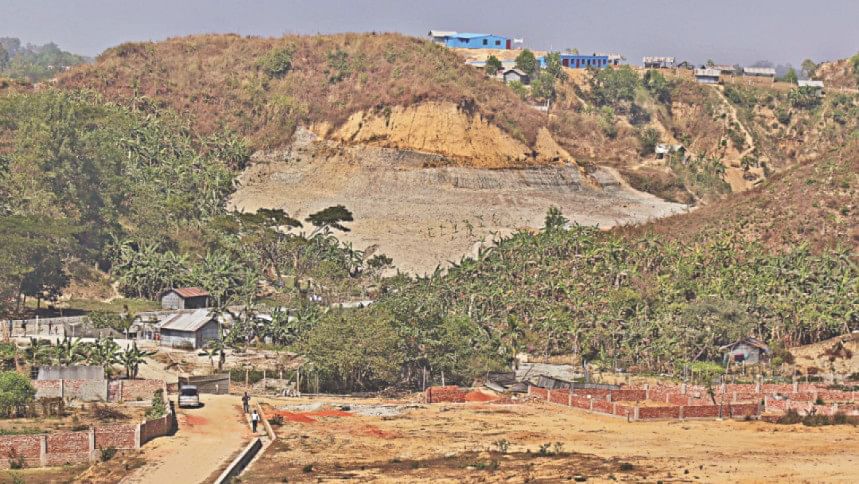 A total of 120 hills disappeared from Chattogram city in four decades, Bangladesh Environment Forum, an environmental organisation, claimed today (August 13, 2022).
In 1976, there were 32.37 square kilometers hills in the port city and it decreased to 14.02 square kilometers in 2008, General Secretary of the forum Aliur Rahman, said in his written state at a press conference at Chattogram Press Club.
Aliur Rahman said there were 200 hills in the port city 40 years ago and 60 percent of those have disappeared now.
Of them, Chattogram Development Authority (CDA) cut 15 hills due to construction of Bayezid Link Road, he claimed.
In the written statement, he also said that the hill in Salimpur was 3,100 acres. But in the last two decades, these hills have been cut and destroyed. Now thousands of houses have been built on those hills, he added.
Meanwhile, a seven-point demand, including the arrest of those involved in razing hills, were presented in the press conference.
Mozammel Haque, former Vice-Chancellor of Chittagong University of Engineering and Technology (CUET), Manjurul Kibria, professor of Zoology Department of Chittagong University, Chowdhury Farid, president of Bangladesh Environment Forum Chattogram chapter, among others, were present at the press conference.