Factories dumping wastes in reserve forest
Admin yet to take steps, allege locals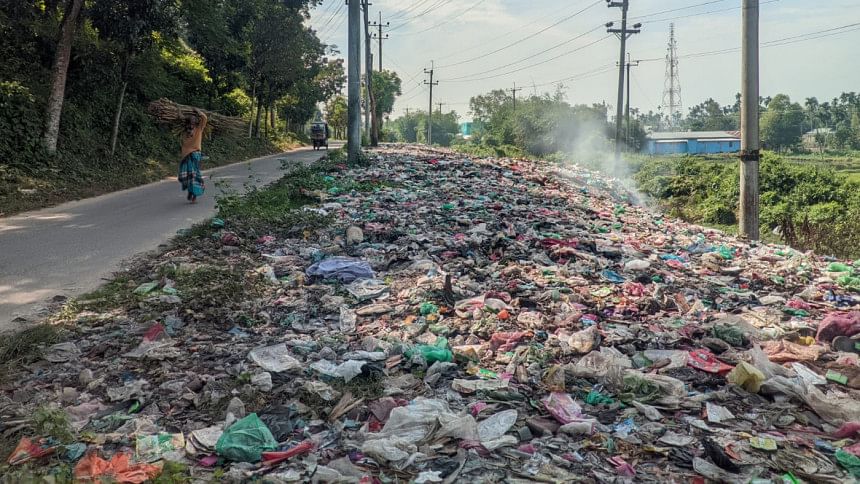 Raghunandan Hill Reserve Forest in Madhabpur upazila of Habiganj is facing a severe environmental crisis due to indiscriminate dumping of industrial waste.
Numerous industries in the vicinity have allegedly been dumping organic and plastic wastes beside a hill within the protected forest for over five years.
According to locals, the dumping of wastes began after several factories were set up 10 years ago without proper waste disposal facilities in Shahjibazar area of Madhabpur upazila and in Raghunandan hilly area.
However, as the spot where wastes are being dumped is located between Shayestaganj and Madhabpur upazilas, near the railway tracks of Dhaka-Sylhet route, neither of the upazila administrations are able to take action due to administrative complication, said Baghasura union parishad chairman Sahabuddin Ahmed.
Visiting the site recently, this correspondent observed that locals were having difficulties to move across the railway tracks due to littering, while foul odour emitted from the site. 
Raju Mia, a local, said the administration is silent on this matter, although it has been going on for several years.
Locals urged factories to implement proper waste disposal facilities.
"Wild animals and birds may die from eating plastic or decomposed organic matter dumped here," said Tofazzal Sohel, general secretary of Bangladesh Paribesh Andolon, Habiganj unit.
Burning plastic also causes severe air pollution, posing health hazards to wildlife and humans, while non-biodegradable wastes pollute the soil and groundwater, destroying the forest's natural topography, he added.
Contacted, Tariq Rahman, assistant conservator of forests in Habiganj, said forest department is working on how to address the issue.
"The matter will be informed to the higher authority and steps will be taken accordingly," said Saifullah, railway assistant engineer (roads) in Shayestaganj.
Manjur Ahsan, Madhabpur upazila nirbahi officer, said necessary action will be taken against those dumping wastes in the forest after informing the district commissioner.