Govt announces zero tolerance against wildlife crimes: Minister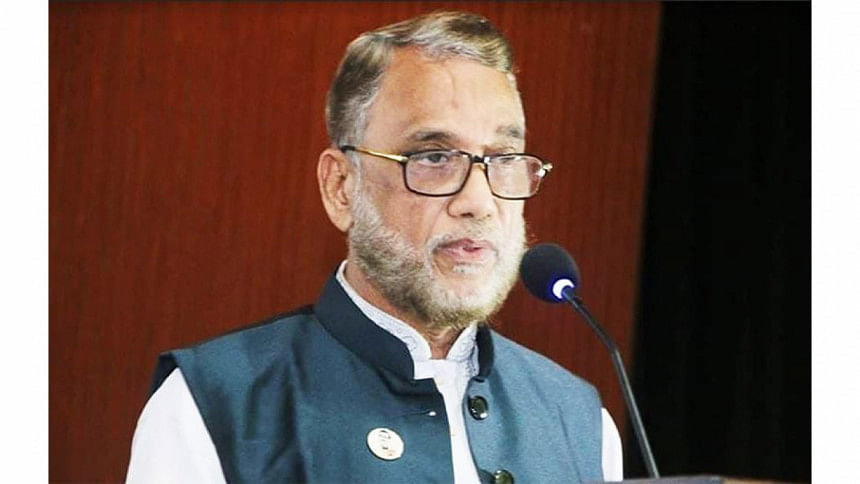 Environment, Forest and Climate Change Minister Md Shahab Uddin today said that the government announced zero tolerance policy against wildlife related crimes.
"Wildlife Crime Control Unit is working diligently to create public awareness for the purpose of wildlife conservation in different parts of the country by stopping illegal wildlife trade, hunting/killing, and trafficking. Every department and unit at the field level is carrying out regular patrol activities to eliminate illegal extraction of forest resources," he said.
The minister said this while talking at a discussion programme organised at the Forest Department on the occasion of International Biodiversity Day-2023 on the theme of 'From Agreement to Action: Build Back Biodiversity'.
Shahab Uddin said that the government has already signed the United Nations Convention on Biological Diversity to conserve biodiversity. "Bangladesh Biodiversity Act-2017" has been enacted to ensure the conservation of biodiversity and sustainable use of its components.
"25 wildlife sanctuaries, 20 national parks, 2 special biodiversity conservation areas, 2 marine protected areas, 1 botanical garden, 3 Eco parks and 2 vulture safe areas have already been declared in different regions of the country for biodiversity conservation, free roaming and breeding of wildlife," he added.
Mentioning that the government declared 1.73 lakh hectares of swatch of no ground in the Bay of Bengal and 1,743 square kilometers adjacent to Saint Martin Island as Marine Protected Area, the minister added "Ratargul, a swamp forest in Sylhet region, and Altadighi in Naogaon have been declared as special biodiversity conservation areas. There are also 2 Ramsar sites and 6 flyway sites in the country."
Environment, Forest and Climate Change Ministry Deputy Minister Habibun Nahar, President of the Parliamentary Standing Committee on the Ministry Saber Hossain Chowdhury, secretary to the ministry Farhina Ahmed, additional secretary Iqbal Abdullah Harun and Director General of the Department of Environment Dr Abdul Hamid were present as the special guests in the discussion programme among others.
The meeting was presided over by Md Amir Hossain Chowdhury, Chief Conservator of Forest Department.
Earlier, a colorful procession was brought out from Shahbagh of the capital to TSC of Dhaka University with the participation of people from various professions.