No standards set for water filters
Companies marketing numerous brands of purifiers without BSTI certification; customers in dark about their effectiveness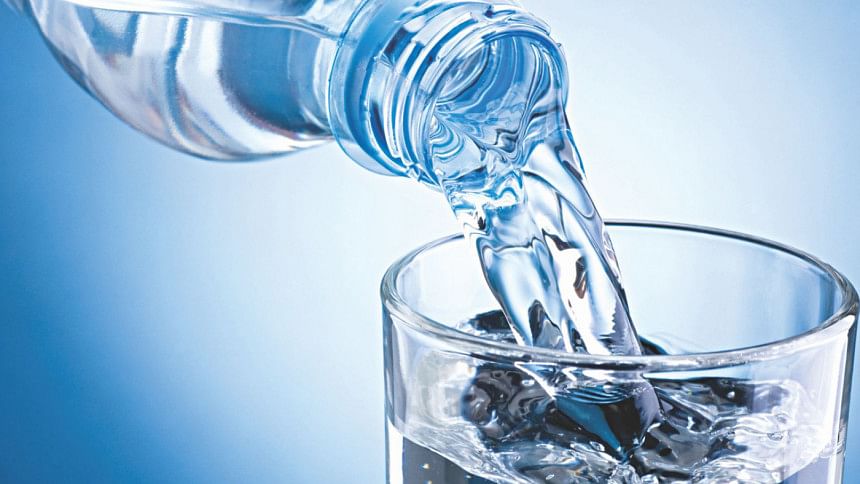 Companies never tire of boasting about their products, and consumers are easily enticed. But in the case of water purifiers and filters, there is a big problem: people have no way of knowing if the "purifiers" and "filters" actually work.    
To attract potential customers, manufacturing and marketing firms come up with various claims -- "safe as boiled water", "free from germs, chemicals, and heavy metals", "no boil, no hassle", "get 100 percent mineral water", "removes 99.99 percent bacteria", "removes health hazardous elements" and what not.
Some even maintain that their purification or filtration products and technologies are of foreign origin while others claim that their products have been tested in labs such as the icddr,b.
But the fact is Bangladesh Standard and Testing Institution (BSTI) or any other authorities do not have any standard or certification requirements for marketing the so-called purifiers or filters. No certification of the quality of the imported products is needed either, according to the Import Policy Order 2012-15.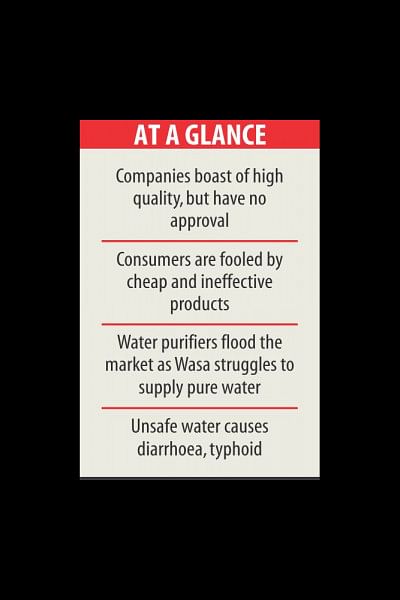 Amid allegations that Dhaka Wasa often supplies poor-quality and even undrinkable water, more and more companies are bringing in new products mostly from India, China, Korea and Taiwan. And the market is growing, almost by 30 percent year on year, insiders say.
"People once had no idea about water purification but the rising water pollution has forced them to look for solutions," said a director of a company that imports water filter equipment.
Marketers make numerous and sometimes preposterous claims about their products, but experts and consumers say it is very hard to be sure.
Shah Md Abdul Khaleque, who recently bought a purifier, said he purchased it in good faith. "But I don't know if it really purifies water."
To reassure himself, he boils the water before putting it in the "purifier".  
Monzur Morshed Ahmed, principal scientific officer and research coordinator at Bangladesh Council of Scientific and Industrial Research (BCSIR), said some people brought in their water filters to them to see if the claims were true.
"Such claims are not always true," he told The Daily Star.
"A uniform national standard and monitoring mechanism for water filters or purifiers is necessary so that people get quality products. Unsafe water is one of the main sources of many water-borne diseases," Ahmed said.
The government can designate labs, for example at the BCSIR, to test water filters if the BSTI cannot do it alone, he noted.
The main domestic market for water purifiers is Dhaka and its surrounding areas. However, the demand is increasing in other districts as well.
While makers of bottled drinking water and natural mineral water have to get mandatory certification from the BSTI, companies manufacturing and marketing water filters do not need any such approval. 
"We are yet to take any initiative to develop any standard for water purifying filters or kits," BSTI Director (standard) Rezaul Karim told this correspondent.
But why? Prof Abul Kalam Azad, additional director general of the Directorate General of Health Services (DGHS), said the health service office did not feel the urgency to work on water purifiers and filters as no one had filed any complaint about it.
Moreover, the country lacks the capacity to test all health-related machineries and equipment. The DGHS just attaches a condition that the equipment should be certified by the US or the EU authorities.
"As water filters and purifiers are usually imported, we think that these are imported based on the approval from some other authority. However, we will discuss the issue," he said.
But even if they are approved by the country of origin, there should be a domestic standard to protect consumers against deception, said ABM Faroque, professor of pharmaceutical technology at Dhaka University.
Experts suggested that the government make rules so importers collect quality certificates from the exporting countries.
Commerce Secretary Hedayetullah Al Mamoon said the import policy was formulated based on recommendations of various agencies and stakeholders.
"Had we got recommendations, we could have considered them and taken steps accordingly," he said.
In the meantime, some local and foreign brands of water purifiers and filters have flooded the market. Depending on the quality, they cost between Tk 1,000 and 1,50,000.
A top official of a company admitted that many people were being fooled by cheap and ineffective products and that no certification was needed for importing his brand.
Dhaka Wasa has the capacity of generating 240 crore litres of water a day against the need for 225 crore litres.
But studies found various bacteria, including e coli and coliform, in the Wasa water. If consumed, these germs can cause diseases like diarrhoea and typhoid, said Dr Aliya Naheed, a scientist at the icddr,b.   
The good news is Wasa is replacing its old pipes with new ones, which should be good enough to ensure quality water. It should go for a campaign after replacing all the old pipes, said Khairul Islam, country representative of UK-based WaterAid Bangladesh.