Don't refer dengue patients to Dhaka
DGHS directs health officials outside capital, says local hospitals have adequate facilities; record 3,122 hospitalised in a day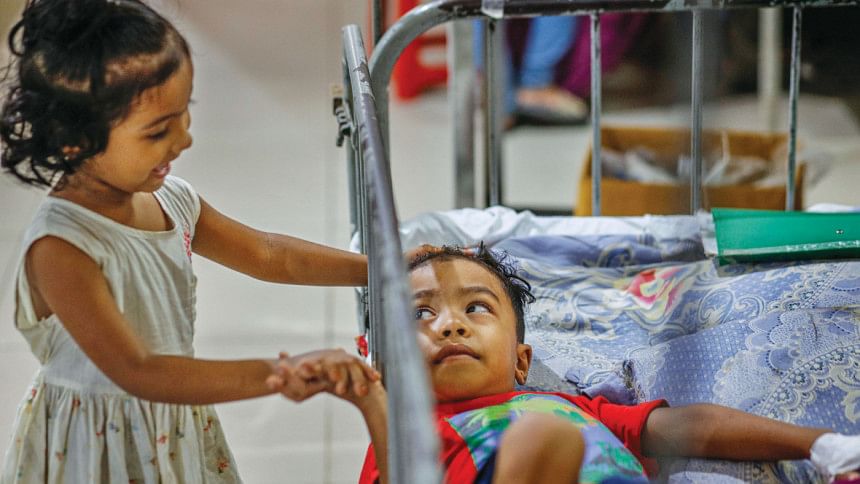 The health directorate has instructed all health officials outside the capital not to send any dengue patients to Dhaka for treatment.
The Directorate General of Health Services issued the instruction as 3,122 dengue patients were hospitalised in the last 24 hours till 8:00am yesterday, marking the highest single-day hospitalisations ever recorded.
Of them, 849 were in Dhaka.
"We have strictly instructed all health officials outside Dhaka to ensure the treatment of critical patients instead of sending them to Dhaka. All public hospitals, including upazila health complexes, have adequate arrangements to treat dengue patients," Prof Ahmedul Kabir, additional director general (planning and development) of the DGHS told a press briefing after a meeting in this regard yesterday.
Civil surgeons, upazila health and family welfare officers and other health officials from across the country joined the virtual meeting.
Kabir said wasting time transporting critical dengue patients to Dhaka was futile.
"This puts the patients' lives at risk."
He also said there is no shortage of normal injectable saline in the country.
"But some dishonest people are trying to create an artificial crisis. We have instructed civil surgeons to take action against those involved in the malpractice."
About patient exploitation in ICUs, Kabir said, "Numerous private hospitals are engaging in deceptive practices for financial gains. We have directed the health authorities to take decisive measures, such as imposing fines and, if necessary, involving law enforcement agencies to ensure accountability."
He said that while the number of dengue patients in hospitals has remained static for the last few days, it has been rising outside the capital.
Yesterday, 18 dengue patients died across the country.
With the latest count, dengue fatalities rose to 822 and cases to 1,67,684.