Tackling Dengue: Govt to buy 2m bags of iv fluids from India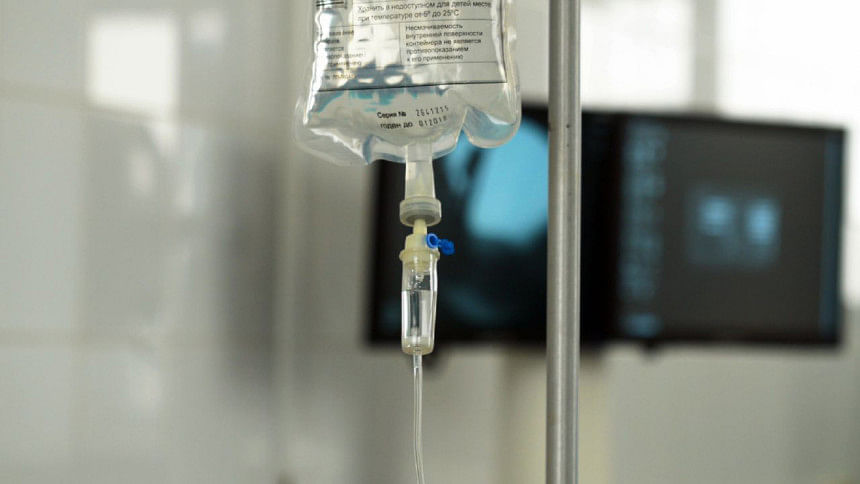 The government has decided to purchase 2 million bags of IV fluids, or injectable saline solution, to address the market shortage of this essential medicine used to treat dengue patients.
According to a health ministry official, a direct procurement proposal to buy 1.2 million bags of sodium chloride and 800,000 bags of glucose saline will be placed before the Cabinet Committee on Economic Affairs today.
Hossain Ali Khandaker, additional secretary of the health ministry told The Daily Star the proposal had already been approved from their end to facilitate the purchase as soon as possible.
Md Nurul Alam, deputy director of the Directorate General of Drug Administration, told The Daily Star that as part of this purchase, they already received a consignment of 300,000 saline bags from India.
Prof Ahmedul Kabir, additional director general (Planning and Development) under the Directorate General of Health Services told The Daily Star that civil surgeons and divisional directors were instructed to be in the field to check market manipulation by unscrupulous IV fluid traders.
The country has seen a huge surge in demand for injectable saline, an essential part of dengue treatment, due to the soaring number of patients in Dhaka and beyond.
Among the 11 types of injectable saline, sodium chloride solution is the most commonly used. People are facing a phenomenal shortage of this fluid due to market manipulation by a syndicate of unscrupulous traders.
There was no improvement in the market even though the DGDA requested six saline-producing companies to increase production, prompting the government to resort to the import of the essential fluid, said official sources.