Considering at-home bridal beauty services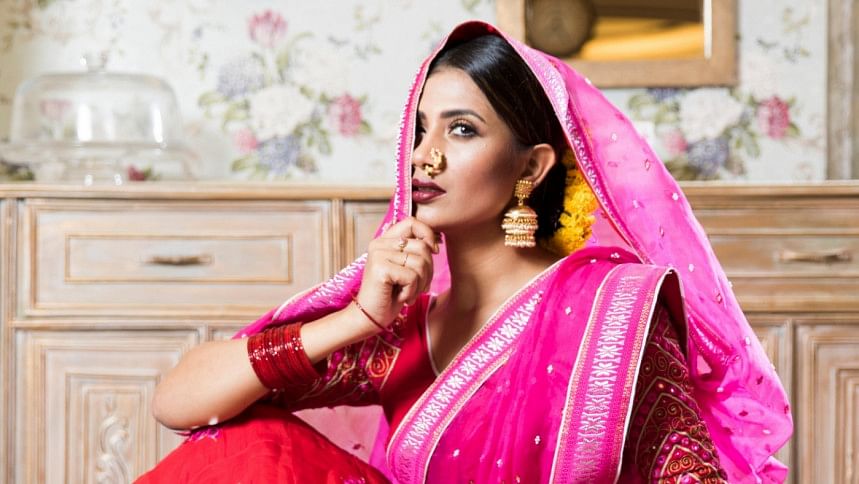 Home-based bridal beauty service is one of the many new fads in wedding culture, which has resulted from the pandemic. Staying in for hair, makeup and grooming seems to be viewed as a stress free solution for those with commute anxieties or health concerns.
Suraiya Iqbal, the founder of Revive Hair and Beauty Salon shares her insight on the process with her five years of experience in organising home based bridal beauty services.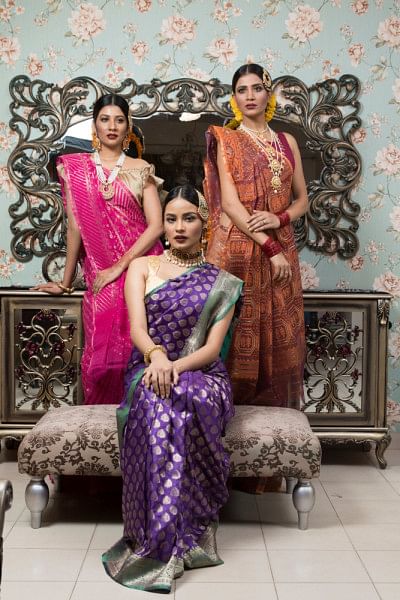 When to avail home service
At-home bridal beauty services usually offer hair and makeup packages, along with grooming add-ons such as a quick facial or hair treatment.
Home service is ideal for those who may either live on the outskirts of Dhaka, or are planning to have their wedding events there. It is also recommended for brides who live extremely close to their event venues and would rather not go out of their way to get their hair and makeup done. The added mileage can be extra hectic when one takes Dhaka traffic into consideration.
Those with health concerns are also likely to request it.
"There are many families which always avoid big crowds and large gatherings, and they take that into consideration in all steps of the wedding process. At-home service is usually preferred by them," mentioned Suraiya.
Brides, especially in need of a break due to wedding anxieties should also consider home service for its relatively stress-free nature.
"When you get your hair and makeup done at home, there is no need to stress as much about time or commute. You do not have to feel responsible for relatives or bridesmaids who may have tagged along at the salon. You do not need to worry about packing all your necessities before heading out of home or before leaving the salon either," remarked Suraiya.
Prepping for at-home service
As makeup artists who do at-home makeup usually just bring the supplies, makeup, and hair tools required for a specific look, it is important to state all preferences and wants beforehand.
This may entail showing pictures of event outfits, online reference photos, desired colour schemes and all additional aesthetic inspirations. When it comes to dyed hair, it is important to specify your hair shade to your stylist so they can make appropriate arrangements for your hair extensions.
At times, mental prepping is also important for at home services, even though it is relatively more stress-free than salon appointments.
"When you are getting married, your house is usually filled with relatives and friends. We often see many of the people close to the bride try to micromanage the makeup process, or bombard the makeup artist with their opinions which can stress brides out. This can be unavoidable at times so it is best to prepare for this possibility, mentally and spatially" recalls Suraiya.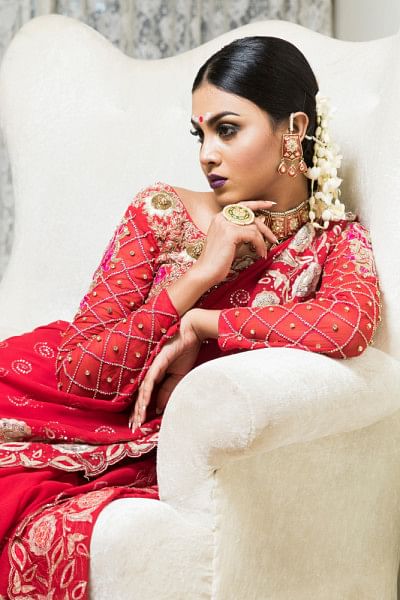 The don'ts
Experimenting with intensive facials right before your big day may backfire. Active ingredients and peels have a chance of causing breakouts or flare ups when first used, and this may especially be the case for those with sensitive skin. Your skin may also dry up and not hold makeup properly even if the ingredients are not the harshest.
"If you really want to go for an intensive facial, it is best to get one done four to five days before the event. This will give you some time to deal with adverse reactions, if any," advises Suraiya.
Another thing to avoid as the wedding approaches is dehydration. Although serums and lotions can combat winter dryness to some extent, the root of the issue can only be tackled if you hydrate yourself with drinking water. Ensuring that you keep your water levels in check during the week leading up to events will help your skin and makeup glow.
Lastly, hair dying and re-bonding usually has a lot of potential for disaster at home, so it is best not to ask for it.