Faiza Ahmed gives Nazifa Tushi a 'Hawa' inspired red carpet look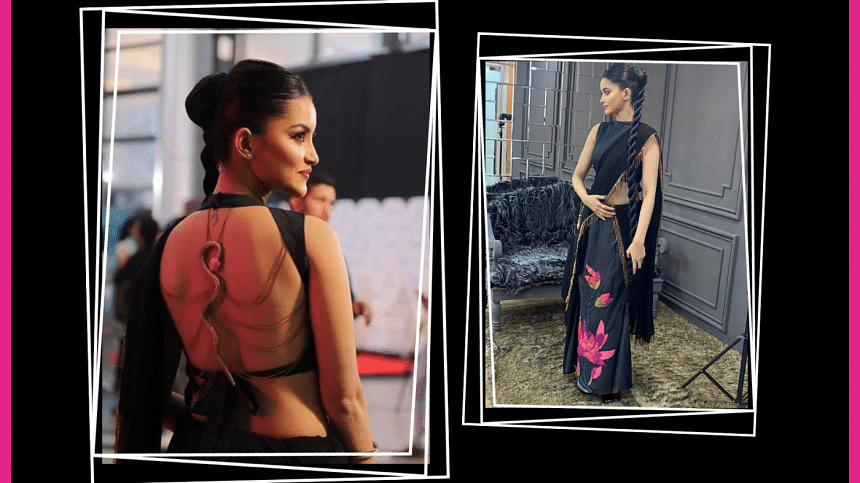 Nazifa Tushi, one of the finest actresses in our entertainment industry, recently walked the red carpet of Meril Prothom Alo Awards 2022 in a stunning, edgy look. Donning a 'Hawa' movie-inspired sari designed by the incredibly talented Faiza Ahmed of Manas, Tushi looked like the perfect embodiment of beauty, grace, and mystery. 
"Tushi came to me with a simple idea," explains Ahmed. "She wanted an outfit that played tribute to her character Gulti, in Hawa movie." However, as designers will often tell you, in the world of creative work, the simplest of ideas require the most refined work. 
Once the inspiration was set, Ahmed first dissected the elements of Gulti, narrowing them down to the ones she would want to be highlighted and then adding a touch of red carpet vibes into the whole look. 
Ahmed decided on a sari for Tushi that would be a masterpiece in itself, redefining sari norms altogether. The sari was twelve yards of silk in the deepest shade of black, with only a thin border of golden flowing along its edges. The richness of this black paid homage to the mysterious Gulti, as every delicate fold emitted tales of intrigue. 
With a stroke of genius, Ahmed decided to give the petticoat, an understated part of the sari wardrobe, a more prominent role. "As we have seen in the movie, Gulti wears her sari like a local snake charmer, above the ankle," states Ahmed while explaining the idea behind this petticoat, "So I thought, I would let the petticoat have its own limelight, breaking out of the idea that it should always be hidden under the sari."
Hand-crafted lotus blossoms in a variety of colours were woven individually into a greyish-black canvas of Rajshahi Balaka silk, giving it a touch of the seductive charm of Gulti, an oceanic depth, and mysticism. The sari was draped in such a way that it neither overshadowed the petticoat nor took anything away from its own elegance. 
The showstopper of the evening though, was the high-neck backless blouse. Resting against Tushi's spine, we saw a copper snake in a curved posture, a symbolic tribute to the supernatural components that characterised Gulti. This jewelled piece was created by the local coppersmiths of Bhakurta upon instructions from Faiza Ahmed. 
Also setting this look completely apart from the usual was the absence of any glamorous earrings or necklaces. Appreciating Tushi's spirit to embrace this unique idea Ahmed added, "I wanted that snake on her back to be her only accessory, save for the tiny diamond studs on her ears. It was her only jewellery for the evening and I am grateful to Tushi for actually trusting me on this."
For footwear, once again Tushi was given something unexpected. Instead of the glittery pumps she wore black school-girl boots adding another dimension to this edgy look. 
Paying attention to each small detail, Faiza Ahmed's design transformed Nazifa Tushi into a living work of art. This red carpet look was the perfect demonstration of fashion and cinema, where creativity met tradition in the most unique way.