Munzereen Shahid shines bright on her walima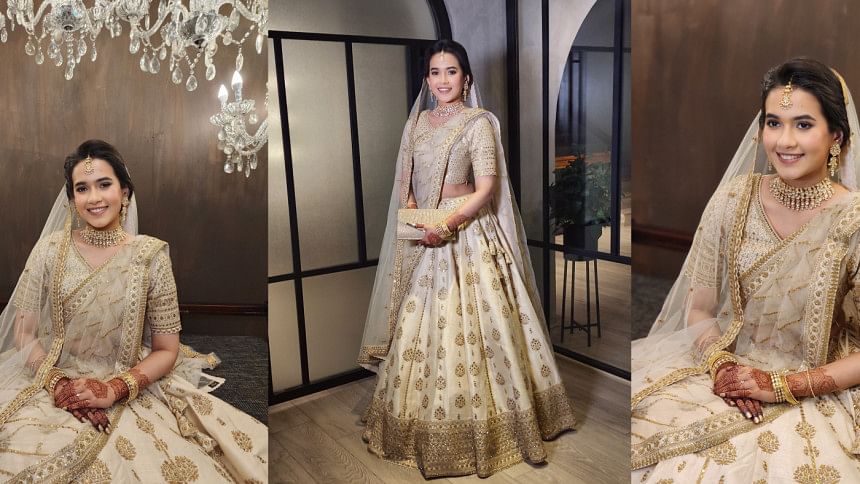 The songs are sung, the prayers are done, it's time to tell the world that the bride has come home.
As a beaming Munzereen steps onto the walima stage, she looks like a picture of grace and elegance in an ivory and antique gold ensemble. Her simple makeup is a nod to her uncomplicated, humble personality and her smile, heavy with the promise of a joyful future.
Deeming the akhd look her favourite out of all her event getups, Munzereen requested Navin yet again, for the soft-glam makeup that had worked so well the last time. She felt it went the best with her personality — classic, and not excessive. "As someone who does not use makeup in her daily life, Munzereen was very clear about what she did not want — a heavy, all-out bridal look," shares Navin, the owner of Gala Makeover Studio and Salon, and the artiste behind's Navin's wedding look book.
"We like to comply with our clients' wishes because we know that when they are comfortable with how they look, they are happier and more confident. Munzereen wanted no foundation, no faux lashes, and definitely no hair extensions," she informed. "So, we went with what we had — her natural good looks, and our expert craft."
The base was a simple colour corrector in places where there were blemishes and red spots — and then, a pigmented moisturiser. "Tinted moisturisers are not known for long-lasting coverage — that's usually what foundations are for. But because Munzereen was not comfortable with that, we compensated by prepping her skin up very well."
Munzereen's skin was scrubbed and then coated with a super hydrating moisturiser. "The more moisturised your skin, the better its sebum control — so we concentrated on that. It had worked on her akhd and we were confident it would do the trick this time as well," said a self-assured Navin.
For her cheeks, a peachy liquid blush was used to give the impression of a natural flush. "We did not top it off with a powder blush because that would just add another layer that she did not ask for." This shade was similar to what was used on her lips — a thin, mauve nude lipstick that was nothing but a more defined, even colour for her naturally pink pout.
Munzereen's eyes were made brighter with the use of a warm brown liner and a wash of cool-toned brown to keep it neutral and natural, while adding depth. "We used some heavy mascara for her again, because lash extensions were a no-go," mentioned Navin. "The result was a sparkling pair of beaming eyes that did all the talking."
Her hair was kept in a simple, effortlessly chic side-parted bun, with a small tikli in place.
Munzereen's natural, understated look for her walima spoke volumes about Navin's commitment to her clients and her detailed craftsmanship. The bride's simple elegance has been appreciated by all those who are a little wary of makeup and gives them hope that one need not always doll up to grab attention- natural beauty and tastefulness can do it for you just the same.