5 things to learn from Virat Kohli to win in your life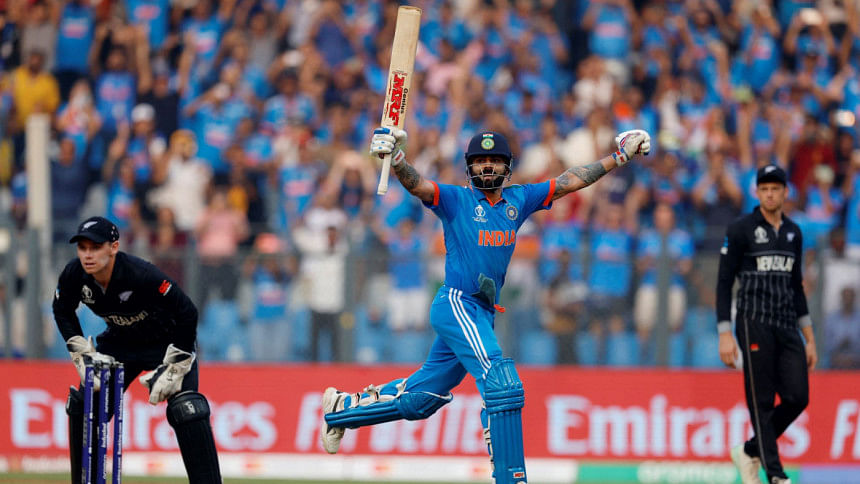 As a cricketer, Virat Kohli is in a league of his own. Cricket fans all around the world enjoy his energetic and powerful playing style. In fact, he broke Sachin Tendulkar's milestone for the most runs at an ODI World Cup with his 50th ODI century in India's semi-final match versus New Zealand during the 2023 World Cup.
Kohli has an unwavering determination, intense competitiveness, and a work ethic that never rests. He is also revered as an inspiration to young people and a role model because of the values he embodies: hard work, devotion, and tenacity. So, to inspire you for your days ahead, here are some words of wisdom from him.
"Self-belief and hard work will always earn you success."
You may aspire to dream big in life. But, aspirations on their own are insufficient. Having self-belief is crucial to turn your aspirations into successful reality. So, how might you go about it? When confronted with rejection, people with high self-belief cope by moving on rather than wallowing in self-pity. Moreover, with confidence in oneself, individuals can change or adapt in the face of adversity.
Not only that, success will not just come to you if you are not seeking it with consistency and concentration. This is where you need to work hard. Maintaining focus on the end goal of your success will require you to experiment with various skills, ideas, and tactics. Sure, you will have setbacks along the way, but that is just part of the learning curve!
"I love playing under pressure. In fact, if there's no pressure, then I'm not in the perfect zone."
Working hard to complete tasks, meet deadlines, achieve goals, or fulfil obligations may be frustrating and tough. Nevertheless, you must try to remain emotionally upbeat and mentally engaged in the face of such pressure. Why, you might wonder?
Well, it is due to pressures that we can find some of our hidden potential. Under pressure, we push ourselves beyond our comfort zones, releasing a flood of energy. In our understanding of how to deal with pressure, we will ultimately end up refining our abilities, just as diamonds and gold undergo pressure to become some of the most coveted elements in the world!
"The people you choose to have around you make all the difference. My family and close friends keep me grounded."
Because of their distinct characters, worldviews, and life experiences, no two people are ever the same. Who you are, however, is largely determined by your company. They decide which discussions take up the most of your mental space. Needless to say, your fulfilment in life is directly related to the company you keep, especially with your close friends and family.
You may improve your own lifestyle by surrounding yourself with kind, empathetic, smart, and good people who want to achieve something in life. But, if you spend time with people who are often complaining, procrastinating, or otherwise impeding your progress, you will only suffer from negativity. So, being around and learning from individuals who are self-aware can help you become more emotionally intelligent yourself to understand the feelings of others around you.
"Recognise your strengths, work on your weaknesses. Real achievement is liking what you see in the mirror every morning."
It is common for us to evaluate ourselves in relation to others, basing feelings of superiority or inferiority on our perceived strengths and weaknesses. If you want to succeed in life, you should always play to your strengths, which can be any area in which you excel. Give yourself a break and consider your strengths. Then note those down and have a look at them before important things such as an interview, an event, and so on.
 Apart from strengths, there are also weaknesses. However, contrary to popular belief, you should not let your weaknesses get you down. Instead, you should work in these areas by cultivating and establishing it as a hurdle to cross. Similar to strengths, you may note down your weaknesses and cross them out once you have successfully conquered them.
"And there's nothing more impressive than a great attitude, which you can wear on your sleeve. But you'll have to remember the difference between being rude and being confident."
On the outside, it might be difficult to tell the difference between a rude and a confident individual. Both can be outspoken in their abilities and advocate for themselves while having no trouble playing to their strengths. However, there is a discernible distinction between confidence and rudeness. And it is important that we learn the difference.
Rude people often hold a view that they are more important than they really are. Those who are healthy in their confidence, however, tend to be aware of their abilities and where they may need some work. So, rather than allowing your perceived shortcomings to fuel uneasiness, you should seek help. You should also be able to take criticism well and not get defensive when given it. You will be able to find inner peace through such confidence.