Thailand's Thaksin moved to hospital after exile return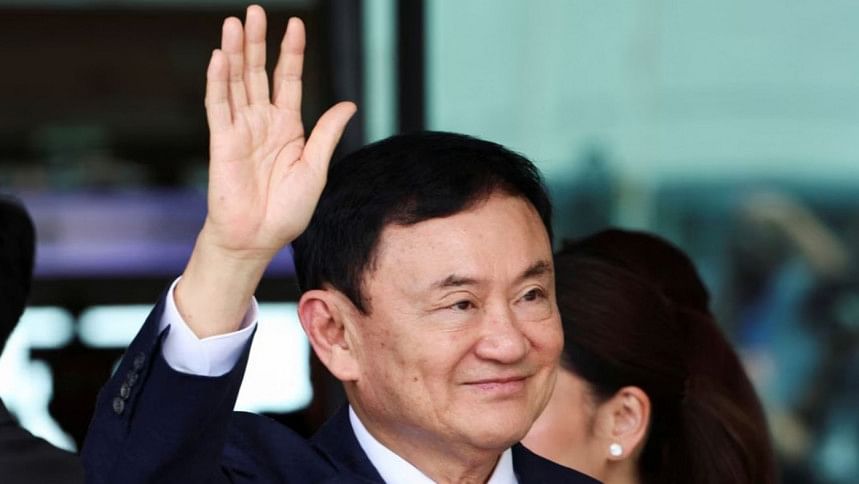 Thailand's former premier Thaksin Shinawatra was moved from prison to a police hospital on Wednesday, officials said, a day after he was jailed on his return from 15 years in exile.
The 74-year-old, twice Thai prime minister and ousted in a 2006 coup, is suffering from multiple health complaints, officials said, and was moved from prison quarantine to a police hospital shortly after midnight.
Thaksin's homecoming on Tuesday came on the same day his Pheu Thai party returned to government in a power-sharing agreement with pro-military parties, prompting widespread speculation of a deal to cut his jail time.
Sitthi Sutivong, a corrections department spokesman, said in a statement that late on Wednesday night, prison medical officers reported Thaksin was suffering from sleeplessness, high blood pressure and low blood oxygen.
"He has several diseases that need to be taken care of -- in particular heart diseases, and the prison hospital does not have the right equipment," Sitthi said.
"The doctor said that to avoid the risk that could endanger his life, he should be sent to the Police hospital."
Immediately after landing in Bangkok by private jet, the billionaire ex-PM was taken to court and ordered to serve jail sentences passed during his absence from the country.
He had long argued the cases were politically motivated but said he was willing to face justice in order to return home and see his grandchildren in his old age.
Loved by millions of rural Thais for his populist policies in the early 2000s, Thaksin is reviled by the country's royalist and pro-military establishment, which has spent much of the past two decades trying to keep him and his allies out of power.
Pheu Thai's Srettha Thavisin was approved as prime minister yesterday -- the party's first premier since Thaksin's sister Yingluck was thrown out in a coup in 2014.
Property mogul Srettha heads a controversial coalition that includes the parties linked to the coup-maker generals who ousted Thaksin and Yingluck.
The new coalition shuts out the upstart progressive Move Forward Party (MFP), which rode a wave of youth and urban discontent at nearly a decade of military-backed rule to score a shock victory in the May election.
But MFP's reformist push to amend royal defamation laws and tackle business monopolies spooked the kingdom's powerful elite, and the party's leader Pita Limjaroenrat was blocked from becoming prime minister.