Competition with China drives US policy here
US foreign policy expert tells The Daily Star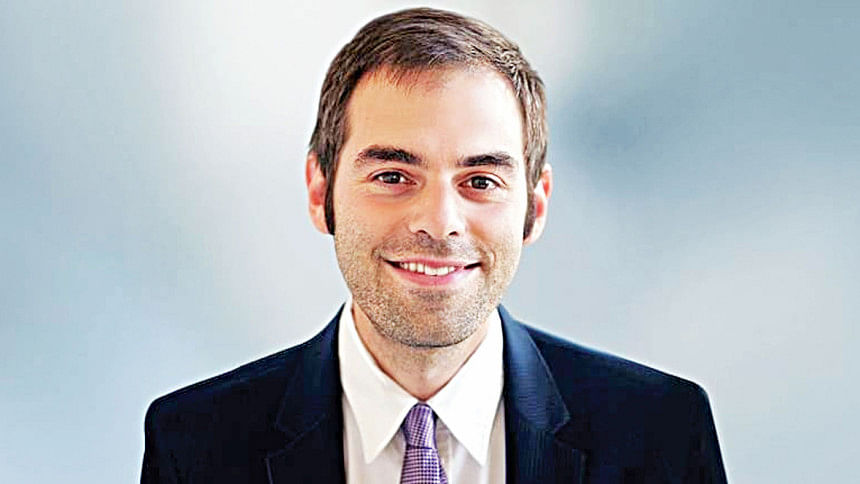 Washington wants to boost Dhaka's military capability and reduce its dependency on Beijing for defence cooperation, said a Washington-based foreign policy expert.
"The US essentially wants to provide options to Bangladesh to strengthen its military forces and also lessen [Bangladesh's] reliability on China," said Michael Kugelman, director of the South Asia Institute at the Willson Centre.
He spoke to The Daily Star at a city hotel on August 31 when he visited Dhaka to attend an international seminar on the Indo-Pacific.
His visit came after the US-Bangladesh defence dialogue on August 23-24 and before a security dialogue between the two countries yesterday, both of which highlighted the importance Washington attaches to defence and security cooperation with Dhaka.
Since 2019, the US has been seeking to sign two defence agreements -- the General Security of Military Information Agreement (GSOMIA) and the Acquisition and Cross-Servicing Agreement (ACSA) -- with Bangladesh as the latter seeks to modernise its military by 2030.
Michael Kugelman said any new development in defence cooperation between Dhaka and Washington has more to do with the US's concerns about China than about Myanmar.
"The US-China competition is the driving factor in US foreign policy in Bangladesh, South Asia, and the whole world," he stressed.
The US's rivalry with China works as a determining factor for its foreign policy across much of this region, including how it advances its democracy promotion policy in Bangladesh. That's why the US desires to reduce Bangladesh's reliance on China, certainly for economic cooperation but also for military cooperation, he added.
"It is not true that the US is trying to get Bangladesh or any other country to come into its camp to completely move away from China. The US wants to counter China by providing alternatives to countries that rely on China," said the foreign policy expert on South Asia.
Asked why Washington is so critical of China, Kugelman said over the past few decades, the superpowers got concerned when a new competitor emerged.
He said the US, which has the status of a super power for a long time, is getting anxious that it could lose that status to China.
"China is aggressively asserting its territorial right in the South China Sea and trying to control Taiwan … It is deploying its surveillance programme and causing trouble for India in its border," Kugelman said.
In other words, the US and its top allies are increasingly threatened by China's actions, including development of powerful counter satellites that could impact the US and Indian space capacities. That's very worrisome for the US, he noted.
Also, former US President Trump politicised the China factor, claiming that China was stealing American jobs -- things that became very toxic in Washington, making it hard to find moderate views about China in the US, he added.
One alternative that Washington is offering is defence cooperation. However, Bangladesh needs huge development funding, but the US considered Bangladesh ineligible on the ground of labour standards for receiving funds from the US International Development Finance Corporation (DFC).
Kugelman said the US will be trying to counter major Chinese infrastructure projects by offering investments in Bangladesh, and the DFC being a major tool in that effort.
"I don't see why Bangladesh should be punished or discouraged from seeking DFC assistance because of labour standards," he said, adding that DFC has already been deployed in India and even Pakistan.
Referring to how the relation between the US and Bangladesh has grown in recent years, he said it is healthier if infrastructure is used as a tool by the US, instead of arms shipment, to try to reduce Bangladesh's reliance on China.
Washington could show more flexibility and come up with at least one test project, instead of committing huge amounts of money for mega infrastructural projects.
As the conversation veered towards Myanmar, Kugelman said Washington would use other tools such as sanctions as part of restoring democracy in the country.
The US amended the BURMA Act last year, broadening the Biden Administration's authority to take actions against the Myanmar junta and support the civilian forces. Some experts fear that this may lead Washington to send arms to Myanmar via Bangladesh.
Reflecting on the US strategy in the Southeast Asian country, he said the US would not want to get involved in the armed conflict.
"Obviously, there is a track record of the US playing that type of role in so many other contexts in other countries. I don't think that this would be the case with Burma [Myanmar], at least not now," he added.