Cases against BNP leaders, activists: Families pushed to brink
Ten-year-old Adnan Ahmed Aman's young mind was looking for a way out since his father's arrest from their home last year so that his father, a Sylhet Jubo Dal leader, could avoid further arrest and spend time with him.
Recently, he got an idea while playing Minecraft on his phone. In this game, players explore a blocky three-dimensional world and build various structures.
So, Adnan designed a house that has a hideout underneath his father's living room where his father will hide during any future raid and avoid arrest.
"I was scared when Rab raided our home and left with my Abbu. Since then, I was thinking how I can save my Abbu," Adnan told The Daily Star, showing the design of the hideout on his phone.
Adnan's father Md Moksud Ahmed, general secretary of Sylhet district Jubo Dal, said his son is traumatised since plainclothes Rab men barged into his Mollargaon home in Sylhet city in the predawn hours of September 14 last year, and left with him.
"Whenever someone rings the doorbell, my son rushes to the door only to tell them that I am not home," said Moksud, who was released on bail four months after the arrest in a case filed after Jamaat-Shibir men brought out a procession in Sylhet city.
An assistant professor at the National Institute of Mental Health said traumatised children may develop anxiety-related disorders. These children may also have difficulties socialising and studying.
But the grownups like Moksud and thousands of BNP leaders and workers across the country have their own pressing problems.
Some have lost their jobs due to the court cases, and struggle to pay the bills. Others are in heavy debt running their families and paying the legal expenses in dozens of cases. Yet others running from the lenders.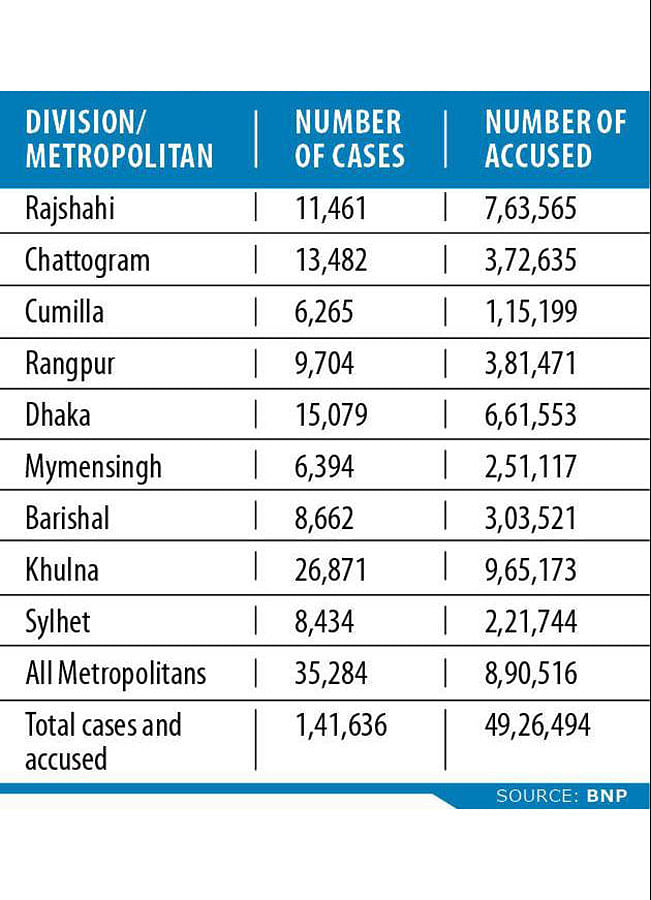 LOSS OF BUSINESS
Moksud faces 38 cases, and was on the run from 2009 to 2020.
"All the cases are fictitious. I have been relieved of 16 cases already as the witnesses and the plaintiffs failed to identify me in the court," he said.
A successful businessman in the pre-Awami League era, he is now counting losses as he cannot look after his business like before in fear of harassment.
The Daily Star has spoken to 20 BNP leaders and activists and their families in Dhaka and elsewhere, and like Moksud, each has a distressing story to tell.
Marzina Begum's husband Abdul Zabbar Hawlader, a Sramik Dal leader in the capital, died of cancer in 2021 without proper treatment.
But until 2009, they were a solvent middle-income family, having two passenger buses that ran on Gabtoli-Sadarghat route.
Zabbar, once a bus driver himself, had bought the buses with his savings and a bank loan. He also bought five decimals of land in Savar and built a seven-room tin-shed house there.
But after the AL came to power, cases were filed against him one after another. He went into hiding to avoid arrest in the 29 cases he faced. His two buses, the main source of their income, were not allowed to hit the road.
"Having been abandoned for several years, the buses were almost beyond operation. We had to sell them as scraps for Tk 3.5 lakh," said Marzina, now struggling to survive with three daughters aged between 13 and 23, and a son aged nine.
To pay for the legal expenses and feed the family, Zabbar also had to sell his ancestral land in addition to the two buses and the house in Savar.
After Zabbar fell sick in 2020, Marzina borrowed heavily, nearly Tk 12 lakh, for his treatment although Zabbar eventually succumbed. Marzina says she now avoids meeting the creditors, most of them relatives.
"My husband died on October 11, 2021. Two years after his death, he was named as the second prime suspect in a case filed against 109 BNP men over vandalism inside Government Bangla College in Mirpur on July 18 this year.
Another dead man, Shafiqul Islam Suman, former vice-president of Bangla College unit of Chhatra Dal, BNP's student wing, was also made an accused in this case, filed nine months after his death.
Complainant of the case Mohidur Rahman, a staff member of the college, told The Daily Star at the time that he only filed the case without naming anyone, and that police put the names.
Shiekh Aminul Bashar, officer-in-charge of Darussalam Police Station, said, "I don't know how he could say that. As a plaintiff, he signed the case statement after going through it."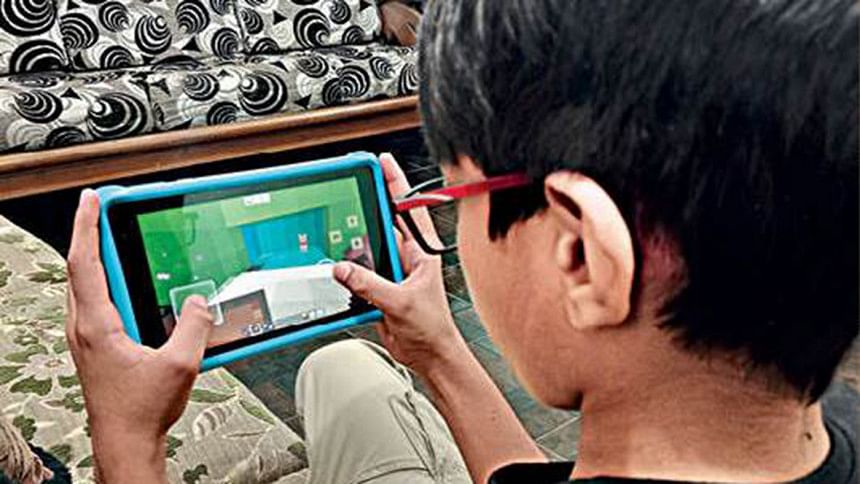 HIDING AWAY
Jubo Dal Convener Monir Hossain Hawlader, from Barishal's Gournadi upazila, and his family cannot go home for the last 19 months fearing arrest and attacks by Awami League activists.
Just days before the 2018 election, local Jubo League leaders and activists vandalised his shop, Hawlader Steel Works, at Torki Bandar, looted the cash box and machinery and forced him to close down the shop, he said.
"Although I suffered a loss of around Tk 2 lakh in the attack, I did not file a case against them fearing reprisals," said Monir, who faces seven cases.
Now out of business, he runs the family with the money his son sends from a Middle Eastern country.
In 2021, police charged him with a murder that took place when he was in Chennai for treatment.
"Later, police submitted a supplementary charge sheet dropping my name after I held a press conference and presented all documents related to my India visit," Monir added.
A GOOD JOB LOST
Md Nowshad was an assistant plumber mechanic at Chattogram Wasa, where he joined in 2004.
Being a government employee, he thought his job was secure and that he would be able to give his two sons proper education. But a series of cases in 2015 have changed all that.
The Wasa authorities suspended Nowshad after he was arrested in a number of cases, and said he would get back his job once he is acquitted from the cases.
"Since my arrest, I have been struggling to feed my family, pay for my sons' education and the legal expenses," said Nowshad, now freed on bail.
Nowshad, a Jubo Dal leader in the port city's metropolitan unit, faces 48 cases.
He said the police filed the cases and submitted charge sheets in all these cases, and the court framed charges against him although he was not even aware of many of the incidents.
"I cannot even do a part-time job to support my family, as I have been going to the court almost every day for the last eight years for hearings," he told The Daily Star.
GHOSTLY CASES
Official data on the number of cases filed against opposition party leaders and activists are not available.
According to BNP's case record preservation cell, 1,41,633 cases have been filed against 49,26,492 leaders and activists of BNP and its affiliated organisations since 2009 till September this year.
The Daily Star could not independently verify the data, but going by the BNP count, its leaders and activists were sued in 10,000 cases every year or in 27 cases every day since Awami League took office in 2009.
BNP leaders have termed many of the cases "ghostly," as dead people, migrant workers, Hajj pilgrims, and people undergoing treatment abroad at the time of the alleged incidents have been charged.
On September 26, police filed a case under the Explosive Substances Act against Md Mahmudul Haque Rubel, a three-time BNP lawmaker from Sherpur, and several others.
Two days later, on September 28, Mahmudul, who faces 25 cases, was coming to Dhaka to submit a bail petition to the High Court.
"That day, police filed another case against me and several other leaders and activists. I was on the way at the time that the police mentioned in the case as the time of occurrence," he told The Daily Star.
The local police defended the charges brought against the former lawmaker, saying his claim was not true.
The cases of Moksud, Zabbar, Monir, Mahmudul, and many others are examples that police did not gather even the minimum information about the incident and the suspects before pressing charges.
Asked about the legality of such cases, Supreme Court lawyer and rights activist Jyotirmoy Barua said, "False cases are essentially filed to harass people as there is no preventive measures in the legal system."
Referring to the loopholes in century-old criminal laws introduced during the British colonial rule, he said countries around the world have amended this deterministic law.
In the UK, for example, the Crown Prosecution System scrutinises each case before registering them, he said, adding, "The only cases the Crown Prosecution registers are the ones they are confident about winning as it involves public money."
The legal side apart, the cases of Moksud, Zabbar, Monir, Mahmudul, and thousand others are also examples of how "politically motivated" cases can ruin families financially.
"It's a devastating situation. The families of our leaders and activists are facing extreme hardship to run their families. Many have lost their jobs and businesses. Some of them even pull rickshaws for a living," said BNP Senior Joint Secretary General Ruhul Kabir Rizvi who faces 180 cases himself.
(Additional reporting: FM Mizanur Rahaman from Chattogram and Sushanta Ghosh from Barishal)