Children with Disabilities: Inclusive education, still a far cry
Speakers discuss opportunities, challenges at roundtable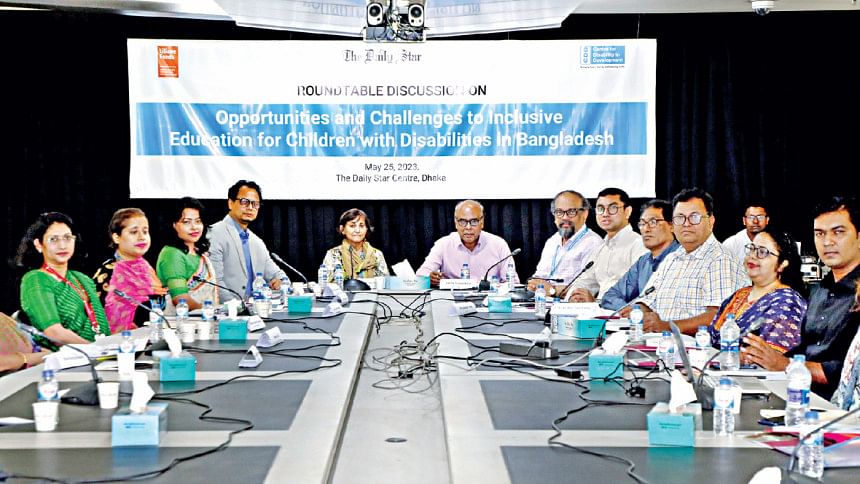 The government should implement a flexible education curriculum, develop infrastructure and create more job opportunities to implement inclusive education for children with disabilities, speakers said during a roundtable.
The roundtable, titled "Opportunities and Challenges to Inclusive Education for Children with Disabilities in Bangladesh", was organised by The Daily Star in association with Centre for Disability in Development (CDD) and Liliane Foundation at The Daily Star Centre yesterday.
While presenting the keynote, CDD Thematic Expert Jahangir Alam said more than half of children with disabilities are not enrolled in any formal education.
"Among the persons with disabilities aged 5-24 years, 40.90 percent have no formal education, which increases further with the increase in age," he said, quoting National Survey on Persons with Disabilities 2021.
Tahmina Khan Mojlish, project manager of Save the Children International, said, "The curriculum for disabled children is still going through experiments. Their assessment process is also the same as other children, which is not helpful at all."
Besides, there is no proper infrastructure for children with disabilities. Teachers also need more training to teach children with disabilities," she added.
Alodia Santos, development adviser at Liliane Foundation, said, "We see different efforts of the government. But their efforts will only bear fruit if there is proper data on children with disabilities. There is a lot more to be done in this regard."
Saeeda Anis Prew, Chief of Party- USAID Shobai Miley Shikhi project, said, "Inclusive education is not the only answer to every type of challenge that children with disabilities face. We are focusing on a universal design for learning for both classroom and community levels."
Nasrin Jahan, founder of Disabled Child Foundation, said only children with mild disabilities get included in mainstream education.
"However, those who have severe issues remain out of mainstream education. A new curriculum should be introduced which would be friendly to children with disabilities."
Mohua Pal, chairperson of Access Bangladesh Foundation, emphasised arranging more caregivers for children at educational institutions. She also stressed the importance of ensuring job opportunities for children with disabilities who complete their education.
Roos Sprangersm, inclusive education expert at Liliane Foundation, said it is been difficult to cater to the needs of children with disabilities in education systems all around the world.
"We should not compromise on the quality of education. We also want to focus on the needs of all children with mild or severe disabilities," she added.
Nazmul Bari, director of CDD, said, "We have to work together with persons with disabilities, their families, groups, and organisations. All of them will need to play the key role in ensuring an inclusive education system for children with disabilities."
CDD Executive Director AHM Noman Khan gave the welcome speech at the programme.
SM Ali Has Nain, project manager of CDD, Ahmed Towfiqur Rahman, deputy director of inclusive citizenship of Friendship NGO, and Amrita Rejina Rozario, country director of Sightsavers, also spoke at the roundtable, moderated by Tanjim Ferdous of The Daily Star.