As police identify Nahid's killers, Dhaka College students leaving hostels fearing raid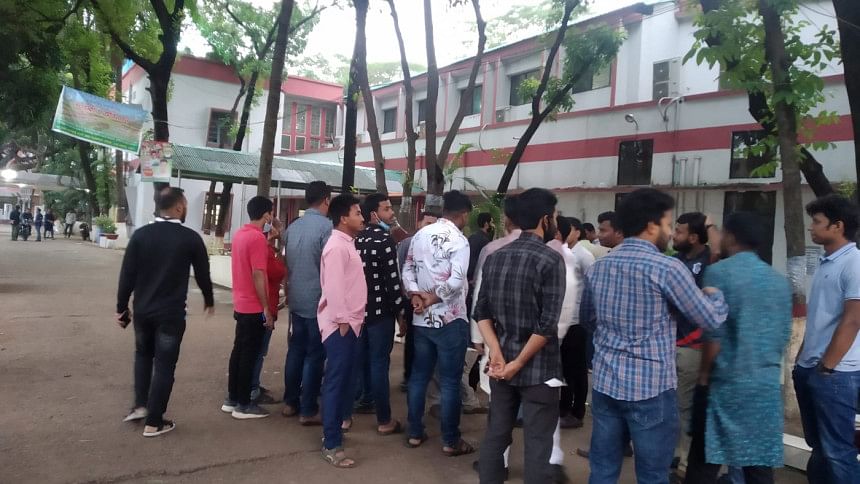 Police have identified some students of Dhaka College for their alleged involvement with the murder of Nahid Mia, who was killed during the students-traders clashes in New Market area on April 19.
The suspects are involved with Bangladesh Chhatra League, according to police.
After the news broke out, many students started leaving Dhaka College hostels fearing that police may raid any time to nab the culprits.
According to hall sources, panic gripped the students after names of those involved with Nahid's murder were revealed. Many left the hostels last night.
A fourth-year graduate student of Dhaka College, seeking anonymity, told The Daily Star that many students left the hostels after 12am.
Asked, Officer-in-charge (OC) of New Market police station, SM Qayyum, told The Daily Star, "We have not launched any operation yet, but the culprits are under surveillance."
Anwar Mahmud, a teacher in-charge of Dhaka College's south hostel, said, "No raid was conducted at the hostel yet."
BCL General Secretary Lekhak Bhattacharjee yesterday told The Daily Star that the organisation has nothing to do with the suspects.
General students of Dhaka College took part in the "protests", he said, adding that no one joined it as activists of Chhatra League. "We are sure that no Chhatra League activist was involved in the (Nahid's) killing," he added
During the clashes, the Dhaka College authorities had ordered students to vacate the hostels, but they refused to leave.
Acting Principal of Dhaka College ATM Moinul Hossain could not be reached for his comments over the issue.