Nahid murder: Cops zero in on killers
Law enforcers, other sources say the culprits, primarily identified, are activists of Dhaka College BCL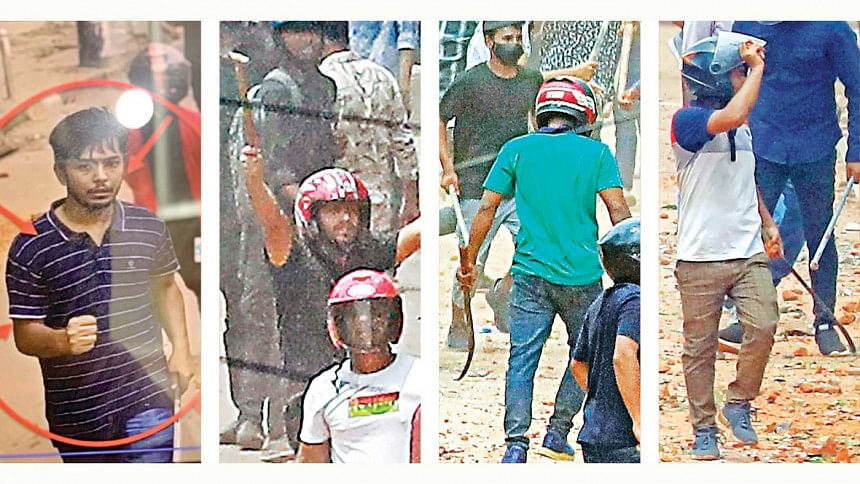 Many of those carrying sharp weapons during the clashes have been identified. And most of them are from Chhatra League. Said sources involved in investigation
The youths who beat up and hacked 19-year-old Nahid Mia during the New Market clashes on Tuesday have primarily been identified and are now under police surveillance, said multiple sources, including law enforcers.
Many of those who were carrying local weapons are also under watch, they said.
Nahid, a delivery man of a computer accessories shop on Elephant Road, died later that night at Dhaka Medical College Hospital.
Witnesses and sources involved in the investigation said Dhaka College students, led by three Chhatra League factions, took part in the deadly clashes with New Market shopkeepers that led to Nahid's death.
Those groups were led by BCL leaders Julfikar, Firoz, and Jashim.
Jashim and his men were the fiercest that day, said the sources.
They marched on the street holding machetes, iron rods, and sticks. They were the ones who attacked Nahid, officials involved in the probe, said, preferring to remain unnamed.
They said many of those carrying sharp weapons during the clashes have been identified. Most of those are from BCL, the pro-Awami League student body.
They also said most BCL men in Dhaka College used their motorbikes' helmet to hide their identities and also not to get harmed while taking part in the violence. The person that hacked Nahid was also wearing a helmet.
As the Dhaka College Chhatra League currently has no committee, the unit is run by several factions. In 2016, a convening committee was formed for three months, but it failed to constitute a full-fledged committee.
The law enforcers, however, said police would go slow with drives to make arrests as they do not "want to create any more unrest right now".
Earlier on Monday night, at New Market, employees of the two shops engaged in a brawl, which spilled over into daylong pitched battles between Dhaka College students and shopkeepers the following day, leaving two dead and scores wounded.
Nahid was attacked in front of Nur Jahan Super Market's Khan Fashion store, just opposite Dhaka College.
A video footage of the incident went viral on the social media. Journalists of The Daily Star, who were present near the scene, also took photos of the gruesome attack.
The footage and the photos show Nahid lying motionless in front of Nur Jahan Super Market. A young man, wearing a black helmet, comes with a machete and starts hacking him indiscriminately. He steps back after being stopped by another man, who was wearing a yellow helmet. The two then walk back to the student's side.
Officials of the Detective Branch of police, which is investigating the murder case, said the young man who hacked Nahid has primarily been identified as Zakir. They said he is a BCL activist.
Nahid was first hit by Kaiyum, a Dhaka College student. He was wearing a blue T-shirt with white stripes, they said.
They, however, said they were verifying all the details to be hundred percent sure about the attackers' identities.
The man wearing the yellow helmet has been identified as Sujon Islam. He lives in Room-101 of the college's North Hall, they said.
Many of those who were carrying local weapons, rods and sticks during the clashes have also been identified.
One of them is Sadik Mirza, a member of the BCL unit's convening committee. He lives in Room-218 at the same dormitory. He was carrying a machete.
Kawsar alias Sada Kawsar, clad in a green T-shirt, was also carrying a machete. He is a student of Islamic history. He lives at the South Hall.
Another one, who was holding a hammer, has been identified as Monayem. He is a member of Dhaka City (north) Chhatra League, said officials investigating the case.
HM Azimul Haque, deputy commissioner (Ramna Division) of DB, told The Daily Star yesterday they got some names after analysing different photos and footage, with help from the media.
"We scrutinised every little detail that we got from different sources so that no innocent person finds themselves in trouble," he said.
Asked about an allegation that Chhatra League led the mob that attacked Nahid, Fuad Hasan, joint convener of the Dhaka College BCL committee, said on Thursday, "It's still not clear who was behind the murder."
Contacted, BCL General Secretary Lekhak Bhattacharjee yesterday said general students of Dhaka College took part in the "protest".
No one joined it as members of Chhatra League, he claimed. "We are sure that no Chhatra League man was involved in the killing."
Four cases have been filed over the incident -- two by police and two by the family members of the two victims killed in the clashes.
Over 1,500 unnamed people were made accused in these cases. The two murder cases are being investigated by the DB while the others by New Market Police Station.
Meanwhile, a Dhaka court yesterday placed BNP leader Mokbul Hossain on a three-day remand in the case filed over instigating the clashes. He is the owner of the shop where the brawl took place on Monday night.
The BNP will stage rallies in all metropolitan cities, including in the capital, on Tuesday, demanding Mokbul's release and withdrawal of the "false" case, party's Secretary General Mirza Fakhrul Islam Alamgir announced the programme at a press conference at the party chairperson's Gulshan office.
Fakhrul said it has been proved through different media reports that the "cadres of Chhatra League" were involved in the violence.
(Our Dhaka University Correspondent Sirajul Islam Rubel contributed to the report)