Dhaka Airport: 3rd terminal to open partially in October
77.5pc work complete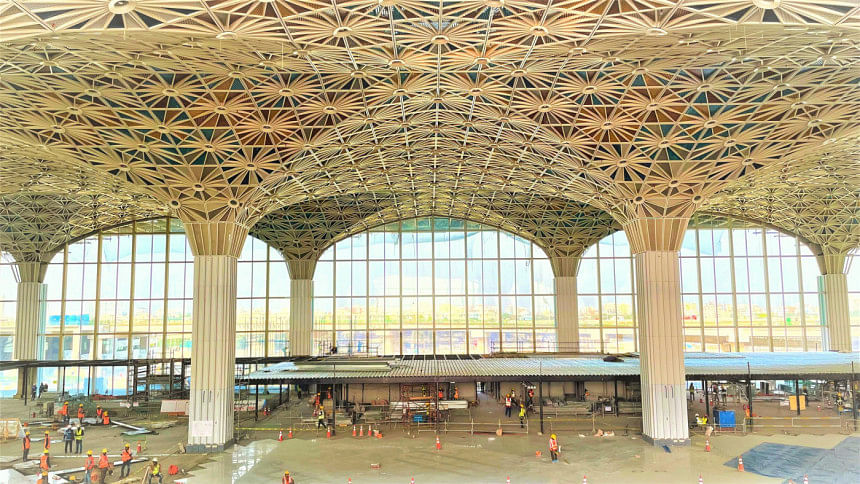 At least 77.5 percent work of the third terminal of Hazrat Shahjalal International Airport has been completed and there could be a soft opening in the first week of October. 
"We want to complete 90 percent of the project before October. We hope the work will be completed before time," said Civil Aviation Authority of Bangladesh (CAAB) Chairman Air Vice Marshal M Mafidur Rahman during a press conference on the first floor of the terminal yesterday.
Work on the interior of the terminal and installations of various equipment are going on.
Mafidur said the terminal will be fully functional in 2024 and that work was going on round the clock so that the soft opening could happen.
"Although the Eid-ul-Azha holiday starts today [yesterday], our 3,000 to 4,000 workers will work even during the Eid holidays," said Mafidur.
Prime Minister Sheikh Hasina in December 2019 inaugurated the construction work of the third terminal which will cost Tk 21,399 crore.
The three-storey terminal building, which will be 2.30 lakh square metres, will have 115 check-in counters, 64 departure and 64 arrival immigration desks, 27 baggage scanning machines, 40 scanning machines, 12 boarding bridges, 16 carousels, and 11 body scanners.
Around two crore passengers will be able to use the HSIA after the third terminal is commissioned.
About 70 percent of the funding is coming from the Japan International Cooperation Agency (Jica).