Biman's Dhaka-Toronto flights with Manchester stopover likely from June 26
Direct flights after Russia-Ukraine war ends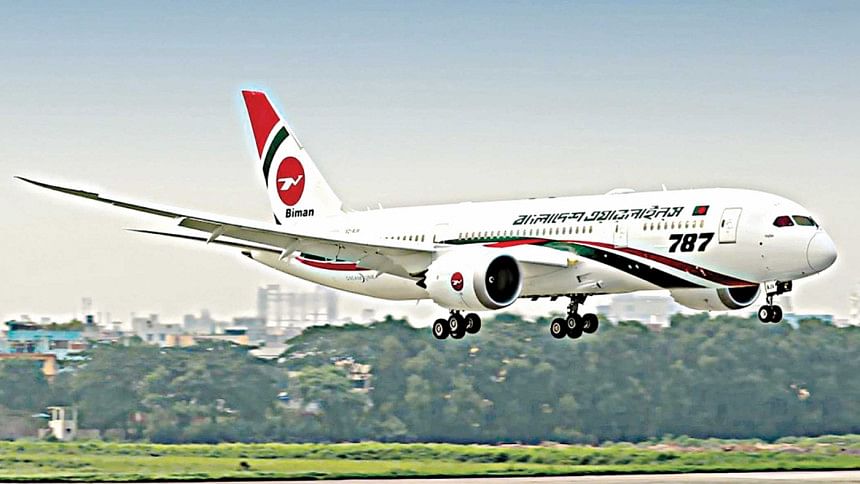 Biman Bangladesh Airlines has finally taken a decision to make a "conditional technical stopover" in Manchester for Dhaka-Toronto flights until the Russia-Ukraine war is over.
The national flag carrier said it will operate direct flights on Dhaka-Toronto route after the war ends.
Revealing the latest development, Biman Managing Director and CEO Abu Saleh Mostafa Kamal told The Daily Star recently that the much awaited commercial flight on Dhaka-Toronto route is likely to begin after June 26.
"For the time being, until the Ukraine war ends, we will operate the Dhaka-Toronto flight with a conditional and technical stopover in Manchester for refuelling," said the Biman boss.
Biman officials say the decision was made on the basis of a feasibility study.
A direct flight to Toronto would take around 17 to 18 hours as the Biman will not be using Russian airspace.
Though Russia has no objection to using its airspace, the insurance company concerned didn't want to give insurance coverage in case of any unwanted incident due to the war.
"That's why we have taken the decision to make a conditional stopover in Manchester," said Saleh.
Besides, a huge amount of fuel will be needed for a flight of 17 to 18 hours. Due to the load factor, the plane will have to carry a limited number of passengers -- not exceeding 120 to 130 -- which will be not viable commercially.
"Considering all this, we have fixed a stopover in Manchester. Besides, there is another reason. As a large number of Bangladeshi expatriates live in Manchester, we are expecting to get passengers on this route while going to Toronto."
The Biman MD also said they are negotiating with the Canadian authority so that the national carrier is allowed to carry passengers from Manchester to Toronto under the fifth freedom agreement.
In the context of commercial aviation, a fifth freedom flight means an airline from one country flies between two others, with the right to transport passengers between them, according to onemileatatime.com.
The Biman MD said after the end of the Ukraine war, they will operate direct flights to Toronto and the flight time will be reduced by two to three hours. "In that case, we will be able to carry more passengers which will make the route commercially viable."
For direct flights to Toronto, we are expecting to get passengers who will come to Dhaka from Kolkata, Nepal and even from Myanmar.
Biman on March 26 operated an experimental commercial direct flight on the Toronto route amid criticism from different quarters as around 35 to 40 government officials, and two MPs visited Toronto on this trip at the cost of public money.
The flight had cost around Tk4 crore, officials said.
Questions were raised whether Biman's decision to operate direct flights on this route will be commercially viable in terms of load factor and ticket fare among other related issues.
Later in early April, Biman had formed a four-member committee, led by Director (Flight Operations) Capt ABM Ismail, to conduct the feasibility on the Dhaka-Toronto route.
According to the committee, Manchester was chosen for the stopover as it is a major city in the northwest of England, and it is home to over 100,000 Bangladeshi expatriates.
The committee also recommended Manchester because of favourable weather patterns and ease of getting flight slots in the morning and afternoon.
Biman is planning to use Boeing 787-9 Dreamliner for operations on this route. The Dreamliner has a total of 298 seats, including 30 in business class, 21 in premium economy class, and 247 in economy class.
Biman had offered Tk1,20,647 for return flight in Economy class as base fare, Tk1,83,530 in premium economy class and Tk 2,68,547 for business class as promotional fare for the experimental flight.
The airline is yet to finalise the airfare for commercial flight.