98 Bangladeshi workers leaving for South Korea tonight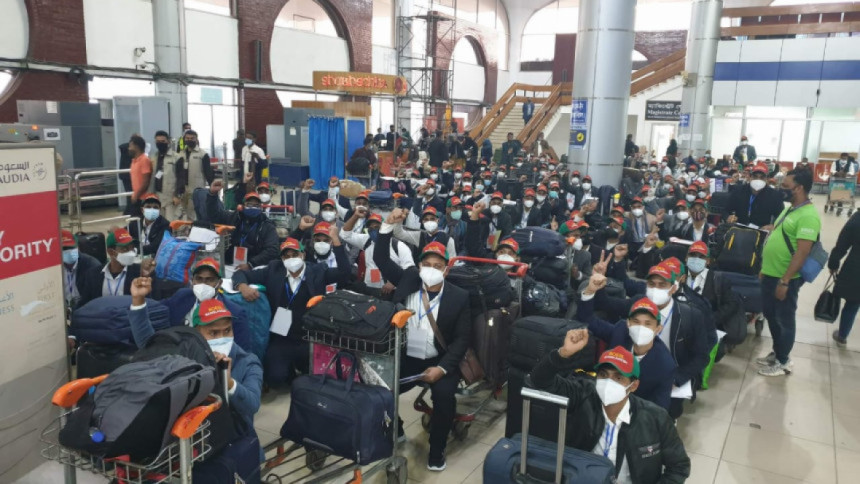 At least 98 more Bangladeshi workers are leaving for South Korea tonight via chartered flights operated by a Korean air company.
It is the second batch of Bangladeshis going to Korea this year, according to a statement from the Embassy of South Korea in Dhaka.
South Korea had suspended accepting foreign workers in March 2020 due to the Covid-19 pandemic and resumed accepting workers from December 2021.
After the resumption, so far, a total of 339 Bangladesh expatriate workers have travelled to Korea; 111 in December 2021, 130 in January 2022 and 98 in February 2022.
Among the 98 workers who were admitted this time, 34 workers were newly employed while the rest 64 were re-entry workers. Another batch of 130 Bangladeshi workers will be admitted to Korea in mid-February.
Korea has been admitting medium and low-skilled foreign workers from 16 countries including Bangladesh through the EPS (Employment Permit System) programme.
Due to the unprecedented and prolonged Covid-19 pandemic, however, the Korean government suspended receiving EPS workers.
Accommodating continuous requests from the sending countries as well as from the employers, the Korean government decided to lift the suspension from November last year in a limited scope with strict Covid-19 protective measures including quarantines.
So far, more than 20,000 Bangladesh workers have been dispatched to Korea through the EPS system.
According to the Bangladesh Bank, the remittance inflow from the Bangladesh workers in Korea has been continuously increasing in recent years from $80.65 million in 2016-17 to $209.16 million in 2020-21.