1971: Our war, their battles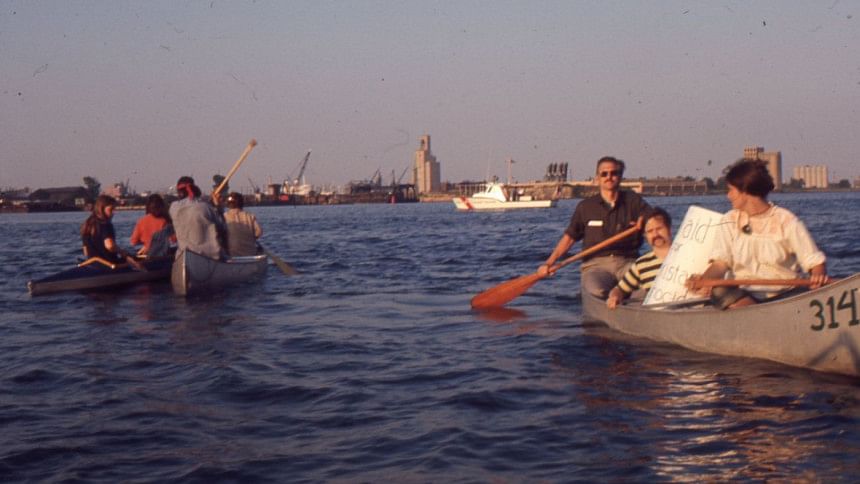 In 1971, during Bangladesh's Liberation War, much of the action was confined to the territory of Bangladesh, but there were battles being fought in locations many oceans away.  
In Britain, Action Bangladesh brought together numerous international organisations to rally support for Bangladesh. In France, septuagenarian statesman and public intellectual Andre Malraux announced his readiness to take up arms alongside Bangalee guerrilla fighters. More than 60 international luminaries, among them Mother Teresa and Senator Edward Kennedy, signed an Oxfam petition calling for international intervention. The Concert for Bangladesh at New York's Madison Square Garden, the first of its kind, drew global attention to the ongoing strafes in Bangladesh. Even the government of South Yemen said it was ready to coordinate the collection and distribution of arms for Bangladeshi soldiers. 
The most spectacular intervention was by a small group of peace activists in the US, who stopped a Pakistani ship from docking at the Baltimore harbour for collecting weapons by offering their own bodies as "mines." Sounds unreal, and yet this is exactly what happened on July 14, 1971. Recently, two young Bangladeshi filmmakers in the US have pieced together their story and produced a fine documentary. Simply called Blockade, this film traces the bravery of these Americans and their Bangladeshi friends, who risked their own lives to stand for a cause they thought was "just."
It all started on July 2, at the monthly meeting of the American Friends Service Committee, an organisation involving mostly the Quakers who are committed to social justice and peace through non-violent means. Many of them were veterans of anti-Vietnam war protests, courting arrests and police harassment. Soon after news broke of the Pakistani crackdown in Dhaka and elsewhere in Bangladesh, they formed "Friends of Bengal" to mobilise public support for Bangladesh. They also established contacts with the Bangladesh Information Center, a Washington support group that was already involved in lobbying Congressional leaders to oppose US support for Pakistan. Through a contact from the office of Senator Edward Kennedy, then chair of the Senate subcommittee on refugees, they learned about the arrival of Padma, a Pakistani ship, at the Baltimore port to collect new war supplies. Could we do something to stop the ship from docking at Baltimore, they wondered.
Gathering under an ancient chestnut tree, they came up with an idea: how about mining the port? Of course, the question of using actual mines did not arise. They wanted to use their own bodies as "mines." Riding small dinghies, they would surround the ship and stop it from proceeding any further.
The Quakers were led by Richard Taylor and his wife Phyllis. They had long been involved in non-violent protests, often using the tactics used by Gandhi in South Africa and India. They quickly got in touch with Friends of East Bengal, another support group in Philadelphia that included mostly Bangalee academics teaching at various US universities. Among them was Dr. Sultana Krippendorf, a young professor who had just become a mother. She was assigned with contacting the dock workers at Baltimore and convincing them to support the peace activists. Passionate about the cause and dogged in her persuasion, Sultana was able to sway the president of the local trade union. Soon, the media was notified of the big event. 
The group first learned that the ship would arrive on the 11th, three days ahead of its schedule.  At the appointed time, everybody gathered at the port, anxiously waiting for the ship to make its way to the shore. But it turned out to be a false alarm. The media got furious, berating Richard and his friends for wasting their time.  
Disappointed but still determined, they soon regrouped. Now definite about the date, several hundred people gathered at the harbour on July 14.  As the sun dipped in the west, casting its long shadow on the gathered crowd, somebody noticed in the distance the mammoth ship. With its propeller shafts creating huge waves, it was cruising its way to the port. Several small dinghies had been collected and were ready to be floated. But the harbour police told them in no uncertain terms, it was too dangerous to take such small dinghies closer to the ocean-going vessel. "You will all drown in the blink of an eye." 
Undaunted, Richard went behind the police barricade and found a small marina that seemed unguarded. Quickly several dinghies were lowered into the water. No sooner had the peace flotilla begun its slow journey, the port police surrounded them. One by one they lifted each of the peace activists onto police vessels, arresting them for violating police order. Hundreds of people that had gathered at the harbour clapped joyfully as they courted arrest.
Next day, after spending a night at a semi-darkened police station, they were all produced before a local judge. Issuing a stern warning, the presiding judge let them all go. Later, the judge took Richard aside and told him, his son, too, was among those arrested.
I had met Richard several times. It seemed unreal to me that these people, completely unconnected to Bangladesh or its people, would risk their lives to register a protest. What had prompted them to this drastic act? Richard, his demeanour always calm, told me, there are times when people must listen to their inner voice and do the right thing. Protesting against a genocide and denouncing the US government for its alliance with the marauders was the right thing to do.
Syed Arif Yousuf and Tasbir Imam Shakhhor, the two filmmakers and their friends had spent some eight long years to reproduce this story on video. Film enthusiasts and self-taught, they spent many a nights on their storyboard, debating how best to tell the story.  
Arif told me, they were deeply touched by the support given by the Taylors to the project. They spent countless hours, allowing the novice filmmakers to shoot at their home, often recording the same shots several times. Through Richard and Phyllis, they were able to connect with many of the original Friends of Bengal. Dr. Sultana, still as passionate as ever, brought alive the hours of the blockade with painstaking detail. Dr. Monaem Chowdhury, another Bangladeshi academic, seemed still dazed at the heroism of these people as he recalled the event.  
Arif told me they were deeply moved by the complete lack of any sense of heroism on the part of Richard and his friends. "They never thought they were doing anything heroic. Neither did they expect any reward for their action. For them it was a call for duty, they just wanted to wake people up to the brutalities taking place in Bangladesh." 
The blockade at Baltimore was one of the many battles that had taken place in 1971. Everyone who took part in that battle is a freedom fighter and deserves our deep gratitude. 
The writer is a journalist and author. His latest book, Ekattor, Je Bhabe shuru ("1971, This Is How It Started"), was published this year in February by Shomoy Publication, Dhaka.